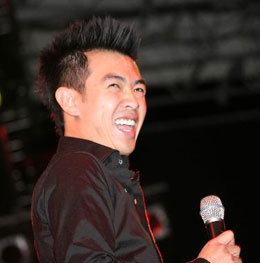 Chung Won-ho /Yonhap
Chung Won-ho, a 29-year-old ethnic Korean comedian well known in the Middle East, will be named a goodwill ambassador of the Korea Tourism Organization on April 15. Shin Pyeong-sub, head of the Asia-Pacific team of KTO, said, "Tourists from the Middle East have high regard for Korean industry and traditional culture, and they tend to be big spenders."

Chung is the first comedian of Korean descent in the Arabic world. Born in 1981 to a Korean father and a Vietnamese mother, he grew up in Saudi Arabia and Jordan. His comedy career kicked off when he appeared in a 2007 comedy tour called Axis of Evil. His popularity grew further when he became a co-host of the "Friday Night Live" comedy show on Showtime Arabia (now Orbit Showtime), a cable channel broadcasting in the Middle East and North Africa.

Chung currently hosts the channel's weekday entertainment show "Showmemore." He is scheduled to shoot comedy episodes in Seoul, Busan and Jeju from April 13 to 23, which will be aired in Lebanon and the United Arab Emirates early next month.

- Copyrights ⓒ 2009 The Chosun Ilbo& Digital Chosun Ilbo All rights reserved -
http://english.chosun.com