Monster Redemption at the Box Office
D-War' and Shim Hyung-Rae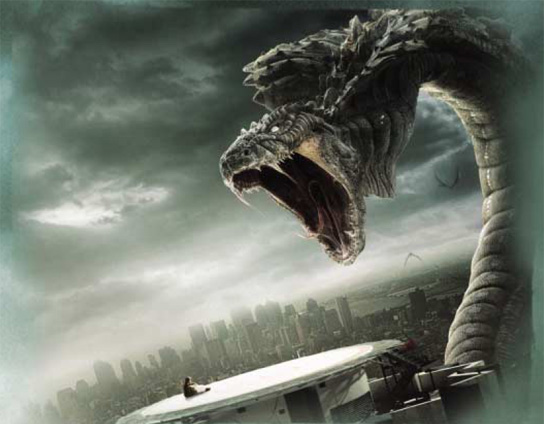 A gigantic serpent unleashes its full might against mankind and sends Korean film lovers scrambling to the theaters in summer to marvel at its powerful display. I'm referring, of course, to the latest monster movie from Younggu Art Films, "D-War." After spending nearly six years in production, the film has turned out to be far bigger than anyone imagined, overcoming many obstacles and morphing into a blockbuster of major proportions.

The plot of the film is based on the ancient Korean legend of Imoogi. The Imoogi were snakes that grew to enormous size and, upon reaching a certain age, would then transform into celestial dragons. According to the film, only one snake would be awarded this honor every 500 years. While most of the snakes were a force of good and tried to help mankind, there existed one serpent called Burakwi, who had turned to evil. While the other snakes flew to the sky to protect the heavens after changing into dragons, Burakwi planned on destroying the Earth. To complete the metamorphosis from snake to dragon, the aid of a yeowi is required. In "D-War," this yeowi has been born in the form of a young woman named Sarah, who lives in modern-day Los Angeles and knows nothing of her destiny.

This yeowi has a protector who's been charged with her safety. Some 500 years earlier, the protector failed in his duty and no Imoogi were able to change into celestial dragons. Now, he's been reincarnated as well, going by the name Ethan and working as a television reporter. Ethan must located the yeowi and keep her out of the hands — or jaws — of Barakwi and its followers. The titanic serpent can sense the mystic aura of the yeowi and relentlessly pursues Sara through the streets of LA while the disciples, in the form of flying, fire-breathing lizards and heavily armored dinosaurs ridden by demonic warriors with powerful weapons, lay waste to the city.



Movie Impresario Shim Shows Them All
---------------------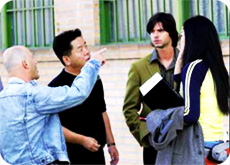 The success of "D-War," which stands for "Dragon War," is due in no small part to the savvy of its director/writer/producer Shim Hyung-Rae. Through state-of-the-art special effects and a well-conceived marketing scheme, Shim's been able to overcome all hurdles and doubts as to his abilities in crafting a well-made film and has showed all his skeptics that he's a director with world-class potential. Not only has "D-War" surpassed all expectations upon its opening on August 1, taking in more than $20million USD in just five days, but this big-budget sci-fi fantasy is scheduled to be released in the United States on September 15 on some 1,500 screens, and will also be released in Japan later this year. This is good news for Shim and Younggu Art Films because, in order to make a profit, the film needs to sell approximately ten million million tickets. Originally reported as costing $33 million to produce, the film is rumored to have cost more than twice that, once the special effects were factored in.

And what special effects they are! The fire-breathing lizards in a deadly aerial dogfight with Apache helicopters are breathtakingly realistic. The lumbering dinosaurs with futuristic weapons strapped to their backs plodding through the streets while the faster, more agile carnivores rush ahead, inspire awe and amazement. The eerily graceful celestial dragons and the show-stopping power of Barakwi keep audiences spellbound and are a testament to Shim Hyung-rae's creativity.
Comedy Foreshadows Monster Creations
---------------------


Shim Hyung-rae displayed this ingenuity early on in his career. He debuted in 1982, not as a director, but as an amateur comedian on KBS TV's 1st Gag Contest, a talent search where he was awarded third prize. He became a mainstay of 80s television in Korea with his signature character, Young-gu. It wasn't long before Young-gu became a household name and gained such popularity that he was soon appearing in movies as well, mostly geared to children. Shim starred in the sci-fi adventures of "Ulimae," the first of which was screened in 1986, and the "Super Hong Gil-dong" series, starting in 1987, as well as numerous films featuring the hilariously foolish Young-gu. The first and most fondly remembered was "Young-gu and Ddaengchili" (1989), and this was followed by movies such as "Young-gu Rambo" (1990), "Young-Gu and the Golden Bat" (1991) and "Young-gu vs. Dracula" (1992).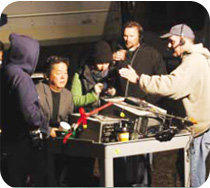 One of these films, "Young-gu and Dinosaur Zu-Zu" (1993) seemed to have been the most important in foreshadowing Shim Hyung-rae's later creations. The story, directed and starring Shim, was actually similar to the British film "Gorgo" (1961) and the Japanese-made "Monster from a Prehistoric Planet" (1967), in which a gigantic monster stomps through the city to retrieve its stolen offspring. That same year, Spielberg's "Jurassic Park" was released and Shim Hyung-rae was reported saying that he wanted to make a film like that. So it was no surprise when his next film, "Tyrano's Claw" (1994), featured an enormous Tyrannosaurus rex terrorizing a tribe of cavemen. However, it was quickly panned by critics, who declared it a low-budget disaster. Never one to be discouraged so easily, Shim came back with a film in 1996 featuring a giant fire-breathing dragon in "Dragon Tucca."
"Through state-of-the-art special effects and a well-conceived marketing scheme, Shim's been able to overcome all hurdles and doubts as to his abilities in crafting a well-made film and has showed all his skeptics that he's a director with world-class potential."
The Trials of Making 'Yonggary
---------------------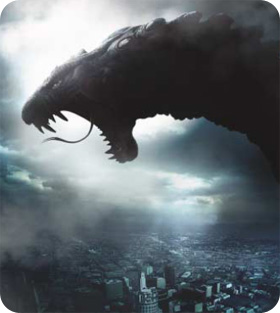 In 1998, Shim Hyung-rae announced his plans to resurrect the monster Yonggary in a big-budget remake, just as Japan's Toho and Daiei Studios had revamped their world famous beasts, Godzilla, Mothera and Gamera. He hastily gathered the enormous amount of funds needed for the graphics, and in 1999 released "Yonggary" throughout Korea. The results were disappointing, to say the least. The computer graphic images seemed cheap and moved awkwardly, and even the same image appeared to be used several times. The movie, filmed in English, starred actors whom nobody had ever heard of, and the English dialogue was disjointed and unnatural. It was seen by only 1.5 million people in the theaters at that time, nowhere near enough to make up its budget. Shim quickly went to work correcting some of the flaws with the CGI for the movie's subsequent video release in the US in 20 0 1 (marketed there as "Reptilian"), but it was too little too late. "Yonggary" was deemed a massive failure, Shim was seen as an incapable director, and even Shim himself, the indefatigable showman, briefly showed signs of wanting to give up directing.

But as the saying goes, "What doesn't kill you makes you stronger." Shim Hyung-rae wasn't finished yet. In 2002, Shim Hyung-rae revealed his plans to make an even bigger, better movie featuring the legend of the Imoogi. While his initial announcement was met with incredulous doubters or indifference on the part of the movie industry, Shim managed to gather investors and pull off the impossible. And as we have seen, his hard work hasn't gone unnoticed or unrewarded.
Fantastical Worlds of Shim's Imagination
---------------------
The fruit of Shim's labors is an enjoyable, action-packed film filled with exciting visuals and fantastic creatures, and the creation of a world where ancient legends clash with modern technology. The film does have some pacing problems early on and some of the dialogue the capable acting of Amanda Brooks (Sarah) and Jason Behr (Ethan); and some plot lines, such as the FBI story tangent, are dealt with a little handily or are ill-defined. But, like most major blockbusters, "D-War" isn't a film where it's necessary to dwell on such things. In the larger-than-life world created by Shim Hyung-rae, it's possible for us to just sit back and enjoy the ride as marvelous monsters and magical events unfold before our eyes.
Written by Tom Giammarco / Photos courtesy of Yeonghwain
The Article courtesy of Seoul Magazine