'JYJ Worldwide Concert in Seoul'
At the Newly-Domed Seoul Jamsil Olympic Stadium!
Korea's first ever domed theater to be unveiled! Dome acoustics expected to make the debut concert of JYJ at the Jamsil Olympic Stadium the concert of the century! Second-round presale tickets (20,000 seats) already sold out!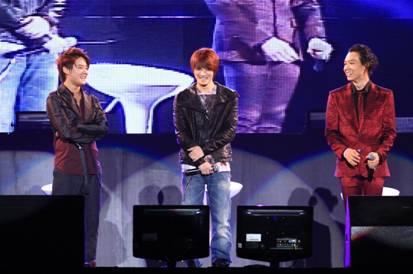 JYJ (Jaejung, Yucheon, Junsu), is a fairly new group who have topped the charts with their international album titled 'The Beginning,' a collaboration with Kanye West. The album has recently made its way onto Billboard.com as 'Release of the Week,' (released in Korea, Hong Kong, Singapore, Malaysia and Taiwan on October 14th) and is expected to be the best-selling album of the year based on presale orders in Korea totaling 520,000. Perhaps the only thing currently creating more of a buzz in the Korean entertainment industry than the album itself is the 'JYJ Worldwide Concert in Seoul' scheduled for later this November at the newly-domed Jamsil Olympic Stadium.

The organizer of JYJ's first world concert, 'JYJ Worldwide Concert in Seoul' said that the newly-domed Jamsil Olympic Stadium will solve all the problems that usually go hand-in-hand with outdoor performance stages (like weather and sound quality) and that fans can expect an exceptional, enjoyable concert and outstanding acoustics thanks to the new dome.

The dome is being constructed with a new, safer kind of textile fabric (as opposed to traditional steel cables). Though the Jamsil Olympic Stadium is the first domed theater of this magnitude in Korea, even on a global scale few other performance halls have adopted such a unique, lightweight construction method.

C-JeS Entertainment, JYJ's agent, proudly reports that there is "No doubt this concert will be the best show ever, featuring the best quality of stage presentation, production, and sound." The agency goes on to say that it will do its best to "provide audience members with the most unforgettable concert experience of their lives."

The JYJ Worldwide Concert in Seoul will be directed by Jeri Slaughter, a well-known concert producer who has worked with international stars Mariah Carey, Jennifer Lopez and Christina Aguilera.

Tickets for the concerts have been selling fast. In the first-round of a presale ticket event at Interpark on October 19th, seats were sold out in just 20 minutes. The popularity of the K-pop sensation was proved once again when another batch of 20,000 tickets was also sold out in a second presale ticket event. Round number three of the presale ticket event will take place in the next few days.

The JYJ Worldwide Concert in Seoul is a two-day event that will be held on November 27th and 28th with a total seating of 100,000 (50,000 for each show).


<'JYJ Worldwide Concert in Seoul' Information>
- Date: 2010 Nov. 27th (Sat) 19:00 / 28th (Sun) 19:00
- Venue: Jamsil Olympic Stadium