Dolmen Remains in Ganghwa

Approximately 120 dolmens have been found distributed along the foot of the Koryo Mountain near Bugeun-ri, Samgeo-ri and Osang-ri at Ganghwa-gun, Incheon. Even though Ganghwa is an island, it is connected to the mainland by bridges and takes a little over an hour to get there from Seoul. The dolmen remains of Ganghwa boast a quintessentially Korean look.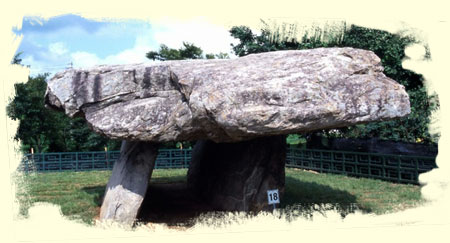 The dolmen in Bugeun-ri is shaped like a table with a height of 2.6 m, length of 7.1 m and width of 5.5 m. Facing a north-south direction, the dolmen in Bugeun-ri is famous for its size and the refined shape of the 50-ton cover stone resting on its supporting stones. Most of the dolmen pictures shown abroad are in the shape of this Bugeun-ri.