Dolmen Remains in Hwasun
Per unit area, Jeollanamdo and Jeollabukdo are home to the greatest number of dolmen in the world. Around 2000 dolmens can be found in Gochang-gun Jeollabukdo and another 560 are located in Hwasun-gun, Jeollanamdo.
The remains of the dolmens in Hwasun are in close proximity of Hyosan-ri Dogok-myeon and Daesin-ri Chunyang-myeon in Hwasun-gun, Jeollanam-do. This 5~10 kilometer area along the valley of Bogumjae was discovered in 1996. The various types of dolmens found in Hwasun are shaped like tables or baduk boards similar to some of those found in the Gochang area.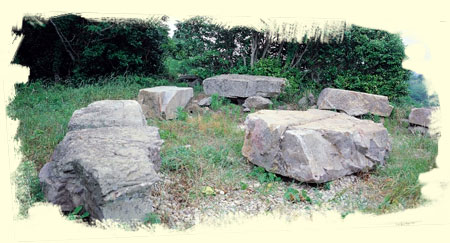 In Hwasun, there are a large number of dolmens that weigh over 100 tons each. Out of these, the dolmen known as 'Pingmae Rock' is estimated to weigh over 280 tons. It is the biggest known dolmen in the world. The dolmens in Hwasun are Korea's most recently discovered dolmens and remain in quite good condition, as they are located inside a very mountainous area. Rock used for stone mining in the Bronze Age group was also found near the dolmens and is of great help in understanding the construction process of dolmen.