Dolmen Remains in Gochang

The Dolmen remains in Gochang are located within close proximity of Jukrim-ri, Dosan-ri in Gochang-gun and Sanggap-ri in Asan-myeon in Jeollabukdo, roughly four hours from Seoul. The Gochang remains are in an area that consists of a large, widespread grouping of dolmen.
Roughly four hundred and forty-seven dolmens are located in this designated area with an estimated 2000 additional dolmens existing in the whole of Gochang-gun. No exact figure can be given regarding the dolmens in this area since many have yet to be identified. Dolmen remains have been found at the edges of farmland where people kept their food store; it is impossible to say that some dolmen have not been destroyed by farmers during plowing time.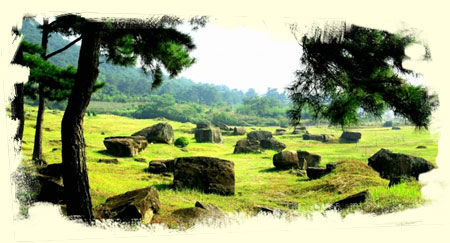 Dolmens of varying shapes are scattered throughout Gochang. The dolmens shaped like a table or baduk board are easy to spot but some dolmens lack a supporting stone, making them difficult to tell apart from natural rock formations without special analysis. Tour routes are provided from Tour 1 to 6 of the dolmen remains in Gochang with Tour 3 taking the central role.
The biggest dolmen in Korea can be found by walking towards the mountain about 1 hour away from Tour Route 3. Korea's biggest dolmen is known as "Unkok Dolmen", being named after the town near which it is located. The cover stone (which is as big as a house) lies on top of a supporting stone that is 5 meters in height. The structure is estimated to weigh more than 200 tons.

It is a wonder that such a huge rock could be brought to that site 5000 years ago without any special equipment or modern technology. The groups of dolmens in Gochang-gun, Jeollabukdo are scattered without apparent pattern throughout the mountains and fields. A 2001 survey found that the seemingly random placement of the dolmens was in fact a uniform arrangement along the foot of the mountain. The study of the dolmen is a relatively new field of study, with much research left to be conducted. The Gochang dolmen sites are one of Korea's representative areas because of the sheer number of dolmens as well as the dolmens variety of shapes.