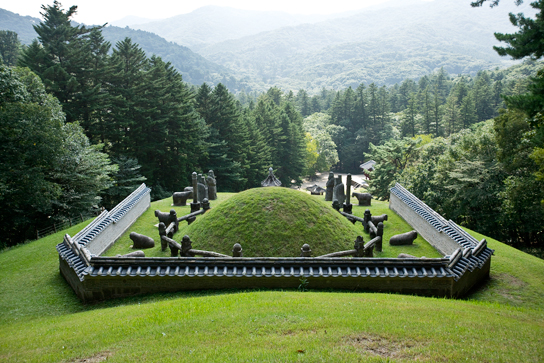 Photo: Gwangneung Royal Tomb
Royal Tombs of the Joseon Dynasty (Designated 2009)
Locations: Seoul, Gyeonggi-do, Yeongwol in Gangwon-do.


Description:
Royal tombs of Korea are well-maintained heritage sites that are invaluable to Korea's over 500 years of history. The tombs are interred with kings and queens, as well as monarchs that were posthumously granted the title of king or queen of the Joseon Dynasty. These sites are located mostly in lush green spaces around the suburbs of Seoul, providing visitors with a wonderful opportunity to enjoy nature in an urban setting.

Very rarely have royal dynastic tombs worldwide been so well preserved in their entirety, passing centuries of time. Therefore, UNESCO has appointed the areas and ancestral rites held on the sites to be World Cultural Heritages in order to be remembered and to cherish their unique beauty and cultural importance.

Of all the royal tombs of Korea's past dynasties, the tombs of the Joseon Dynasty are in the best condition, and their locations were chosen based on geomantic traditions and Confucian beliefs. They could not be located on any mountain or in any field, but were carefully selected to be housed in a place considered a divine space, isolated from other areas that were already in use by surrounding mountains or other topographical features.

For the same reason, the majority of the royal tombs are found in or near Seoul, which was called 'Hanyang' back then, believing the spirit of the kings and queens continued to have a positive influence over the nation's dynastic capital. As a result, among the 40 royal tombs, a number close to a half are found in the capital city of Seoul, including Seolleung / Jeongneung, Jeongneung and Uireung; Seooreung, Donggureung, Gwangneung, Yungneung / Geolleung and Yeongneung / Nyeongneung in Gyeonggi-do; and lastly Jangneung royal tomb is located in Gangwon-do, which is further east of Seoul.
Major Heritage Sites

Photo: Seolleung Royal Tomb (left) / Yungneung Royal Tomb (right)
Seonjeongneung, the name of the site which comprises Seolleung and Jeongneung Royal Tombs, is famous for its tranquil and pleasant promenades. As it is conveniently located in Samseong-dong, downtown Seoul, couples and office workers often go there for a leisurely walk. Most people see the place as a peaceful area to relax. The Seoulites often call the place 'Samneung Park' (meaning "three tomb park") as a more friendly nickname. Even after the hardships of Korea's history, the tombs were well cared for and managed in memorial of King Seongjong (r. 1469-1494), his wife Queen Jeonghyeon (r. 1480-1494), and King Jungjong (r. 1506-1544) of the Joseon Dynasty (1392-1910).

Yeongneung, in Yeoju of Gyeonggi-do, was the first joint royal tomb of the Joseon Dynasty, and houses the 4th ruler of the Joseon Dynasty, King Sejong the Great (1397-1450, r. 1418-1450), who is respected for the invention of Hangeul (Korean language), and his wife Queen Soheon (1395-1446).

Photo: Changneung Royal Tomb of Seooreung (left) / Gyeongneung Royal Tomb of Donggureung
Seooreung is the second largest royal burial site of the Joseon Dynasty after Donggureung. In Korean, it means five tombs ('Reung' refers to the tombs of the Kings and Queens) located to the west ('seo' means west in Korean) of Seoul. The place relates to memories of the crown prince Uigyeong (1438-1457), who unfortunately died young due to an ailment and was put to rest in Gyeongneung Tomb. The rest of the five tombs consist of Myeongneung, Changneung, Ingneung and Hongneung Royal Tombs.

Donggureung, on the other hand, is a historical venue set in the eastern part of Seoul. The site features nine royal mausoleums and they are observed to be comparatively larger than others, where total of 17 kings and queens are entered. Gyeongneung Royal Tomb is especially worth noting due to the interchanged burial positions between queens and kings as well as being the only burial site that entombed two wives of one king, King Heonjong (r.1834-1849), together in one place.

Photo: Hongsalmun Gate (left) / Jangneung Royal Tomb in Yeongwol (right)
Jangneung is the tomb of Danjong, the 6th king of Joseon (r.1452-1455) whose throne was abdicated by his uncle. Leaving the royal palace upon exile, the king spent the later years of his life in Yeongwol until his death. To mourn and commemorate his unfortunate life, the tomb was built; however, unlike most of the royal tombs, it was enshrined at the farthest point from the capital. But thanks to its geological distance, it benefited by being unharmed by external forces. The area is surrounded by green and has been guarded by a sacred gate called Hongsalmun (meaning 'gate with red arrows' in Korean), adding extra care in protection.
* This column was last updated in September 2015, and therefore information may differ from what is presented here. We advise you to check details from the official websites before visiting.
<Last updated on September 4, 2015>