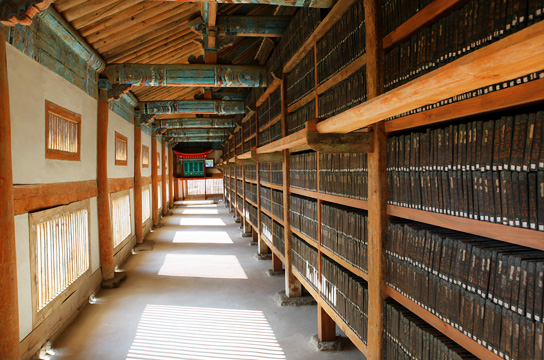 Photo: Inside view of Haeinsa Temple Janggyeongpanjeon Hall
Haeinsa Janggyeong Panjeon (Designated 1995)
Location: Gaya-myeon, Hapcheon-gun, Gyeongsangnam-do
Description:
Haeinsa Temple Janggyeongpanjeon Hall is an official archive built to safefy store the 13th-century Goryeo Palman Daejanggyeong (the Tripitaka Koreana), a priceless world's treasure. The distinguishing story of Haeinsa Temple and that of Goryeo Daejanggyeong are well acknowledged, whereas lesser facts are told about the parts on Janggyeongpanjeon Hall in comparison.

Nevertheless, the legacy of Haeinsa Janggyeong Panjeon is very important in Korean history as it provides insights in learning the ancestor's wisdom of protecting cultural assets and how far the technological development was achieved in that time. Thanks to these efforts, the current establishment still remains well and stands firm. It is estimated that the Janggyeongpanjeon first opened in early 15th century (1401~1500), and went through many times of surgical constructions due to external invasions and trespassing.

During these mishaps, amazingly enough, Palman Daejanggyeong was fairly unharmed, despite the shortcomings of the wood itself that is vulnerable to wear, tear, distortion, and fire. Considering these aspects, it is often compared to the Egyptian Pyramids in terms of the mystery of the ancient technology used in the construction. The UNESCO highly acclaimed this and included Janggyeongpanjeon Hall in its World Heritage list in year 1995. It is the existence of Haeinsa Temple Janggyeongpanjeon Hall that made the prominence of the Goryeo Daejanggyeong printing blocks well-maintained, as if they were made yesterday!
* This column was last updated in September 2015, and therefore information may differ from what is presented here. We advise you to check details from the official websites before visiting.
<Last updated on September 30, 2015>