Ancient City of A Thousand-Year Kingdom, Gyeongju Historical Heritage Region
Gyeongju, nestled in the heart of Gyeongsangbuk-do, is one of the world's most notable 'ancient cities.' For over one thousand years, Gyeongju was the capital of the Shilla kingdom, ranking it amongst other great epicenters of civilization, such as Rome, the capital of the Roman Empire, Constantinople (now Istanbul), the capital of the East Roman Empire, Baghdad, the capital of the Islamic Empire, and Janggang (now Xi'an). Even more unusual than the Shilla dynasty's thousand-year rule is the fact that Gyeongju remained the capital of the Kingdom throughout the entire period.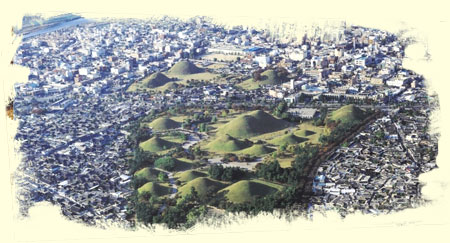 The Shilla dynasty dated from BC 57 to AD 935 and spanned the reign of 56 different kings. During the height of the Shilla empire in the 8th century, it is estimated that Gyeongju had around 78,936 houses (according to <History of the Three Countries (Samgukyousa), Korea's oldest history book). The sheer size of the town along with its population of more than 800,000 is one of the factors that sets Gyeongju apart from other ancient civilizations. Gyeongju was and still is the home of Korean spiritual culture. Many tales, legends and stories which constitute the main framework of Korean culture originated from Gyeongju. Many modern Korean words also originated from Gyeongju and its surrounding area during the peak of the Shilla dynasty.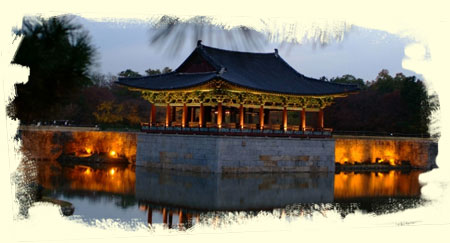 There are two main world cultural heritages sites in Gyeongju. One is the Seokguram Grotto and Bulguksa Temple area, regarded as the culmination of Korean Buddhism, and the other is Gyeongju's historical heritage region, which contains a wealth of artifacts dating back to the Shilla dynasty. More than 150 old Shilla tombs are found in the center of Gyeongju alone. Due to the area's abundance of artifacts, the registration of historical treasures was made by groups, instead of by individual artifact. The historical remains in the Gyeongju region can be classified into 5 different categories.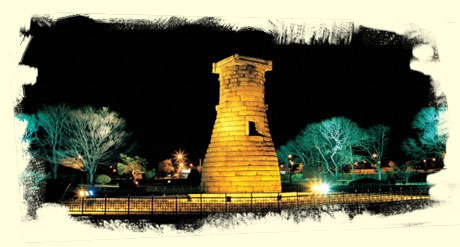 They are the Namsan District (which houses many Buddhist artifacts), the Wolseong District, (which features the ruins of the Shilla Dynasty palace), the Daereungwon District, (where the old tombs are clustered), the Hwangryongsa District, (where there are relics of the giant temple of Hwangryongsa), and the Myunghwal Fortress district, (situated on the mountaintop in order to defend the capital). Fifty-two cultural heritage sites are registered in UNESCO under the name of the "Historical Artifacts of Gyeongju". Of the fifty-two, the two places with the greatest historical significance are Namsan and the ruins of Hwangryong Temple.
More...
☞ More Info
☞ Website of The Gyeongju Historic Areas (Korean, English, Japanese, Chinese)
☞ Korea Travel Phone
+82-54-1330 (Korean, English, Japanese, Chinese)
☞ For more info +82-54-779-6396 (Korean)
☞ Smart Tour Guide
A tour guide app filled with fun facts and interesting stories!
Scan the QR code and download it now!