An ecologically-rich natural environment in the heart of Seoul
The forest at the back of the Buyeongjeong Hall is designated as an area of limited access. Public access to the forest was strictly limited for 25 years up until 2004. The first building appearing on the path of the forest is the Jondeokjeong Pavilion, a small hexagonal pavilion with overlaid roof tops. The pavilion is decorated with very colorful wall paintings portraying brown and blue dragons playing with the Yeouijoo, a legendary wishing stone (cintamani stone). A wooden plate is inscribed with the following: All the streams embrace the moon while there is only one moon in the sky. The moon is me, myself, and you are the streams.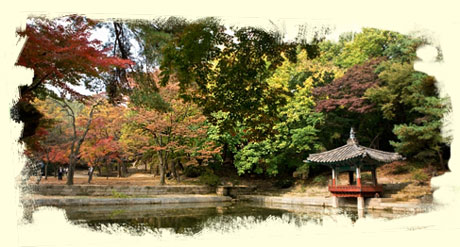 The author of this imposing lyric is King Jeongjo (1752-1800), who was upholding royal authority by suppressing a widespread fracture inside his cabinet. At this pavilion, King Jeongjo met to persuade not only those supporting his revolutionary reforms but those opposing them as well. Throughout history, the secret huwon garden was a place for secret politics.
The hill beyond the Jondeokjeong Pavilion is steep enough to be a small mountain. The Ongnyucheon Jade Stream is surrounded by small pavilions on the top of the hill. It has been said that tigers were once spotted in and around the area of the Ongnyucheon Stream. Changdeokgung Palace is a rich and ecologically sound environment with a forest consisting of 290,000 trees of 160 different types and 40 different kinds of birds, including three types of natural monument species, the spotted woodpecker, the Chinese scope owl, and the mandarin duck.