Topography of Changdeokgung Palace

Changdeokgung Palace is situated along the slope of Bukgaksan Mountain and the palace is special in that it does not overlook any of the major streets of the capital like other palaces do. Ironically, the less majestic placement of the Changdeokgung Palace adds to its aesthetic value.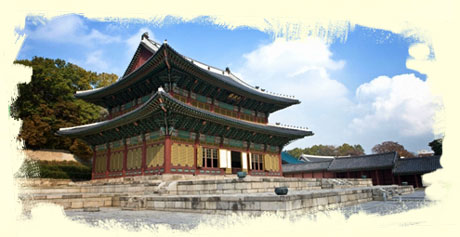 While Changdeokgung Palace is only one-third the size of Gyeongbokgung Palace, it is imbued with a great delicate, feminine beauty in comparison. Upon walking through Donhwamun, the main gate, everyone will notice such features. The grandeur of the throne hall can usually be observed immediately after walking through the main gate. However, Injeongjeon Hall, the throne hall of Changdeokgung Palace, is to the right of the palace down the main avenue and then, to the left. At a glance, the palace appears architecturally disorganized, but when thoroughly surveyed with a topographical perspective, the setting its setting is in complete harmony with the lines and flow of the terrain. According to the theory of Pungsoo (geomancy), the setting of the Injeongjeon Hall is comparable to the bud of a Japanese apricot, which is a flower that hangs from the boughs of the trees that grow on the Baekdudaegan, the biggest mountain range on the Korean Peninsula.
The placement of the building in the Changdeokgung Palace flows in continuous harmony with the natural terrain. Instead of clearing away large hills, the architects continue the flow by building on the slopes and making sure paths and avenues detoured around hills. The pavilions in the secret huwon garden were built nestled in between the tree lines and gorges, to ensure there was no interference with the overall landscape. Jean Michel Willmote, a renowned architect who also designed the presidential chamber of the Elysee Palace of France, was amazed and charmed by the beauty of Changdeokgung Palace, the space that best represents the beauty of Korean architectural style.