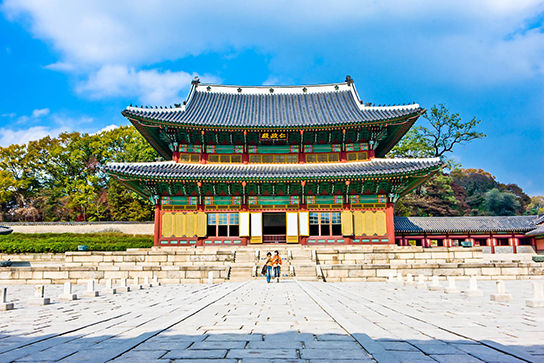 Photo: Injeongjeon Hall in Changdeokgung Palace
Changdeokgung Palace Complex (Designated 1997)
Location: Jongno-gu, Seoul

Description:
The primary palace of the Joseon Dynasty was Gyeongbokgung Palace. Overlooking Sejong-ro, Seoul's main street, its grand, majestic features rightfully have become a symbol of the prestigious Joseon Dynasty. Changdeokgung Palace, Changgyeonggung Palace, Deoksugung Palace, and Gyeonghuigung Palace were all subsidiary palaces located inside the capital of the Joseon Dynasty. These palaces served as residences for the royal family in case Gyeongbokgung Palace was undergoing routine repairs or was damaged by fire. Unlike the majestic and grandiose Gyeongbokgung Palace, the style of Changdeokgung Palace is simple and unimposing.

The palace became listed as a UNESCO World Cultural Heritage site in 1997 for its historical significance, simplicity and subtleness. The UNESCO committee also described the site as being an outstanding example of exceptional architectural designs, where buildings including Injeongmun Gate, Injeongjeon Hall, Huijeongdang Hall, Daejojeon Hall, Buyongji Pond, Nakseonjae Hall and Donhwamun Gate, exist in harmony with the natural environment.
Major Attractions

Photo: Injeongmun Gate (left) / Inside view of Injeongjeon Hall (right)
Injeongmun Gate, as the name suggests, is the main gate leading to Changdeokgung Palace and the courtyard where Injeongjeon Hall is centered. The walkway from the gate to the hall is marked with stones signaling where the various ranks of royals and officials should stand during the royal ceremony for throne ascension and other blessing events.

Injeongjeon Hall is also known as the "Throne Hall" due to its function of being used to conduct state affairs, including the coronation of a new king. King Hyojong (r. 1649-1659), King Sukjong (r. 1674-1720), King Yeongjo and other kings of Joseon succeeded the throne at this very place. Other major occasions such as an assembly of officials, and reception of foreign envoys were also held here. Therefore, the interior of this building was decorated upscale with modern styles influenced from Western nations, a style rarely seen in Asia at that time. Special lanterns, curtains, and windows are installed with beautiful yellow drapery on the sides.

Visitors today will still be able to view the variety of furniture displayed here, carved in great detail and accented with beautiful embroideries. The hall still embodies a prestigious ambience even though it was last rebuilt in year 1804.

Photo: Daejojeon Hall (left) / Huwon Garden (right)
Daejojeon Hall, National Treasure No. 816, primarily served as an official residence of the queen. It is located close to king's residence as well, making it an ideal place for young royalty to make frequent visits in order to receive training for national affairs and education on their responsibilities from an early age. The hall is also highly acknowledged for its aesthetic features both inside and outside of the building.

The royal garden located in the northern section of Changdeokgung Palace is called Huwon, or Secret Garden in English because it is at a rare part of the establishment. Thankfully, the garden was kept as natural as possible and has been touched by human hands only when absolutely necessary. Huwon was constructed during the reign of King Taejong, the first king of Joseon, and loved by royal family members thereafter. It is good to visit all year round, but is most beautiful when autumn foliage is at its peak, filling the palace grounds with the warm colors of yellow and orange. A number of treasures including trees planted more than 300 year ago, small pavilions and fountains complete the traditional Korean style garden.

In order to preserve the historical integrity of the Huwon, visiting hours are strictly limited. Visitors to the garden must be accompanied by a palace tour guide and tickets can be purchased online as well as on-site, separately or as an integrated admission pass.
More Info
☞ Nearby Attractions
☞ Website: www.cdg.go.kr (Korean, English)
☞ 1330 Korea Travel Hotline: +82-2-1330 (Korean, English, Japanese, Chinese)
* This column was last updated in September 2015, and therefore information may differ from what is presented here. We advise you to check details from the official websites before visiting.
<Last updated on September 24, 2015>