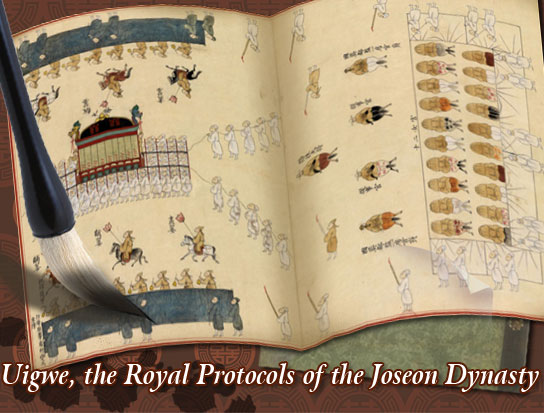 Record of Royal Protocols including Detailed Texts and Vibrant Illustrations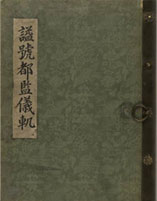 The Uigwe, which literally means "a model for rituals", records through text and illustrations of all the major state ceremonies and events of the Joseon Dynasty (1392~1910). This guide not only covers royal weddings, funerals, and banquets, but it also contains instructions for construction of royal buildings and burial sites, and guides on the cultural activities of the royal family, as well as various state events, which were systematically organized according to the traditions.

In addition to detailed descriptions of the protocols for events, the Uigwe also includes a list of the people in-charge, the number of staff, including their positions and responsibilities, items used, and expenditures for each event. Accompanying the texts are colored illustrations of major items used and sketches of events, creating a fascinating visual record.
Priceless Documents Recording the Royal Culture of the Past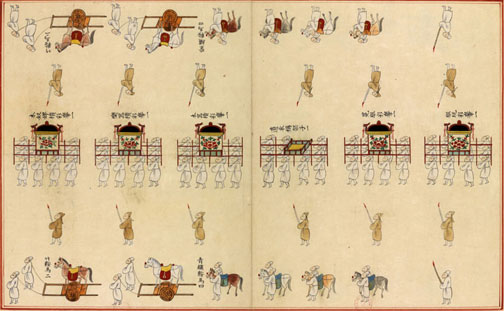 Entries in the Uigwe cover politics, economy, architecture, fine arts, science, language, fashion, and cuisine, making it a valuable document for studying various historical fields. It is a vital document for recovering information on the lost royal culture of the past. In fact, the current restorations of Changdeokgung, Changgyeonggung, and Gyeonghuigung palaces are based on the Uigwe records. Traditionally, the first copy was handed to the king, while five to ten other copies were distributed to relevant departments for safekeeping. Produced with the utmost care on high-quality paper and protected by silk covers, the king's copy has outstanding artistic value. During the French invasion of 1866, 296 of the King's reference books, which were kept in Oegyujanggak (the former Royal Library) on Ganghwa-do island, were seized. They are now kept in the National Library of France.


A Banchado Illustration (반차도)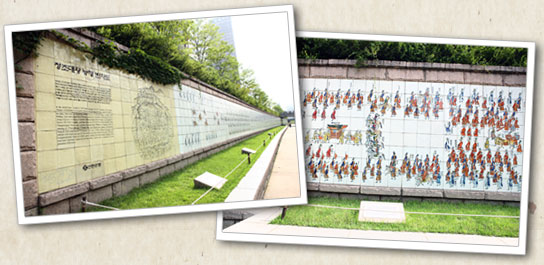 Banchado is an illustration that shows a grand procession and the order of the participants, which was decided according to their position in society. It offers a glimpse into the various details of royal processions, in terms of both scale and content.

A Banchado illustration can also be seen at the Cheonggyecheon stream in Seoul. There the Banchado illustration is reproduced as a mural 2.4 meters high and 186 meters long. It is located in the area below the Samil Building in Cheonggye 2-ga. It depicts the 8-day royal parade of King Jeongjo (22nd king of Joseon Dynasty, 1752~1800) and his mother Hyegyeonggung Hongssi, on their journey to Hwaseong Fortress in Suwon and to Yungneung, the burial site of his father, Crown Prince Sado Seja (or posthumously designated King Jangjo). Created by leading artists of the time, this and other illustrations are priceless examples of Korean art.
Recognized for their uniqueness in the world, the 3,430 books of the Joseon Dynasty Uigwe were listed on the UNESCO Memory of the World register in June 2007.


<Where to find the Joseon Dynasty Uigwe>

Seoul National University Gyujanggak
• Address: Seoul, Gwanak-gu, Sillim-dong, San 56-1, 103-dong
• Exhibition Hours: Mon-Sat, 9:30-17:30 (Closed on holidays)
• Reading Room Hours: Mon-Fri, 9:30-17:30 (Closed on holidays)
• Public Transportation:Take Subway Line 2 and get off at Seoul National University Station → Go out of exit 3 and take bus 5511 or 5513 → Get off at the Law School stop inside Seoul National University
• Gyujanggak website: http://kyujanggak.snu.ac.kr (Korean, English)
☞ Click here for Gyujanggak Library of Seoul National University

Academy of Korean Studies Jangseogak
• Address: Gyeonggi-do, Seongnam-si, Bundang-gu, Unjung-dong 50
• Reading Room Hours: Mon-Fri, 09:00-18:00
• Public Transportation:
* Seoul Station → Take bus 9003 for Unjung-dong → Get off at the last stop (Academy of Korean Studies)
* Take Subway Line 4 and get off at Indeogwon Station → Go out of exit 2 and take bus 303 or 1550-3 → Get off in front of the Academy of Korean Studies
* Take the Bundang Subway Line and get off at Seohyeon Station → Go out of exit 2 and take bus 220 → Get off at the last stop (Academy of Korean Studies)
☞ Jangseogak website: http://yoksa.aks.ac.kr (Korean, English, Japanese, Chinese)
☞ Click here for the Academy of Korean Studies Jangseogak


<Last updated on August 31, 2015>