Intangible Heritage of Humanity List

---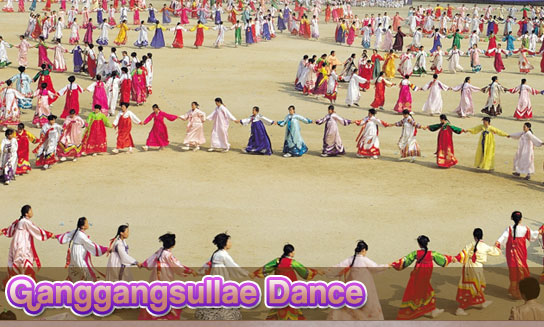 All-Women Folk Dance
The southwestern coastal province of Jeollanam-do is home to Ganggangsullae, a Korean song and dance tradition performed by females around Chuseok holiday (Korean Thanksgiving) on the brightest night of the full moon.

Legend has it that ganggangsullae originated from a military strategy used against Japanese troops when they attacked Korea's coastal regions. Following two Japanese invasions during the Imjin War between 1592 and 1598, Admiral Yi Sun-sin (1545-1598), then Naval Commander of the region, came up with a plan to deceive the enemy. He ordered dozens of local women to sing and dance gangangsullae around nighttime campfires on the mountainsides along the coast causing the Japanese to overestimate the strength of the Korean troops and retreat.

In a more general sense, ganggangsullae is considered a folk game, part of the age-old tradition of dancing and singing to celebrate the brightest full moon of the year. It expresses the exuberant spirit of women at a time when there were few such outlets for them. At the same time, it conveys the spirit of the Korean people beautifully.

Dancing Ganggangsullae

As the full moon begins to rise in the sky, women come together and move in a circle, hand-in-hand thrusting their right hands forward and their left hands back. The woman with the best voice sings first, followed by others who chant the repeated refrains of "ganggangsullae". The leader's singing is actually an improvisation. In the beginning, the dance movement and song tempo are slow, but the pace becomes more rapid, and soon the women appear to be running in a circle.


The dancers usually maintain a circular movement, but there are other variations. For example, a dancer can walk into the center of the circle in a dance called namsaenginori. Or, one can start rolling inside the circle mimicking a snail, and then turn the direction around to unwind from the center out in what is called meongseongmari. The dance is not bound by any specific order, but can change at the will of the leader. The dancing continues from start to finish as a kind of joyful merry-go-round.

This precious traditional dance was designated as an Important Intangible Cultural Property of Korea in 1966, and went on to become a UNESCO Intangible Heritage of Humanity in 2009.

---