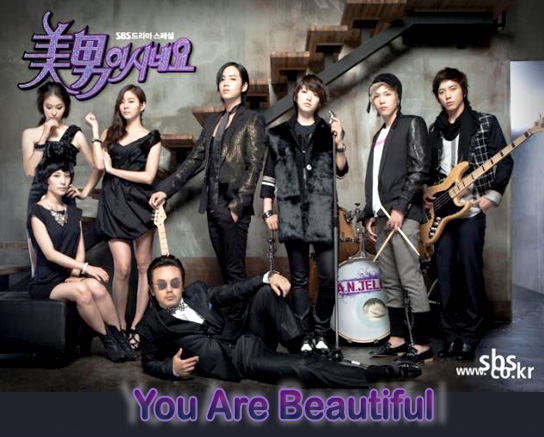 During its run, the drama , a story about the lives of the members of a teenaged pop group, received an impressive 10% viewer rating, faring quite well against the blockbuster drama airing on a different channel. The drama focuses on the dilemmas and love lives of a group of band members and had an audience mostly of young women in the teens and 20s. Based on a well thought out plotline and lively, engaging characters, the drama drew a very loyal group of followers. Main characters include Go Minam (who joined the pop group 'A.N.JELL' mid-way), Yoo He Yi (the 'mean girl'), and a journalist who sneaks around trying to find out Go Minam's true identity. Though the story's main concept is nothing new for TV audiences, a cast of brilliant actors and a series of unique plot twists give new life to the age-old story of love, fame, and growing up. The cast is made up of some of Korea's brightest stars: veteran actors/actresses Kim Seong Ryeong and Choi Ran, new talent Jang Geun Seok and Park Shin Hye, and singer-turned-actor/actress Yi Hong Gi, Yui, and Jeong Yong Hwa. The drama created quite a stir with its sweet and romantic OST and the stuffed 'pig-rabbit' featured in the drama, which became a popular icon.
Information
Chief Producer: Jo Nam Guk
Screenplay: Hong Jeong Eun, Hong Mi Ran
Directors: Hong Seong Chang, Bu Seong Cheol
Broadcast Period: Oct 7th – Nov 26th, 2009
Production Company: Bon Factory, Market Inside
Cast: Jang Geun Seok, Park Shin Hye, Jeong Yong Hwa, Yi Hong Gi

Synopsis
A.N.JELL, one of the top boy bands in all of Asia, consists of three cute and talented young men: Hwang Tae Gyeong, an arrogant music genius; Jeremy, a classy guy with a sunny disposition, and Gang Sinu, a seemingly cold and reserved prince. One day A.N. JELL decides to add a new member to the group, Go Minam. Go Minam ends up not being able to join the band because of botched plastic surgery and his sister Go Minyeo joins the band disguised as her brother. The two siblings are convinced that joining the band is the only way to find their long-lost mother, but of course, things don't turn out exactly as they planned. When Minyeo joins the band chaos ensues, but later she finds herself and discovers true love.
Characters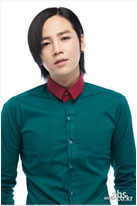 ☞ Jang Geun Seok as Hwang Taegyeong

Jang Geun Seok, who starred in such popular dramas as and , now takes on the role of the star of the most famous idol group in Korea, A.N.JELL. He is a brilliant song writer and piano player, and needless to say, very popular. His father Hwang Gyeong Se is a world famous conductor, descending from a long line of musical nobility. On the outside, Geun Seok seems perfect; but on the inside, it's a totally different story. He's got a million faults and idiosyncrasies that make his life anything but peaceful. He has stomach problems, night blindness, a shrimp allergy and he sleepwalks and is a germaphobe. The list goes on! He's tactless, stubborn, arrogant, and seems as if he couldn't care less about Go Minam. Despite his many faults and rough veneer, he is warm and sensitive on the inside and helps Minam whenever he/she gets into trouble.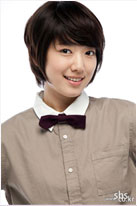 ☞ Park Shin Hye as Go Minam / Go Minyeo

Go Minam and Go Minyeo (Jemma, the Christian name given her when she was a nun in training) are twins. They grew up together in an orphanage at a nunnery. Minam is selected as the new member of A.N.JELL and plans to join the group, but an unfortunate set of circumstances get in the way, prompting Minyeo to join the band in her brother's stead. After being away from the real world for so long, Minyeo is socially awkward and rather straight-laced, but she's also very pure and sensitive. She tries the best she can to fill her brother's shoes and fulfill her part as a member of A.N.JELL – singing and preparing for concerts. After continually hanging out with Hwang Tae Gyeong, the leader in A.N.JELL, she starts to have feelings for him.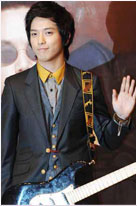 Jeong Yong Hwa as Gang Sinu

He has a beautiful and solemn face. He's not interested in anything and seems not to be affected by anything. If Tae Gyeong is the sensitive and uptight one, Sinu is the cool and apathetic member of the band. He's almost like a tired old man who has 'seen it all' and no longer enjoys the pleasures of life. Although he's currently a part of the band, he'd rather become a successful entrepreneur in the show business. When Go Minyeo first joins the band Tae Gyeong regards her with curiosity (and maybe even a little suspiciously) but then comes to fall in love with her and her innocent charm.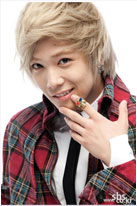 Yi Hong Gi as Jeremy

He is a healthy young man with a sunny personality. He's Korean-English with very successful parents; his father is a UK aristocrat who is also a world renowned photographer and his mother is a supermodel. He's very optimistic and balances out the more dramatic personalities in the band. He had always thought that he could never be friends with a girl, but after meeting the man/woman Minam he's not sure how he feels.
Filming Locations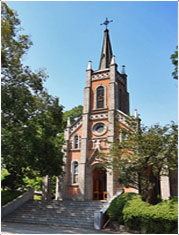 Gongseri Catholic Church

This is the place where Jemma (Go Minyeo) says her prayer and where David, Julian and Thomas clean a stone sculpture. Gongseri Catholic Church (공세리성당) is the second oldest cathedral in Chungcheongnam-do. In 1895, Father Devise, as he first came to the region on his mission, bought an 80-kan warehouse used for "Gongse" (tribute to the King) storage. Then in 1897, he changed the place into a cathedral and parsonage. The 113-year-old cathedral is designated as Cultural Asset #144 in Chungcheongnam-do. Among the cathedral's holy annexes are: the main cathedral building, a museum, Peace House, Stations of the Cross and graves of three martyrs (who are brothers), Bak Ui Seo/Won Seo/Ik Seo.

☞ Go to Gongseri Catholic Church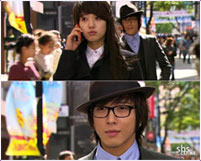 Myeong-dong

Hwang Tae Gyeong was supposed to meet Minam in front of Myeongdong Cathedral, but he never shows up. Instead, Sinu takes his crush Minam around Myeong-dong, and they have a great time shopping and eating. Myeong-dong is a shopping Mecca in Korea where you can see the very latest fashion trends gathered all in one area. It is also one of the most famous places for Koreans to meet and hang out. Take a walk in Minam's shoes with a scenic stroll through Myeong-dong.

☞ Go to Myeongdong
☞ Go to Myeongdong Cathedral
The Garden of Morning Calm

It is the place where Yoo He Yi and Hwang Tae Gyeong kiss and share rings. It's also the place where Go Minam shoots her music video and where Yoo He Yi cunningly makes Minam wear girl's clothes. The Garden of Morning Calm is an artistic, beautifully organized garden set against the picturesque natural backdrop of Chukryeongsan Mountain. It's the place to be for urbanites that are looking to relax in a soothing forest setting. This unique garden opened in May 1996 and since then, has frequently been used as a filming location for various dramas and movies.

☞ Go to The Garden of Morning Calm