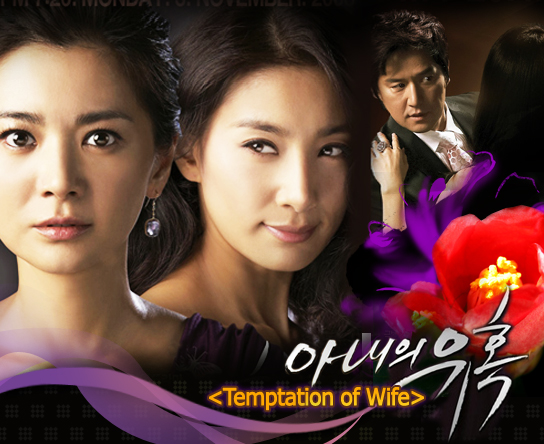 Temptation of Wife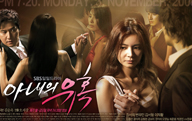 If you are a woman, whether or not you are happy with your current lot in life, you always dream of how your life could have been had you traveled down a different path. However, by indulging yourself in movies or dramas, you can vicariously live out your own dreams of a life and love that "could have been."

"Temptation of Wife" is a drama that indulges such romantic fantasies. It is based on the life of a housewife-turned-vamp who takes revenge on her unfaithful husband and back-stabbing friend and seeks a new life and love of her own. The gradual and painful collapse of an innocent housewife and her latter transformation into a femme fatale will capture the attention of viewers everywhere!

Drama Information
Director: O, Se-gang
Writer: Kim, Sun-ok
Cast: Jang Seo-hee, Byun Woo-min, Kim Seo-hyeong, Lee Jae-hwang
Broadcast network: SBS
Broadcast period: November 3, 2008 ~ May 1, 2009


Synopsis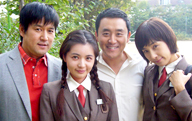 Although Eun-jae is married to Gyo-bin against her will, she is extremely devoted to both her husband, Gyo-bin and her in-laws. However, as if mocking her innocent and faithful heart, Gyo-bin has an affair with one of Eun-jae's dearest friends, Ae-ri. After being found out, Gyo-bin and Ae-ri drown Eun-jae and leave her for dead. They disguise Eun-jae's death as an accident and they even hold funeral for her, pretending to be extremely grieved. After the funeral Eun-jae no longer legally exists. By a twist of fate, however, Eun-jae is pulled from the water in the nick-of-time by Geon-u and becomes a step daughter in Geon-u's family since Geon-u's real sister had long since been missing. After she pulls herself together, Eun-jae starts to plan how to destroy her traitorous husband, Gyo-bin.


Characters
Gu Eun-jae performed by Jang Seo-hee
As a graduate of a top art school, Eun-jae dreams of becoming a make-up artist. However, her dream is cruelly dashed when she unexpectedly becomes pregnant with Gyo-bin's child. She is just as talented as her friend schoolmate Ae-ri as a makeup artist, but she has to give up her dreams after she gets married to Gyo-bin. Although her loveless marriage is void of happiness, Eun-jae tries to be an incredibly faithful wife to her husband, and to take good care of her in-laws. But things start to dramatically change as she realizes that her life is filled with lies and deception. After being grievously betrayed by her beloved husband and trusted friend, she became a whole different person.

Jeong Gyo-bin performed by Byun Woo-min
Gyo-bin has feelings for Eun-jae since high school, but Eun-jae never returned the feeling. Obsessed with Eun-jae, Gyo-bin gets her pregnant and marries her against Eun-jae's will. After Eun-jae has a miscarriage, Gyo-bin starts having brazen affairs, without any feeling of remorse. Later on, Gyo-bin and Ae-ri get to know each other, and Ae-ri, as a greedy and ambitious woman, makes a move on Gyo-bin. Gyo-bin is able to resist her at first and sends her to Paris in order to cover up the affair. Five years later, however, after Ae-ri comes back from Paris as a successful make-up artist, Gyo-bin falls for her again. Finally, at Ae-ri's insistence, Gyo-bin divorces Eun-jae.

Sin Ae-ri performed by Kim Seo-hyeong
On the outside, she's Eun-jae's dearest friend, but on the inside, she is a wicked woman who desperately wishes to become famous. Ae-ri is jealous of Eun-jae for marrying Gyo-bin, a rich man. Although Ae-ri was qualified for top universities, she had to go to a community college due to her and her family's dire financial circumstances. She has always been jealous of Eun-jae who married into a wealthy family. One fateful night, Ae-ri sleeps with Gyo-bin and uses his hush money to study in Paris. After returning back home, she ruins her friend Eun-jae by seducing Gyo-bin and convincing him to divorce Eun-jae.



Min Geon-u performed by Lee Jae-hwang
Although he is an orphan and grew up without the influence of parental authority, he grew up to be an upstanding man. He's a kind, gentle person with principles. Geon-u feels that meeting Eun-jae was his destiny and falls in love with her after he saves her life. As a competent and charming architecture, Geon-u works for Gyo-bin's company, and gains Gyo-bin's unshakable trust. He is a charming man that no woman can resist. Kind, warm-hearted and at times very rational, Geon-u is always there to protect and take care of Eun-jae.
Filming Locations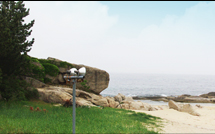 Jajakdo Beach
Jajakdo Beach, located in Goseong-gun, Gangwon-do, is the place where Gyo-bin and Ae-ri try to drown pregnant Eun-jae, and where policemen and divers look for Eun-jae's body. Ae-ri's final scene was also produced here.
Jajakdo Beach, named after a small rock island offshore, is famous for its snow white sand. In summer holidays, families with little children often come here to enjoy the beach's pristine beauty.
[INFO]
☞ Location : Munam-ri, Jugwang-myeon, Goseong-gun, Gangwon-do
☞ How to get there : take a bus to Sokcho-si at Gangnam Express Bus Terminal, or Dong Seoul Terminal, and then take either a bus #1 or #22 which connects to Sokcho and Goseong.
☞ Contact : + 82-33-680-3114 (County Office)
☞ Tourist information : +82-33-1330


Novotel Ambassador Gangnam
The "Gran A", a bar in Novotel Ambassador Gangnam, is where Eun-jae attracts Gyo-bin with her playful, sexy dance moves. The Novotel is also the location where Gyo-bin falls asleep and later is found by Aeri after receiving Eunjae's call informing her about her husaband's whereabouts.
Gran A presents live music every evening. At "Happy Hour", from 6 to 9 pm, you can enjoy unlimited wine, beer and light snacks for only 20,000 (VAT excluded). You can also order light meals with your drinks.
[INFO]
<< Novotel Ambassador Gangnam >>
☞ Location : 130, Bongeunsa-ro, Gangnam-gu, Seoul
☞ How to get there : take subway #2 to Gangnam Stn exit #7, walk for about 10 minutes/ take subway #9 to Sinnonhyeon Stn exit #4 and walk for about 3 minutes. To use the escalator, use exit #5. (Call at +82-2-531-6508, for pick-up service)
☞ Contact : + 82-2-567-1101
☞ Official website (in Korean, English, Japanese, Chinese)

Park Jun's Beauty Lab Cheongdam
The Bella Beauty shop that Ae-ri owns in is actually Park Jun's Beauty Lab located in Cheongdam-dong. Long before it became popular as a venue for , it had been receiving acclaim and a celebrity-frequented make-up and hair salon. Korean women often visit beauty shops like Park Jun's Beauty Lab to get their hair and make-up done in the latest styles. The beauty shop is themed by floor: the first floor houses the information desk and personal make-up, manicure and pedicure rooms; the second floor has a hair salon; on third floor, there are VIP rooms and hair clinic rooms; the hair spa shop is located on the fourth floor.
[INFO]
☞ Location : 5F of Wonil Building, 43-9 Cheongdam-dong, Gangnam-gu, Seoul
☞ How to get there : take subway #7 to Cheongdam Stn, exit #8 and walk straight ahead
☞ Office hour : 08:00-21:00
☞ Contact : + 82-2-511-1414
☞ Official website (in Korean)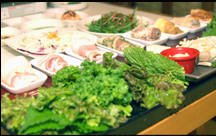 Palsaeksamgyeopsal (restaurant)
During Ae-ri and Gyo-bin's engagement ceremony, Eun-jae's brother and Gyo-bin's father discuss Eun-jae's suspicious death over soju (liquor) and samgyeopsal (grilled pork loin) at Palsaeksamgyeopsal located in Sinchon. Palsaeksamgyeopsal is famous for its delicious food and has received acclaim both at home and abroad. A number of dramas and films have used this restaurant as their setting.

The place is famous for its eight-colored samgyeopsal marinated with eight different kinds of sauce including wine, doenjang (soybean paste), herbs, gochujang (hot pepper paste), pine needles and ginseng. You can mix and match the 8 kinds of samgyeopsal to suit your individual tastes. Vegetables and side dishes are included when you order samgyeopsal. Samgyeopsal served alongside grilled tofu, kimchi and onions make for a meal that's out of this world!
[INFO]
☞ Location : Mihwa Building, 107-111 Nogosan-dong, Mapo-gu, Seoul
☞ How to get there : take subway #2 to Sinchon Stn and exit #6. Cross the road at the convenient store "Seven Eleven" and walk straight toward Sogang University for about 100m.
☞ Office hour : 11:00-23:00
☞ Contact : + 82-2-719-4848