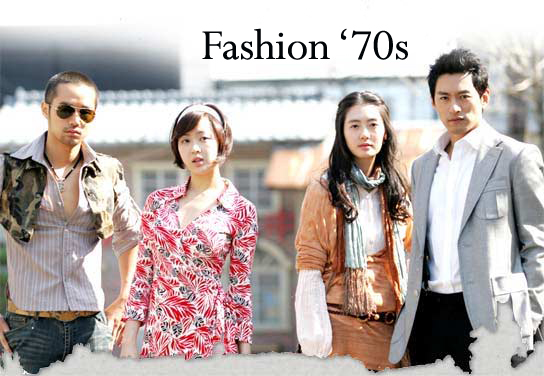 Fashion '70s is a drama that touches on fashion that was specially planned by SBS to celebrate the 60th anniversary of the restoration of the nation's independence. The war scenes at the beginning of the drama grabbed viewers' attention because of their authenticity, which is uncommon in usual dramas. This drama deals with the unique political and diplomatic situation in Korea in the 1960s and 1970s, as well as fashion and love. What is especially interesting is the face-off between the character played by Lee Yo-won, who returned to television after a three-year hiatus, and the new female antagonist played by Kim Min-jeong.

● Drama Information
Broadcasting station: SBS
Aired: May 23 to August 29, 2005 (Mondays and Tuesdays at 9:55 pm)
Directors: Lee Jae-gyu, Lee Jeong-hyo
Cast: Lee Yo-won, Ju Jin-mo, Kim Min-jeong, Cheon Jeong-myeong
Homepage: http://tv.sbs.co.kr/fashion70/ (Korean)

● Synopsis
In 1950, when the Korean War broke out, Jun-hui becomes separated from her parents during a bombing attack. Jun-hui meets Gang-hui, the daughter of a maid who used to work at her house. The two become close and come to rely on one another. They go to a US military training site to collect empty cartridges to earn money and Jun-hui is shot by a US soldier. Gang-hui runs away, thinking that Jun-hui is dead. She meets Jun-hui's father who was looking for his daughter at an orphanage. Jun-hui's father, who came close to committing suicide upon hearing the news that Jun-hui had died, and Gang-hui, who had been separated from her mother, become family and live together. Jun-hui's father builds a successful business and Gang-hui lives like a princess. Then one day, they run into Jun-hui, who grew up to become a bright woman. Bin and Dong-yeong, who have known Jun-hui since she was little, fall in love with her. The story of fashion in the 1970s and the entangled love of youths are presented in a rapidly evolving manner.

● Character Background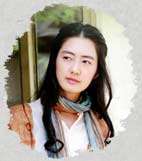 Deo-mi, played by Lee Yo-won
She is separated from her parents during the Korean War, and forgets that she is Jun-hui because of an accident that happened when she was little. Even though she thinks that Gang-hui's mother is her birth mother, she is a bright person who knows how to smile even in the toughest of times. However, behind her smile there is a hidden sadness that nobody knows about. She is a brilliant designer who devotes herself to fashion, and hopes to make her own clothes. She is determined and will do anything for her work, including telling a lie from time to time, but she is a character that is hard to dislike.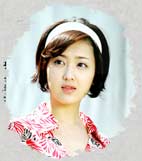 Ko Jun-hui, played by Kim Min-jeong
She is beautiful, elegant, and has good fashion sense. She lives with Jun-hui's father as if she were Jun-hui. This is why she always feels victimized, and is quick-tempered and sensitive. She is very stubborn about the things she wants and creates her own way of life. She dreams of becoming the best designer at the Asia Clothes Institute and works hard to achieve her goals, but loses to Deo-mi every time.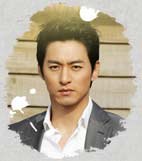 Kim Dong-yeong, played by Ju Jin-mo
He is sincere and trusted by all, and dedicated to living by his beliefs. As the presidential aide, he does a good job in handling difficult tasks, and is acknowledged for his skill. He was born into a good family and was always a conscientious person. He is fond of Deo-mi, who he had known when he was little. He later meets her and falls madly in love with her, but faces problems because of Jun-hui's affections.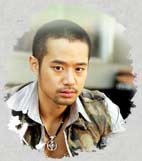 Jang Bin, played by Cheon Jeong-myeong
He leads a reckless and self-destructive life because he feels unloved by his mother, Jang Bong-sil. He seeks entertainment and fun, and has no hopes or dreams. He is selfish and inconsiderate, and causes trouble wherever he goes, yet he is a talented diver. After coincidentally meeting Deo-mi, he learns how to sacrifice and show consideration for another person. He falls in love with Deo-mi, but is distraught when he finds out that she and Dong-yeong, who is like a big brother to him, love each other. This character's defiant image stirs a maternal affection.

● Filming Locations
* Gwanmaedo Beach, Maenggoldo
Gwanmaedo Beach is located within Dado Marine National Park and one hour from Jindo by boat. It is famous for white sand spanning around 99,174 m2, and its clean, unpolluted waters. Visitors traveling by boat are treated to a view of the many charming islands in the archipelago before arriving at Gwanmaedo, which is the beach boasting the largest pine grove in the nation. If you ever get a chance to visit Gwanmaedo Beach, you might want to try the mouth-watering fresh and natural sliced raw fish, abalone, dolmiyeok (meaning "stone brown seaweed" because it grows on rocks), laver grown on underwater rocks, and anchovies. In the drama, Gwanmaedo Beach and Maenggoldo are used as the setting for Maenggoldo, the place where Deo-mi and Dong-yeong first meet which is also Deo-mi's hometown. It is difficult to get there within a day if you are traveling from Seoul, so you will need to spend one night in downtown Jindo.



Directions: Get off at Gangbyeon Station on subway line no. 2 -> Take a bus bound for Jindo at Dong Seoul Bus Terminal (twice a day at 09:10, 16:29; travel time: 5 hours, 40 minutes; fare: 26,000 won)
Get off at Central City Station on subway line no. 3 or 7 -> Take an express bus bound for Jindo at Seoul Express Bus Terminal (four times a day at 07:35, 09:00, 15:30, 16:35; travel time: 5 hours, 40 minutes; fare for general seat: 20,200 won, fare for special seat: 30,100 won)
From Jindo Terminal, take a bus bound for Paengmok Port (a 25-minute trip) -> From Paengmok Port, take a ferry to Gwanmaedo (09:30 (9,550 won), 10:20, 12:00 (7,300 won))-> Get off at Gwanmaedo Port
From Jindo Terminal, take a bus bound for Paengmok Port (a 25-minute trip) -> Take a ferry to Maenggoldo (09:00; fare is 13,600 won) -> Arrive at Maenggoldo Port
Address: Gwanmaedo Beach, Jodo-myeon, Jindo-gun, South Jeolla Province
Tourist information: +82-61-1330 (Korean, English, Japanese, Chinese)
Jindo County culture and tourism website: http://tour.jindo.go.kr/ (Korean, English, Japanese, Chinese)
* Yangjae Citizens' Forest
The place where Dong-yeong and Deo-mi were on a date, having ice cream, and riding a bicycle together is filmed at Yangjae Citizens' Forest, where citizens of Seoul enjoy visiting. If you want to enjoy a wonderful date like the date these two characters had, this is the place you should visit. The Citizens' Forest houses athletic facilities include tennis courts, promenades, a fountain, and an outdoor performance hall. It is a multifunction cultural space that even has an outdoor wedding hall. It is located near Gangnam Station, so it is a good idea to visit if you plan to be in the Gangnam area.



Directions: Take exit no. 7 from Yangjae Station on subway line no. 3 -> Take a taxi (less than ten minutes)
Address: 236 Yangjae-dong, Seocho-gu, Seoul
Tourist information: +82-2-1330 (Korean, English, Japanese, Chinese)
* Seopdari Bridge in Jucheon, Yeongwol, Gangwon Province
Seopdari Bridge (a makeshift bridge made of pieces of wood and pine tree branches) in Juchoen, Yeongwol, Gangwon Province is where filming for the drama first started. It is set up in a beautiful field, creating awe-inspiring scenery with its surroundings. The first episode featured a fashion show by celebrated designer Jang Bong-sil and was filmed both on and around Seopdari Bridge. The bridge the audience rushed across to go see the fashion show was Seopdari Bridge. Seopdari Bridge was once very famous long ago and several folk songs were written to celebrate its significance. Its 300 years of history is made famous from a site in Jucheon, Gangwon Province, where the Seopdari Festival is held every year.



Directions: Get off at Gangbyeon Station on subway line no. 2 -> Take a bus to Yeongwol from Dong Seoul Bus Terminal (runs 13 times a day from 07:00 to 22:00; fare: 12,400 won) -> Take a bus to Jucheon from Yeongwol Terminal -> Get off at Jucheon Terminal and take a taxi
Address: Seopdari Village in Panun-ri, Jucheon-myeon, Yeongwol-gun, Gangwon Province
Tourist information: +82-33-1330 (Korean, English, Japanese, Chinese)
* Wondang Horse Ranch
In the 13th episode, Dong-yeong tells Jang Bin that he should get involved with any dangerous work so that he can live a normal life. Dong-yeong, who worries about Jang Bin as if he were Bin's older brother, tells Jang Bin that he hopes Bin will fall in love and marry the person he loves. This scene was filmed at Wondang Horse Branch where Jang Bin driving a white jeep along a beautiful tree-lined street to get to the ranch, and the gorgeous sight of Dong-yeong having a conversation with Jang Bin while sitting on a white fence. This place, which is a popular site for couples to visit for a date, is well known since many movies, dramas, and commercials were filmed here. Transpiration to this place is a little inconvenient but it is a good place to enjoy a leisurely stroll. When visiting Wondang Horse Ranch, you should also visit Seosamneung (the royal tombs) located right next to the ranch.



Directions: Take exit no. 5 from Samsong Station on subway line no. 3 -> Take shuttle bus no. 1 and get off at the entrance of the stallion ranch -> Follow the tree-lined street on foot
Address: 201-79 Wondang-dong, Deogyang-gu, Goyang City, Gyeonggi Province
Tourist information: +82-31-1330 (Korean, English, Japanese, Chinese)
Hours: 09:00–17:00
Entrance fee: Free
 Photos courtesy of SBS and CINE21