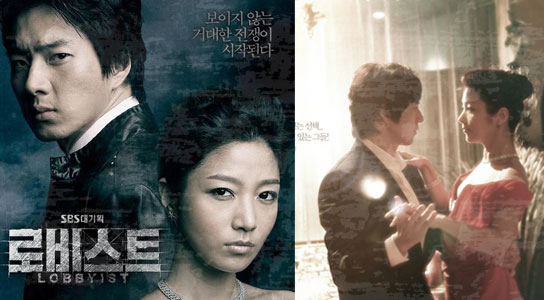 Lobbyist was filmed in the US, Kyrgyzstan, and other regions for around three months, and then filming was completed in Korea. Its production cost reached a whopping 12 billion won. The cast includes the tremendously popular Song Il-guk and Jang Jin-yeong. The drama's writer is Choi Wan-gyu, who wrote famous television dramas such as All In, Jumong, Heojun, and Love Story in Harvard. They were even declared the television drama "dream team" in 2007. Many people had great expectations and were especially curious about this drama because it dealt with the life and work of a lobbyist, which is unfamiliar to many people. Lobbyist is incredible to watch with its realistic confrontations and magnificent party scenes that make it seem more like a movie than a television show.
Drama Information
Broadcasting station: SBS
Aired: October 10 to December 26, 2007
Directors: Lee Hyeon-jik, Bu Seong-cheol
Cast: Jang Jin-yeong, Song Il-guk, Han Jae-seok, Heo Jun-ho
Homepage: http://tv.sbs.co.kr/lobbyist/ (Korean)
Synopsis
Harry, who had a happy childhood, loses his father, who was a solider, in a military operation to root out spies. He goes to U.S with his younger sister, Su-ji, to live with his aunt. Harry was abused by his uncle when he was younger so he kills him and runs away with his sister. Harry lives a difficult life on the streets. He borrows money from the mafia and is pursued by them. He then becomes secretary to Chae, who is the wife of the mafia boss. He meets Maria, who was being threatened by a mafia member, and rescues her. He discovers that Maria was a childhood friend of his from Korea, So-yeong. Harry becomes a weapon lobbyist under Chae, as does Maria upon the death of her older sister, Eva. The two live a difficult life as lobbyists traveling all around the world. They both return to Korea where they become rival lobbyists, leading a daily life that resembles a battlefield.
Character Background
Harry, played by Song Il-guk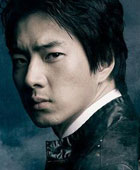 His Korean name is Kim Jun-ho. His father died when he was young and so he grew up in the US along with his younger sister, Su-ji. He knows how to live a life because of the hardships he experienced on a regular basis on the streets. He becomes tired of the monotony of his life, and dreams of raking in money, but fails every time. He grows up to be a cunning and tough person, tasting both the sweetness and bitterness of life, but retains his innate sense of responsibility. This is why he becomes a personal assistant to Chae, the wife of a mafia boss, and efficiently handles even the most difficult tasks. He is recognized by others for his friendship and loyalty and doesn't expect anything in return. He cares deeply for his little sister, Su-ji, and Maria.
Maria, played by Jang Jin-yeong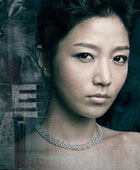 Her Korean name is Yoo So-yeong, and she is a friend of Harry who grew up in the same neighborhood when they were little. Her entire family immigrated to the US, but fell victim to fraud. Her father, who was facing hardships, dies in a bus robbery. She drives her father's bus and becomes a strong person who is able to look after herself. After witnessing her older sister, Eva, dying after an accident, she decides to take revenge. She devotes herself to avenging her sister's death, and is willing to sacrifice her life and love. She learns about lobbying from James Lee and uses her attractiveness to build her career. She appears innocent and pure, but is also a sexy and attractive woman.
Kang Tae-hyeok, played by Han Jae-seok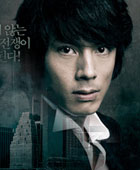 He is the youngest son of the family that owns the Hanseong Group, a leading defense company in Korea, who is warm-hearted. With his father's help, he is dispatched and works at the Korean Embassy in the US. He meets Maria's sister, Eva, and falls in love with her. When Eva dies as the result of a plot, he attempts to expose the conspiracy together with Eva's younger sister, Maria. He marries the daughter of a politician, which earns him his father's esteem and helps him succeed within his company. He has strong ambitions to achieve success, yet he is sometimes ignorant and sheltered because he was raised in an affluent family.
Chae, played by Kim Mi-suk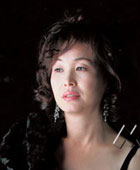 She is the wife of Pablo, who is a mafia boss from Italy, and also is referred to "the countess." She saves Harry, who was being pursued by the mafia, and employs him as her personal assistant. She has a great body for her age of 40s and from time-to-time relishes the advances many men make on her, and purposely tempts Harry. She is so ambitious that she kills her own husband in order to join the mafia but her love for her son runs very deep. She has many enemies because of her strong personality, but she cares for others though she does not show it.
James Lee, played by Heo Jun-ho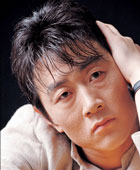 He is a cold person who uses all means possible to achieve success. He is the one who was behind the death of Harry's father, Major Kim, when he was in the Special Forces. After being placed on the reserve list, he becomes a lobbyist and plays an active role around the globe. He becomes a long-term devoted follower of Jang Tae-seong and embarks on the fast track to success. He knows many people in the domestic and overseas financial and political sectors. He converts Maria into a lobbyist when she comes to him seeking to avenge her sister's death, but thoroughly hides the fact that he himself is involved in the death of Eva.
Filming Locations
Imperial Palace Hotel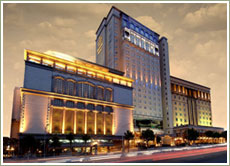 The hotel where Maria and James Lee stay for some time is the Imperial Palace Hotel located in Gangnam. This is where Maria resides and the place she uses as an office and conducts her lobbying activities. This is just the right place for Maria, who holds secret meetings and makes contracts. The Imperial Palace Hotel, located at the center of Gangnam, has charming features that make it especially popular among women. It also draws those who want to get a tan during summer. It is a good place to add to your itinerary when enjoying tour activities in Gangnam, Apgujeong, and COEX.
Directions: Take exit no. 2 from Gangnam-gu Office Station on subway line no. 7 -> Go straight toward Hakdong Station -> Take a left turn at the large intersection and then continue straight for around 200 meters
Address: 248-7 Nonhyeon-dong, Gangnam-gu, Seoul
Telephone: +82-2-3440-8000
Homepage: http://www.imperialpalace.co.kr/ (Kor, Eng, jpn)
Photos courtesy of SBS and CINE21