Character Background
Kang Yong-gi, played by Kwon Sang-woo
His father, Mr. Kang, is the owner of a large domestic corporation who cheated on his wife, and whose mistress gave birth to Yong-gi, which is why Yong-gi is so troubled. He is defiant and lives his life the way he intended. While he works as a pop artist he meets Joanne, a colleague, and they love each other passionately. However, his father's strong opposition leads to Joanne's suicide, which pains Yong-gi. He has a troubled heart because of his clashes with his father and the grief surrounding his birth, but meets In-jeong, who is emotionally hurt in love just like he is, and they start a relationship. He decides to not let love affect him anymore and vows to never lose the person he loves.

Na In-jeong, played by Lee Yo-won
She is a refined and beautiful cellist who is so successful that she even has her own album. However, her love for a married man, Soo-hwan, results her losing her parents and her baby. She is forced to give up playing the cello, which she had played all her life, and she is on the verge of committing suicide. However, five years later, In-jeong has become a strong woman who shapes her own life and shows no sign of her earlier weakness. She is attracted to Yong-gi, who has a bad temper and who she fights with all the time, yet she is shaken when her first love, Soo-hwan, appears.

Lee Soo-hwan, played by Kim Seong-su
He thinks he can sacrifice love to fulfill his ambitions. He marries Joo-ran, the daughter of the company president Mr. Kang, and is set to become his successor, but his married life is miserable. He falls in love with In-jeong at first sight, but doesn't hesitate to dump In-jeong when his wife, Joo-ran, finds out. However, even time does not help him forget his ardent love for In-jeong. He is a cold and strong-hearted man who will go to any extreme in order to inherit the company of Mr. Kang.

Joo-ran, played by Kim Ga-yeon
She is the wife of Soo-hwan, the only daughter of Mr. Kang, and the stepsister of Yong-gi. She does whatever she wants, and fears nothing in this world. She has been suffering from a menstruation disorder since she was little, which is why she becomes a kleptomaniac and short-fused when she is menstruating. She is almost irrationally attached to her husband, Soo-hwan. She loves him, but is child-like and doesn't know how to love. She is selfish and is relentless in taking revenge against In-jeong, who her husband had an affair with.

Joanne, played by Cha Ye-ryeon
She is the first love of Yong-gi who studies art in New York. She is a proud, free spirited artist, and falls passionately in love with Yong-gi. However, she makes an extreme choice—suicide—when she finds out that Mr. Kang opposes their relationship. She is like a shadow to Yong-gi; she is a person he will never forget for the rest of his life.

Filming Locations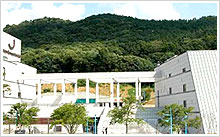 Pocheon Banweol Art Hall
When In-jeong is practicing with orchestra members, Joo-ran, the wife of Soo-hwan, barges in. She takes away the bow from In-jeong's hand then injures her wrist. From this incident In-jeong can no longer play the cello. This scene was filmed at Pocheon Banweol Art Hall. The hall is three stories tall, with two basement levels. It consists of a large performance hall with 910 seats, a small performance hall, a gallery, a multipurpose hall, and a square. Movies are screened and various concerts are given at Pocheon Banweol Art Hall. The building is unique in that it is shaped like a crescent.
Directions: Get off at Gangbyeon Station on subway line no. 2 -> Take a bus bound for Pocheon (73 times a day, every 15 minutes from 06:05 to 23:30; fare: 5,300 won; travel time: 90 minutes) -> Get off at Pocheon Cross-country Bus Terminal and take a taxi
Address: 596-2 Haseongbuk-ri, Gunnae-myeon, Pocheon City, Gyeonggi Province
Tourist information: +82-31-1330 (Korean, English, Japanese, Chinese)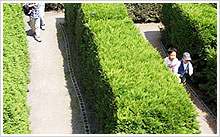 Jeju Gimnyeong Maze Park
After In-jeong and Soo-hwan pass each other in the elevator, they meet again at Jeju Gimnyeong Maze Park, which is a famous spot on Jeju Island. Soo-hwan, who is disappointed because he didn't get a promotion, and In-jeong, who took a trip alone to Jeju, coincidentally met at the Maze Park while trying to find their way out of the maze. The park is the only foliage maze park in Asia, and is designed based on seven symbols that represent the history and topography of Jeju Island. There are a total of four paths from the entrance to the exit. You can get out of the maze in as early as five minutes if you are good with maps or you can be stuck in the maze as long as an hour. The maze is completely cut off from its surroundings, which is why many young lovers enjoy coming here.
Directions: Go to Jeju International Airport -> Take a taxi or rent a car
Tourist information: +82-64-1330 (Korean, English, Japanese, Chinese)
Homepage: http://www.jejumaze.com/ (Korean, English, Japanese, Chinese)
Hours: 08:00–18:00
Entrance fee: Adults 19 and over: 3,300 won; Teens 13–18 years old: 1,650 won; Children 5–12 years old: 880 won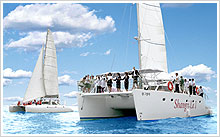 Yacht tour
In-jeong and Soo-hwan fall in love at first sight, and the first thing they do together is go on the Shangri-La Yacht, where they reveal their passionate love for each other. Images of this beautiful yacht and the blue waters of Jeju fill the screen. Shangri-La Yacht No. 1 is where the romantic date between the two was filmed. The yacht was built in 2007, and is equipped with top-notch facilities such as a seminar room, a DVD room, a foot massage room, a card game room, and a singing room furnished with a karaoke system, bedroom, and bathroom. There are various customized outings available including a one-hour tour that sails from Seongcheon Inlet within the Jungmun Tourism Complex in Seogwipo City, Jeju Island, to the waters by Jusangjeollidae (Seaside Cliff) and back.
Directions: Take limousine bus no. 600 at the limousine bus stop located next to gate no. 1 at Jeju International Airport (every 15 minutes from 06:20 to 22:00; fare: 3,900 won (Jungmun)/5,000 won (Seogwipo) -> Get off at the entrance of Pacific Land
Address: Within the Jungmun Tourism Complex at 2950-5 Saekdal-dong, Seogwipo City, Jeju Island
Tourist information: +82-61-1330 (Korean, English, Japanese, Chinese)
Rates: Public tour: 40,000 won–300,000 won; Private tour: 400,000 won–700,000 won
→ Jeju yacht experience
Jeju Haevichi Hotel


This is where the first scene of the drama was filmed, and also where four characters—Joanne, Kang Yong-gi, Soo-hwan, and In-jeong—meet each other. Because of Joanne and Yong-gi, who passionately kiss in a glass elevator and then walk toward a room, Soo-hwan and In-jeong get on the same elevator. The scene in the first episode where they first meet was filmed at the Jeju Haevichi Hotel, where you can take in an expansive and breath-taking view of the seashores of Jeju. The Haevichi Hotel has a golf course and resort facility. It is a large hotel with 288 rooms, including 46 suites. The hotel offers beautiful scenery, such as Pyoseon Beach and palm trees, that are uniquely found in Jeju in Korea.



Directions: Board a Haevichi Hotel shuttle bus at large bus stop no. 7 at Jeju International Airport (nine times a day at 09:00, 10:00, 11:00, 12:00, 13:90, 14:30, 15:50, 17:00, 20:30; travel time: 90 minutes; reservation required)
Telephone: +82-64-780-8000 (Korean, English, Japanese)
Tourist information: +82-64-1330 (Korean, English, Japanese, Chinese)
Homepage: www.haevichi.com (Korean, English, Japanese)
→Accommodations in Jeju Island

Incheon International Airport
Incheon International Airport was where the scenes of Yong-gi's departure from Korea and his return to Korea with Joanne's ashes were filmed. Most of the airport scenes in movies, dramas, and commercials are filmed at Incheon International Airport, an airport of global scale. It is known as the main filming location for the drama Air City, and so it evokes fond memories for fans of Korean dramas. It has various amenities, including shops, restaurants, health clinics, pharmacies, bookstores, convenience stores, cafes, and saunas. An airport railway linking the downtown area with Incheon International Airport has been in operation since March 2007, offering convenient transportation.
→Visit the Incheon International Airport site

Samcheok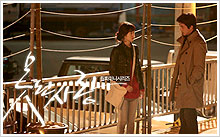 The place Yong-gi moves to is the Yangji branch of Gungchon Elementary School. Yong-gi buys the school and spruces it up charmingly. It remains the actual school that was closed down and taken up by artists as a place of work. It is located in Maewon-ri, which is close to the secluded Gungchon Beach, so it is not an easy place to reach.
The place where "Cockadoodle-doo Chicken," the restaurant In-jeong runs, is located and where the lively harbor scenes were filmed is Jeongnajin Harbor, which is easy to get to from downtown Samcheok. This is where Yong-gi and In-jeong fall in love with each other and where Soo-hwan comes to meet In-jeong. The Cockadoodle-doo Chicken restaurant was built for the filming of the drama, and is located on a street adjacent to Jeongnajin Harbor. Samcheok City is already well known because it is where the movie April Snow starring Bae Yong-jun was filmed. The entire city, with its traditional atmosphere, is certainly an apt filming location for movies and dramas. When touring Samcheok, don't forget to visit the tourist attractions shown in the film April Snow.

Directions: Get off at Gangbyeon Station on subway line no. 2 -> Board a bus to Samcheok at the Dong Seoul Bus Terminal (15 times a day from 07:10 to 20:05; travel time: 3 hours, 40 minutes; fare: 14,900 won) -> Get off at Samcheok Cross-country Bus Terminal and take a taxi
Tourist information: +82-33-1330 (Korean, English, Japanese, Chinese)
→ Visit the Samcheok City site