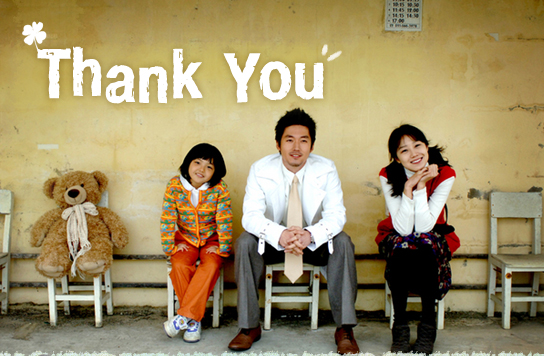 Korean TV Dramas> Thank You

Thank You, a comeback drama for Jang Hyuk after a four-year absence due to his military service, was certainly not a much-talked-about drama. Its scale was small compared to others and it didn't have an especially striking storyline. In fact, many were surprised that Hyuk chose this ordinary drama for his comeback. However, since Jang Hyuk and Gong Hyo-jin, both of who starred in Volcano High, were cast and the writer of the drama was also the writer for Hey Sang-doo! Let's Go to School, Sorry and I Love You and A Love to Kill, it began attracting considerable viewers. Unlike today's dramas Thank You was ordinary and written without dramatic twists in mind. Yet its non-sensational story and warm characters created a big stir. Viewer ratings were lower than for other large-scale productions, but it was a huge success in terms of its perfection of the genre and the strong performance of its stars.

The director of Thank You described the drama as
a small dedication to the lives of himself and others,
and furthermore, to everything in the world.
Thank You, a drama that shows appreciation and
gratitude for virtually everything,
is remembered as the most heart-warming and
sentimental drama of 2007.


Drama Information
● Director: Lee Jae-dong
● Cast: Jang Hyuk, Gong Hyo-jin, Seo Sin-aek,
Shin Seong-rok
● Aired: March 21–May 10, 2007
(Wednesdays and Thursdays at 21:55)
● Broadcasting station: MBC
● Homepage: http://www.imbc.com/broad/tv/drama/thankyou/ (Korean)


Synopsis
Living on the quiet island of Pureundo with her HIV-positive daughter, Bom, and her grandfather who suffers from dementia, Young-shin is an unwed mother leading a simple and peaceful life. One day, Ki-seo, a man who seems to have given up his life, comes to Pureundo. He used to be a pretentious surgeon in Seoul. However, when his fiancé dies, he loses interest in everything and exiles himself to the island. Ki-seo rents a room at Young-shin's house and behaves as he pleases, but he gradually becomes attracted to pure-hearted Young-shin. He is unsure whether his feelings for Young-shin and her grandfather are those of love or sympathy. Ki-seo begins to open his heart and develops a closeness with Young-shin and her family. Then, Choi Seok-hyun, Bom's biological father, comes to the island from Seoul to build a resort. Tensions build between Ki-seo and Seok-hyun because of Young-shin, who suffers from a series of crises.




Character Background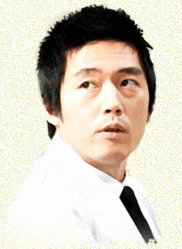 Min Ki-seo, played by Jang Hyuk
As a fourth-year resident at the age of 29, Ki-seo is a young and talented surgeon. Ranked one of the top five surgeons at a university hospital, he is cool-headed and confident but a bit cocky. Although his arrogance made him an enemy to many, he does not care. After watching how his father, also a doctor who had devoted himself to his patients, was betrayed by a patient and destroyed himself, Ki-seo is cold-hearted to his patients as well. He becomes a doctor who diagnoses patients' diseases, but never concerns himself with their feelings. When his fiancé dies, the only person he opened his heart to, he gives up everything and leaves for an island.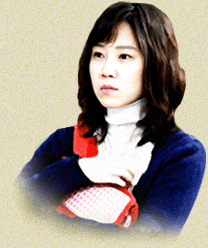 Lee Young-shin, played by Gong Hyo-jin
Hyo-jin is the 27-year-old single mother of Bom. She has a grandfather with dementia, a younger sibling living in another city, and an HIV-positive daughter. Despite a number of difficult circumstances including financial difficulties, she is a pure-hearted person who always has a bright smile. Young-shin is sometimes at a disadvantage because she is foolishly naïve. Although she is unrealistic, inexperienced and ignorant, her hard-working life makes her irresistible.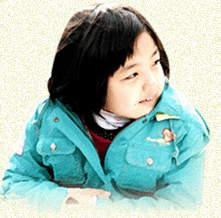 Lee Bom, played by Seo Shin-ae
Bom, a first-grader, is an adorable girl who wants to be a drama writer when she grows up. Just like her mother, she likes to interrupt others, is very bold, and even arrogant at times. A clever and articulate girl, she appears more mature than her actual age when she cares for her mother. Unlike other kids, she does not want others' help when she falls down and scrapes her knees. She has an almost angelic presence and accepts the fact that she is HIV-positive.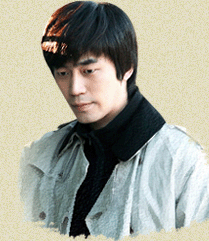 Choi Seok-hyun, played by Shin Seong-rok
Seok-hyun is 27, the same age as Young-shin. They were middle school classmates. As the son of the wealthiest family on the island, he was adored by every girl his age and graduated from the top university in Korea with a degree in architecture. Before joining the military service, he sleeps with Young-shin, but he is not aware that Bom is his daughter. He is so ambitious about his career that he probably would pretend he did not know about Bom even if he did. He is a talented and capable young man. Although he is gentle and kind to everybody else, he is constantly getting angry at Young-shin when he returns to his hometown to look after a construction project. When he encounters Ki-seo, who likes Young-shin, Seok-hyun feels jealous though he does not understand why.



Filming Locations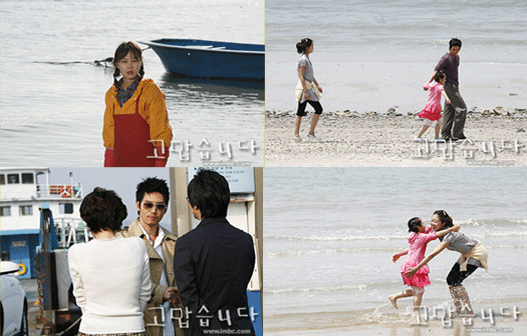 Jeungdo Island


As one of some eight hundred islands in Sinan-gun, Jeollanam-do, Jeungdo is given the fictitious name of Pureundo in the drama. This is the place where most scenes were filmed. No set was created for the drama. Starting from the dock, the entire island acts as the backdrop for much of the drama. The drama was filmed over the entire island, including its village paths, beaches, rice paddies and fields. Therefore, if you plan to visit Jeungdo to check out the filming locations for Thank You, it is good to thoroughly brush up on the drama before you do so.

Namhae Inn, which evokes memories of the middle-aged woman who cooked flower-shaped rice cakes for a Mr. Lee, Young-shin's grandfather, and showed him affection, and Yangji Coffee Shop, where Young-shin went on a blind date, are both located on Jeungdo. Jeungdo-myeon (Jeungdo village) has retained many of its old historical attributes, almost as if it was an old set, replete with various government and public offices and traditional restaurants. In addition, together with Changpyeong-myeon Damyang-gun, Cheongsan-do Wando-gun and Yuchi-myeon Jangheung-gun in Jeollanam-do, Jeungdo is one of Asia's first "slow cities" to be recognized by Cittaslow International. There is another place you should not skip when on Jeungdo. In October 2007, MBC and The National Library of Korea jointly built the Thank You Library, named after the drama.


● Tourist Information: +82-61-1330 (Korean, English, Japanese, Chinese)
● Directions: Seoul Gangnam Express Bus Terminal (Central City Station, subway line 3 or 7) -> Take a bus to Jido (twice a day at 08:30 and 16:20; fare: 27,000 won or 18,200 won; travel time: 4 hours 30 minutes) -> Take a taxi from Jido Terminal to Saokdo Jisingae Dock -> Take a boat from Saokdo Jisingae Dock to Jeungdo (nine times a day at 06:50, 08:30, 10:30, 11:00, 12:00, 14:30, 16:30, 18:00, 20:00; round-trip fare: 1,500 won for children 12 and under, 2,700 won for teenagers 13–18; 3,000 won for adults over 18) -> Arrive at Jeungdo Beoji Dock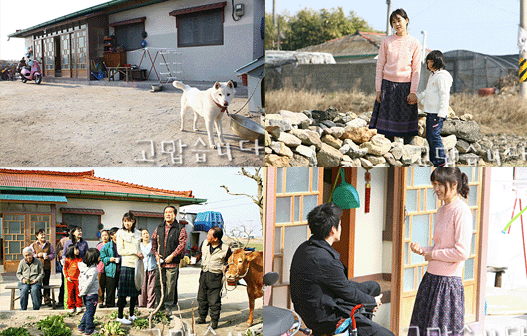 Hwado Island


The house where Young-shin and her family live is located in Hwado, a small island next to Jeungdo. Although the house is situated far inland, anyone in the village can give easy-to-follow directions. A 500-meter-long bridge connects Jeungdo and Hwado so it is important to cross during low tide. Ki-seo's room and the persimmon storage shed were specially built for the drama.


● Directions: Walk or take a taxi from Jeungdo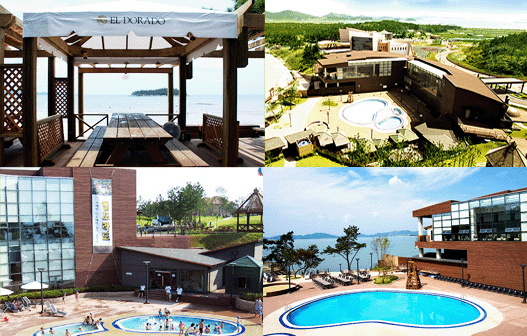 Eldorado Resort


Located on Jeungdo, Eldorado Resort is the resort that Seok-hyun's company planned to build. Every guest room has an ocean view so one can relax on the terrace while listening to the sound of the breaking waves. Ocean Spa Land, located within the resort, also has various facilities such as outdoor hot springs, a seawater sauna and seawater heat treatments, and during the summertime an outdoor swimming pool is open. The resort also has additional facilities including a business center, a supermarket, and a karaoke room. View Café, which towers over the sea, a romantic observation deck and a restaurant are also situated within the resort. Within Jeungdo there are only a few private homes available for accommodation so it is recommended that you stay at Eldorado and enjoy a romantic getaway if possible.


● Address: 233-42 Woojeon-ri, Jeungdo-myeon, Sinan-gun, Jeollanam-do
Tourist Information: +82-61-1330 (Korean, English, Japanese, Chinese)
Telephone: +82-61-260-3300 (Korean, English)
Reservations: +82-2-3288-6000 (Korean, English)
● Rates: 165,000 won and up (Please inquire about the exact rate when making a reservation since peak season rates differ from off-peak season rates)
● Directions: Take a taxi from Jeungdo (about 6 km from Jeungdo dock)

* Photos courtesy of iMBC and CINE21