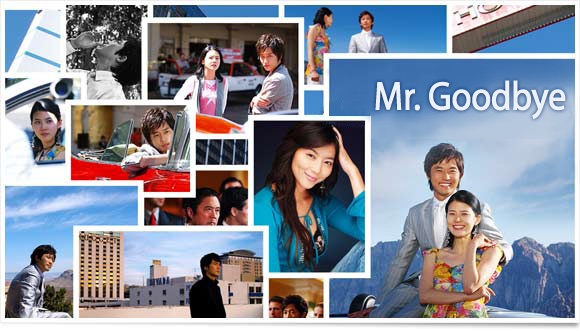 Although the drama <Mr. Goodbye> did not have high TV ratings due to the popularity of the drama <Jumong>, <Mr. Goodbye> nevertheless was praised for its quality. Furthermore, its unexpected conclusion captured many mania fans, resulting in continued favorable responses even after it ended. <Mr. Goodbye> stars Ahn Jae-wook who has not been on TV for some time, and a new rising star Lee Bo Young, whose superb acting shines onscreen. <Mr. Goodbye> is fun to watch, yet moving, with its story covering a variety of corporate scandals, appealing to viewers of all classes.
<Mr. Goodbye>
Network: KBS
Air Time: May 22, 2006 – July 18, 2006 Mondays & Tuesdays at 9:55 PM
Director: Hwang, Eui Kyeong
Cast: Ahn Jae-wook, Lee Bo Young, Jo Dong Hyuk, Oh Yoon Ah
Homepage: http://www.kbs.co.kr/drama/goodbye/index.html (Korean)
Synopsis
Adopted at an early age into an American family, Yoon Hyun Seo becomes a successful hotel businessman. He grows up harboring deep resentment toward his parents who deserted him and visits to Korea to look after matters of business. Though the provoking Young-in is his savior, he looks down on her because she is not wealthy. The two are on bad terms with one another, but begin to fall in love regardless as they become colleagues at the same hotel. As Hyun Seo becomes more adjusted to his life in Korea, he discovers that he has a son he was not aware of before. He also finds his biological mother, but falls fatally ill due to the recurrence of a heart disease. Hyun Seo finally has achieved love, wealth, and success, but must now say goodbye to the perfect world he has found.
About the Characters
Yoon Hyun Seo _ Ahn Jae-wook
As an adopted child, Yoon Hyun Seo is a hardworking successful hotel businessman, but his appearance can be deceptive. He comes off like an open-minded and humble person to strangers he meets but, in reality, he is actually merciless, cowardly, and full of jealousy. He is very thorough and smart when it comes to work, but has many enemies due to his tendency to speak indiscriminately or condescendingly. Yoon Hyun Seo is afraid of sexual intimacy because of the heart surgery he had five years ago. His return to Korea is not by choice, but inevitable due to business purposes.
Choi Young-in _ Lee Bo Young
She is an aesthetic skin specialist, but is not very popular at her company due to her frequent mistakes. She is careless and not too clever, yet remains a hard working individual, though always late for work and lacking self-expression. Choi Young-in loves to run, and she wins a free trip to Las Vegas in a marathon. She is not that clever but people like her because of her bravery and honesty.
Gang Sujin _ Oh Yoon Ah
She is a top heart surgeon and member of Korea's leading heart transplant team. She not only has the brains, but also the beauty. Her physical beauty intimidates both women and men alike, and she is not very approachable. Sujin looks strict and cold, but she is in fact warmhearted and fragile. She is a single mother of Yoon, the son of Hyun Seo, whom she gave birth to without Hyun Seo knowing.
Kyle _ Jo Dong Hyuk
Kyle works under Hyun Seo at the hotel in America, and when Hyun Seo is relocated to Korea, Kyle follows him. Kyle takes on the job of the new concierge chief at Empire Hotel. He notices Young-in's talent for capturing the hearts of the hotel guests regardless of her careless mistakes so employs her to work with him. With his good looks and strong masculine image, he is popular with women. However, he is a mysteriously veiled person.
Film Location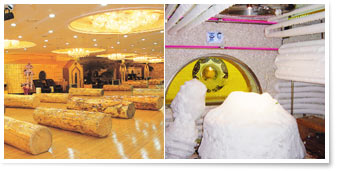 ● Seoul Leisure Sauna
Due to his fastidious trait, Hyun Seo does not have many friends. Even though he is obsessed about cleanliness, he finally goes to a sauna as Young-in wishes. He is careful about entering the ice room because of his heart condition, but once he does, he has a good time enjoying the artificial snowfall. Young-in makes her future plans with Hyun Seo, not knowing about his illness. However, Hyun Seo does not have the heart to squash her dreams and watches Young-in sadly as she dreams on. This popular scene was filmed at Seoul Leisure Sauna located in Ogeum-dong. The facility can hold up to 6,000 people at one time, equipped with an indoor golf range, a gym, a movie theater, a yellow earth room, an ice room, a cafeteria, a snack bar and more. Seoul Leisure Sauna is open 24 hours.
Directions: Take Subway Line #5 to Ogeum Station and go out of Exit #1 -> Make a left at Songpa Post Office at Ogeum Station intersection -> Pass Ogeum High School and cross the pedestrian crossing at the first intersection -> Make a left into the first alley, then a left at the first intersection (about a 10 to 15-minute walk)
Admissions: AM \7,000, PM \10,000
Business Hours: Open All Year Round, 24 Hours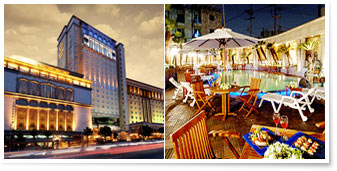 ● Imperial Palace Hotel
Imperial Palace Hotel served as a film location for the drama <The Invincible Agent> featuring Eric, and is the main film location of <Mr. Goodbye>. Since Ahn Jae-wook and Lee Bo Young are hoteliers most of the scenes were filmed at various places throughout this particular hotel. The scene where Lee Bo Young wears a Spiderman mask and surprises Ahn Jae-wook with a kiss was also filmed here. Imperial Palace Hotel has a cozy outdoor pool, which is popular in the summertime and the bar and restaurants also attract many customers. The hotel is located centrally in the Gangnam district near Apgujeong, Gangnam, and COEX.
Inquiries: +82-2-3440-8000
Homepage: http://www.imperialpalace.co.kr/
Address: 248-7 Nonhyun-dong Gangnam-gu Seoul
Directions: Take Subway Line #7 to Gangnam-gu Office Station and go out of Exit #2 -> Walk in the direction of Hak-dong Station -> Make a left at the first large intersection and walk about 200m.

Photos courtesy of KBS and CINE21