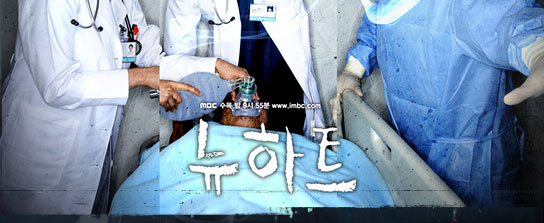 The medical drama has been receiving tremendous reviews. Backed by a strong cast, the high voltage drama is making its mark in prime time. Characters include the skilled Dr. Choi Gang-Guk, a doctor putting the well-being of patients above all else; Eun-Seong, a passionate and talented doctor from a third-class hospital; and Hye-Seok, an amazingly intelligent female doctor who is a cold-hearted realist. The drama follows their diverse character personalities as they undergo the daily chaotic routines at Kwanghee University Hospital. The drama's main strength is that all episodes are not linked – each story stands on its own, which makes for a fast-paced drama. Furthermore, New Heart brings in patients with different ailments and different stories every day, keeping the drama constantly interesting and fresh. The medical drama also unfolds a love triangle between top-star Lee Dong-Gwon, Eun-Seong, and Hye-Seok.
Drama Information
| | |
| --- | --- |
| ● | Network: MBC |
| ● | Airing Date: December 12, 2007~ Every Wednesday, Thursday at 9:55pm |
| ● | Directors: Park Hong-Gyun, Lee Min-Woo |
| ● | Cast: Ji-Seong, Jo Jae-Hyeon, Kim Min-Jeong |
| ● | Homepage: http://www.imbc.com/broad/tv/drama/newheart/ (Korean) |
Drama Synopsis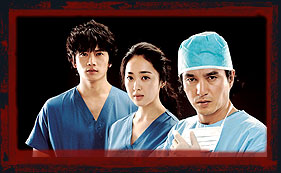 Lee Eun-Seong, a doctor from a third-class hospital, coincidentally joins the Heart Surgery Department of the Kwanghee University Medical Center as a resident, after being fascinated by the skills of Dr. Choi Gang-Guk. Nam Hye-Seok, an intelligent medical college graduate with great potential is declined from the Heart Surgery Department due to the fact that she is a female. Eventually, Eun-Seong and Hye-Seok are both admitted into the Kwanghee University Heart Surgery Department after a series of demonstrations, beginning their busy lives in daily battles with patients carrying various ailments. The drama goes through 20 episodes as the characters wrestle to save the lives of their patients and struggle with their own love drama as well.
Character Introductions
Lee Eun-Seong played by Ji-Seong
Lee Eun-Seong is a doctor from a so-called third-class hospital in the countryside, who decides to apply for Kwanghee University's Heart Surgery Department. Though he has a rough time being scolded by Dr. Choi Gang-Guk, he begins to receive recognition as he shows his innate talents with a passion for saving patients. In order to further his left-hand techniques, he practices using his left hand by making teddy bears. Though he had a hard childhood growing up in an orphanage, he always carries a bright and cheerful personality, popular among patients as he shows a great passion and love for them.
Nam Hye-Seok played by Kim Min-Jeong
Not only does Nam Hye-Seok enter Kwanghee University's Medical College at the top of her class, but she also graduates at the top of her class, and then applies for the least popular Heart Surgery Department. She shows her strong character as she organizes a demonstration when she is declined by the Heart Surgery Department by Dr. Choi Gang-Guk due to the fact that she is a female. Hye-Seok is a character who confronts her patients textbook-style, using reason and logic instead of treating her patients with heart. Though she constantly butts heads with the passionate and heartfelt Eun-Seong, she eventually finds herself being charmed by him and slowly opens up to her patients as well. Hye-Seok is the only daughter of a well-known Hanbok designer named Park Jun-Hee, and the truth of her father remains a mystery.
Choi Gang-Guk played by Jo Jae-Hyeon
Choi Gang-Guk is Korea's most elite doctor in the Heart Surgery Department. Though he portrays a strong self-pride, he reveals a deep heart for his patients. He not only shows a strong determination to his beliefs, but is extremely stubborn when dealing with his patients, which in turn results in constant disputes with his colleagues. Dr. Choi Gang-Guk even gives discounts for patients who don't have enough money for their hospital bills, or even tells them to just run away. Even though his passion for his hospital work creates a problem with his wife, he still puts all his heart into his patients.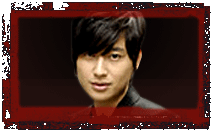 Lee Dong-Gwon played by Lee Ji-Hoon
Lee Dong-Gwon is Korea's top star actor and also Hye-Seok's elementary school friend. He coincidentally reunites with Hye-Seok, when he suddenly faints while filming at Kwanghee University Hospital. Dong-Gwon is extremely excited when he meets Hye-Seok as he takes an interest in her, and makes an excuse to stay at the hospital longer. He continuously sends her gifts, and reveals his true feelings for Hye-Seok, but all to no effect. Though his efforts seem to be in vain, he remains consistent with his feelings and eventually starts a scandal in the news. Although he seems to be a stubborn personality, he is not one to play around with love.
Filming Locations
●
Chung-Ang University Medical Center
The drama's main setting of Gwanghee University Medical Center is all filmed at the Chung-Ang University Medical Center. However, the medical center is only used for filming of its exterior, while filming that takes place inside of the hospital is on a large film set located at Gonjiam. Aside from the medical center's exterior, the Chung-Ang University Medical Center is also used for filming in the lobby area, stairways, hallways, and various indoor facilities.
The Chung-Ang University Medical Center is a general hospital that stands from the basement 3rd floor to 15 floors above ground, with a total of 562 patient rooms. The basement 1st floor consists of a bank, convenience store, coffee shop, restaurant, and other various convenience facilities along with concerts performed in the lobby.


Homepage: http://ch.caumc.or.kr/ (Korean)
Address: Seoul Dongjak-gu Heukseok-dong 224-1
Telephone: +82-2-6299-1114
Tourist Information Telephone: +82-2-1330 (Korean, English, Japanese, Chinese)
Directions: Subway line 7 Sangdo Station-> take a taxi from the exit #5 bus stop (5min)

In episode 1, Dr. Choi Gang-Guk has been demoted to the Kwanghee Medical Center located in the countryside, when he quickly goes up to the medical center in Seoul for an emergency surgery. The scene shot while he drives back to Seoul boasts the beautiful scenery of Tongyeong, with the Tongyeong Bridge and Chungmu Bridge to the rear. Also, Haesong Hospital, the place of Eun-Seong's internship, is actually not a real hospital, but the Tongyeong Citizen's Center located at Nammangsan Sculpture Park. The location is more widely known as Nammangsan Sculpture Park rather than as the Tongyeong Citizen's Center, so it is easier to look for the sculpture park.



Directions: Subway line 3 or 7 Central Station-> take a bus to Tongyeong from the Gangnam Express Bus Terminal (7:10am, 8:20am, 9:40am, 10:50am, 12:20pm, 1:40pm, 2:40pm, 3:40pm, 4:40pm, 5:40pm, 6:40pm, 11:00pm, 11:50pm, 12:30am, 14 buses daily, 5hrs travel time, general fee 18,100 won, first-class 27,000 won, late-night bus 27,000 won)
Tourist Information Telephone: +82-55-1330 (Korean, English, Japanese, Chinese)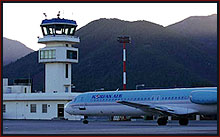 Due to evacuated casualties, Hye-Seok goes down to to Yeosu, then is in a hurry to find an airport to return to Seoul for a conference. However, when she is about to purchase a plane ticket, she finds that she didn't bring her wallet with her. Eun-Seong then shows up in front of Hye-Seok, bringing with him, her wallet and cell phone. The filming location for the Yeosu gateway was Yeosu Airport. Before the flight, Hye-Seok and Eun-Seong spend time together at Hamel Lighthouse eating cup ramen. When Eun-Seong carefully bandages the blisters on Hye-Seok's hands, she finds her heart beating faster and faster. The filming location of this scene was Hamel Lighthouse in front of Yeosu Jonghwa-dong Haeyang Park. The uniquely red lighthouse of Yeosu is a date course sought out by many couples. Yeosu is the location of Expo 2012 Yeosu Korea, a city boasting clean, natural scenery. Yeosu is perfect for tourists to enjoy as the ocean waters are clean and the nearby area is quiet.


Directions: Tour Yeosu Airport ①, Tour Hamel Lighthouse ① + ②
① From Gimpo Airport take a domestic flight to Yeosu (7:20am, 7:30am, 10:10am, 10:30am, 1:00pm, 2:00pm, 3:40pm, 5:40pm, 6:50pm, 9 flights daily, 55min flight, starting at 66,900 won → get off at Yeosu Airport →
② Take a bus to the Siwoe Bus Terminal from the Airport Bus Terminal → take a bus to Jinnamgwan from the bus stop next to the Siwoe Bus Terminal → get off at the Jinnamgwan bus stop and take a taxi
Tourist Information Telephone: +82-61-1330 (Korean, English, Japanese, Chinese)
●
Yosuseongsim General Hospital
Hye-Seok is forced to follow a maternity patient who falls brain dead after refusing to listen to doctors. The place Hye-Seok escorts the patient to in an ambulance is actually Yosuseongsim General Hospital. Yosuseongsim General Hospital is situated in the green lands of Yeosu, as the general hospital representing the region.


Address: Jeollanam-do Yeosu-si Dundeok-dong 471-77
Telephone: +82-61-651-4701
Tourist Information Telephone: +82-61-1330 (Korean, English, Japanese, Chinese)
●
The Renaissance Seoul Hotel
In episode 10, Hye-Seok gets splattered with the blood of an AIDS patient and after taking medicine becomes ill. After discovering that she may have been infected with AIDS, she takes a break from the hospital and Eun-Seong escorts her to a hotel. The Renaissance Seoul Hotel of Seoul Yeoksam-dong is the location where Eun-Seong's fascination with the hotel gets him overly excited, and where Hye-Seok shows a big smile as they eat strawberries and drink champagne together. This cozy hotel is enjoyed by many tourists looking for a place situated in the middle of Gangnam, Seoul. It stands at 23 floors above ground and 2 floors underground. There is also a limousine bus that goes directly to Incheon International Airport.


Address: Seoul-si Gangnam-gu Yeoksam-dong 1676-beonji.
Telephone: +82-2-553-8118
Homepage: http://www.renaissance-seoul.com/ (Korean, English)
Directions: Subway line 2 Yeoksam Station exit #8 → walk 10min straight and the hotel is located on the corner of the intersection

In episode 11, Hye-Seok confesses her love for Eun-Seong, but Eun-Seong rejects her. Hye-Seok, hurt from the rejection, decides to watch a movie by herself. The theater she visits is Seoul Cinema, situated in Jongno. Seoul Cinema holds 12 theaters, with a snack corner and a game facility as well. Not only does the theater provide various domestic and international movies, but it is also closely connected to Insa-dong, Jongno, Cheonggyecheon, and other various tourist areas.

Address: Seoul-si Jongno-gu Gwansu-dong 59-7
Tourist Information Telephone: +82-2-1330 (Korean, English, Japanese, Chinese)
Directions: Subway line 1 or 3 Jongno 3-ga Station exit #14 → walk 100m straight
* Photographs from iMBC and Cine 21