'Something Happened in Bali' was an entertaining drama full of complexities and featured an unbelievable ending. The notable cast of characters in this drama differ from others simply because they carry no secrets or past complications in their lives. In the drama, Jae-Min's hardship is only from the fact that he can't have his love Su-jeong, exclusively.
'Something Happened in Bali' does not come across as an ordinary drama, but is composed of a series of diverse intertwining relationships that keep things suspenseful right to the end. As a result, viewers feel a sense of compassion and pity towards the characters of So Ji-Sub and Jo In-sung at the end of each episode.
This drama is able to evoke sympathy from viewers towards the coexistence of both good and evil in two characters (Jo In-sung, So Ji-Sub) as they are more attached rather than merely in love. Viewers will feel a sense of sympathy for Su-jeong, who says she can do everything if money is available.
Drama Information
Broadcasting Station : SBS
Televised Dates : January 3, 2004 ~ March 7, 2004 Every Saturday, Sunday 9:50pm
Homepage : http://www.sbs.co.kr/new/tv/bali/ (Korean)
Director : Choe Mun-Seok
Cast : Ha Ji-Won, So Ji-Sub, Jo In-sung, Park Ye-Jin
Drama Synopsis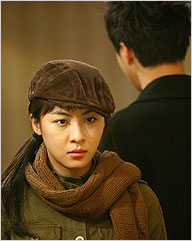 Jae-Min flies to Jakarta with his fiancee, Yeong-Ju, to inspect a factory his company has partnered with. Yeong-Ju insists on going with him since her ex-boyfriend, In-uk, whom she is still in love with, is working at the factory. In-uk, after breaking up with Yeong-Ju, has been in his own world, busy working in Jakarta. When In-uk finds out that the factory will merge with Yeong-Ju's company, he decides to retire. Jae-Min comes to inspect the factory, and soon after his briefing, In-uk is invited to have dinner with him, where he finds out that Yeong-Ju is his fiancee.

Su-Jeong is a character barely making a living as a tour guide in Bali. Her dream is to marry a wealthy man and live happily ever after. She becomes Jae-Min's tour guide, and, Jae-Min, being one to do as he pleases, angers and frustrates Su-Jeong. This leads to the meeting of the four characters and later they fall into tangled relationships.
Character Descriptions

Lee Su-Jeong-played by Ha Ji-Won

Su-Jeong is a 25-year-old tour guide in Bali. She is an orphan, living with her older brother, however, is constantly busy due to the troubles her brother causes. Since Su-Jeong has been busy living her difficult life, she has lost sight of her dreams. At the same time, because she is not clever, her defrauders usually swindle her. Though she is constantly in debt because of her brother, her heart is vulnerable to him, as he is her only family. Lee Su-Jeong has a lot of pride, but always wears a smile so that others will not be weary of her difficult situation.

Jeong Jae-Min-played by Jo In-sung

Jae-Min is a 27-year-old man possessing more capital and authority than any plutocrat. Though he tries hard to earn the love of his father, it is all in vain as his older brother receives all of it. He spends his childhood attending distinguished schools in the United States and Britain, and then attends an illustrious university majoring in business. After gaining experience working on Wall Street, he soon returns home to marry Yeong-Ju. Though he is not in love, he tries to win over Su-Jeong, since she is the first thing that he is unable to get. He thinks that he can buy anything with money. He is a bit innocent and sensitive, and able to spur a maternal instinct in women. Jeong Jae-Min has great fashion sense and an ability to quickly adapt to his environment.
Gang In-uk-played by So Ji-Sub

In-uk is a character that keeps to himself due to his background. His parents divorced when he was young, and he now has a mother who jumps from one man to another, while he frustratingly lives in constant poverty. Gang In-uk is intelligent and good at sports. He also has a strong drive, diligently finishing any task he is confronted with. Because of his cold character, he never lets people in to know what he's really feeling. In-uk tries to take revenge on Yeong-Ju and Jae-Min by using Su-Jeong, however, surely enough, begins to fall in love with her.
Choe Yeong-Ju-played by Park Ye-Jin

As the distinguished daughter of one of the nation's plutocrats, she grows up like a princess, never feeling pain or sadness. Not only does she possess a good personality and great beauty, but is smart as well, and enters a distinguished university. She falls in love with a schoolmate, In-uk, but is forced to breakup as she is sent to America. Although this is the first time she suffers pain and sadness, she never surrenders. She meets Jae-Min in America, but still cannot forget her first love, In-uk. When she sees that both Jae-Min and In-uk begin to take an interest in Su-Jeong, she turns into a jealous person who wants revenge, having a sense of inferiority to Su-jeong. She loses out because she doesn't know well how to express her mind or love.
Drama Film Locations
Seoul City Tower
The company Jo In-sung works for in the drama, Pax Land, is located near Seoul Station at Seoul City Tower. Filming took place at night and during the holidays on the 20~22 storeys, overlooking Seoul Station. The building's hallways, restrooms, and offices were used as film sets. Namdaemun and Myeongdong are also easily accessible from this location.



Address : Seoul Jung-gu Namdaemunno5-ga 581
Directions : Subway line 1,4 Seoul Station exit #10 → Seoul City Tower Building

Incheon International Airport
Su-Jeong follows Gang In-uk to Bali and Jae-Min quickly chases them to the airport. This was a suspenseful scene where the characters take a trip abroad leaving from Incheon International Airport. Aside from 'Something Happened in Bali,' many other dramas and movies were also filmed here.
→ An Article on Incheon International Airport

Ilsan Juyeob-dong
After eating at home, Jae-Min races to the house where Su-Jeong is waiting. He forcefully makes Yeong-Ju get off of his car, and Yeong-Ju begins to cry as she sees him driving away. This scene was filmed in the streets of Ilsan's Juyeob-dong. Though this is a residential area, the Grand Shopping Mall is replete with a theater, restaurants and various entertainment facilities.
Directions : Subway line 3 Juyeob Station, exit #5 → Walk straight across the crosswalk at the Daewoo City Plaza's 4-way intersection → It's the street in front of the Dongbu Sun Plaza
Ritz Carlton Hotel
Jae-Min says that he would give Su-jeong the opportunity to become his fiancee and suddenly grabs her. However, after Jae-Min sees her thermal undergarments, he begins to laugh. This scene was shot at the Ritz Carlton Hotel in Yeoksam-dong, Gangnam-gu, Seoul, on the 16th floor. The illustrious hotel is located only a short walk from Gangnam Station, making it a convenient location for business people and tourists alike.
Telephone : +82-2-3451-8000
Address : Seoul Gangnam-gu Yeoksam-dong 602
Homepage : http://www.ritzcarltonseoul.com/ (Korean, Japanese)
Directions : Subway station line 2 Gangnam Station, exit #7 → make a right at the Gangnam Gyobo Tower's 4-way intersection → walk straight and the hotel should be to your right (a 10 min. walk)
* Photographs provided by: Cine 21, SBS