'Hey Sangdoo! Let's go to School' was Rain's (real name Jeong Ji-Hoon) first acting role, Korea's sexiest singer who has conquered the pop charts. His co-star was Kong Hyo-Jin, an actress who has been in the spotlight for her roles in traditional dramas and has frequently appeared in movies and dramas. Everyone's concerns about the drama were put to rest when the drama made a successful debut. This is a production where fans were able to witness singer Rain's charm and appeal as an actor, making it one of the best dramas of 2003.




Drama Synopsis
Sang-Doo loses his parents in a car accident, and is raised by his gigolo uncle until the 5th grade, when a rich family adopts him as their only son. However, he is abandoned by the family after getting in a fight, and is sent to a juvenile reformatory school. Later, Sang-Doo is the 27 year-old father of a sick 7 year-old child, who seduces rich women to give him money. When it comes to his daughter, he shows extreme devotion and love, only eating ramen everyday to save enough money for his daughter's hospital bills.
Although Sand-Doo returns to live with his uncle, his single joy in life is watching his daughter get better. Then one day, his life begins to change when he coincidentally meets his first love, Eun-Hwan. After finding out that Eun-Hwan is a teacher, Sang-Doo decides to go back to school. As 27 year-old Sang-Doo attends school, a comical and heartwarming story starts to unfold.



Character Descriptions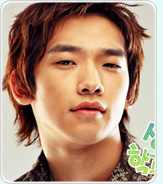 Cha Sang-Doo / Played by Jeong Ji-Hoon

He loses his parents to a car accident and is raised by his gigolo uncle. Although a rich family adopts him, he is kicked out of the house and sent to a juvenile reformatory school when he gets into a fight trying to help out Eun-Hwan. One day, Sang-Doo has a one-night-stand with Sera, a girl that has been chasing him around, resulting in an unexpected pregnancy. Sera keeps the child and names the baby girl, Bori.
Sang-Doo naturally begins to follow in the footsteps of his gigolo uncle in order to raise money for his sick daughter's hospital bills. He gains much popularity amongst the ladies as an eloquent speaker with a charming smile. He coincidentally reunites with Eun-Hwan and gives up his life as a player to return to school.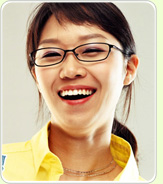 Chae Eun-Hwan / Played by Gong Hyo-jin

Her parents divorce when she is little and she ends up living with her stepmother, Shim-Lan. Although she harbors hatred for her mother who left her and her father, she tries to hide her true feelings. She is unaware that Sang-Doo is expelled from school and sent to a juvenile reformatory school because of her, and runs away with her stepmother at night after Shim-Lan steals the club organization's money. Though she graduates from college as a math major, she acts more like an older sister than a teacher, who plays Go-Stop (a Korean card game) with Shim-Lan and goes to Noraebang (Karaoke) frequently. Eun-Hwan is waiting to marry Min-Seok, a doctor, when suddenly her first love, Sang-Doo, reappears and she starts to have second thoughts.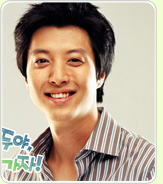 Kang Min-Seok / Played by Lee Dong-gun

He is a refined and open-minded man living the life of an elite while his parents are both professors living abroad. Though he loves his fiancé for everything that she is, he becomes disturbed when Eun-Hwan is drawn to Sang-Doo in spite of his terrible family background. He is against Eun-Hwan and Sang-Doo's relationship and tries to interfere, but eventually decides to let Eun-Hwan go, and chooses to study abroad. Min-Seok is a confident character who possesses a very easy-going personality.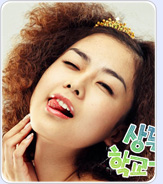 Han Sera / Played by Hong Soo-Hyeon
Her mother abandoned her at the age of 8, and she completes middle school while growing up at an orphanage. There is no work she hasn't already tried, living a poverty stricken life. At one point, she incidentally receives help from Sang-Doo, and falls in love with him, continuing to follow him around for several years. Then one day, she sleeps with Sang-Doo at a motel after drinking, and later tells him that he is the father of her child. However, Sang-Doo's unchanging negligence towards her pushes her to have the child in revenge, but she leaves the child at an orphanage since she is unable to care for her.
Knowing that Sang-Doo took her daughter, Han Sera visits him, but receives the usual cold shoulder from him. Although she succeeds as a leg model, Han Sera is unable to tell Bori that she is her real mother. She is a kind-natured person at heart, but due to her rough upbringing, she has a foul mouth and a selfish personality. She is also constantly heart-broken as a result of Sang-Doo's unchanging negligence towards her.


Drama Filming Locations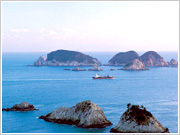 Namhae
This is the setting for the beginning of the drama where Sang-Doo and Eun-Hwan grow up, and is also the film location for the school trip in episode 8. The hike on Mt. Geumsan during the school trip, Boriam, the Boriam 3-story stone pagoda, and Ssangheungmun Gate all made appearances in the drama. The Ssangheungmun Gate is special in that it has words written on it from when Sang-Doo and Eun-Hwan were younger. Mongdol Beach and Cheonha Village, of Sang-Doo and Eun-Hwan's childhood are both also located in Namhae.
Directions: Take Subway line 3 to Nambu Terminal: Take the bus headed towards Namhae → From the Namhae City Bus Terminal, take the bus headed towards Sangjoo / Mijo and get off at Cheonha Village

→ For more on Namhae City, click here!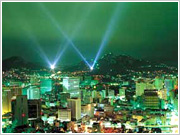 Myeongdong
Myeongdong was the film location for the first scene of episode 1, where Sang-Doo and his uncle are both walking in black suits and sunglasses. In this scene, bird droppings land on Sang-Doo's uncle's head. Myeong-dong, Korea's biggest shopping district, is where Sang-Doo made his first debut in this drama.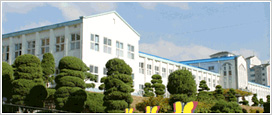 Osan High School
Taesan High School, the school that Eun-Hwan teaches at and the school that Sang-Doo enters is Osan High School, located in Yongsan. The antique look of the school with white walls and a sky-colored roof has been around for over 90 years, having deep traditional roots. Since it is located at the riverside, the school overlooks the Han River.
Directions: Take Subway line 6 to Itaewon Station → Take bus 0013 or 0211 headed for Bogwangdong and get off at the Bogwangdong bus stop.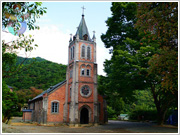 Pungsuwon Catholic Church
This is the setting of Eun-Hwan and Min-Seok's wedding, where Sang-Doo appears instead of Min-Seok. The church is also the famous setting for the drama 'Love Letter.' Its beautiful landscape should not be missed.
Directions: Go to Sangbong City Bus Terminal → take the bus towards Hweengseong / Gangneung → Get off in front of Pungsuwon Catholic Church (You must tell the bus driver that you will be getting off as soon as you get on the bus.)
Hwangjae Jokbal (pork hock)
Many entertaining scenes were filmed here at this restaurant, owned by Eun-Hwan's mother, and where Sang-Doo played Go-Stop. Inside the restaurant, a picture with the signatures of all the cast members is hanging on the wall. The weekly menu is pork hock and Sundaeguk, located in Sangdo-dong's Jaerae Marketplace, making it a nice place to take in the marketplace scenery.
Directions: Take Subway line 7 to Sindaebang's 3-Way Intersection Station and go out of exit #1 → walk towards Jangseungbaeki for 100m → make a right at the corner of SC First Bank and GS25 convenient store after passing Lotteria located next to Hana Bank.
* Photo Courtesy: KBS, Cine 21