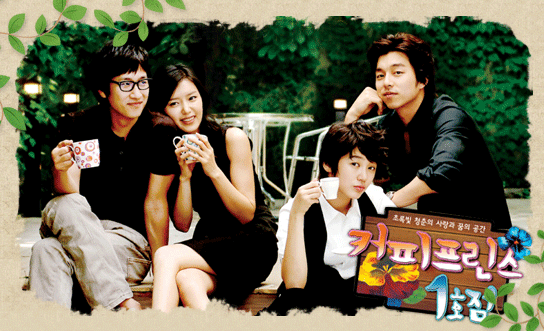 The First Shop Of Coffee Prince
Shes back! Following her roles in Princess Hours and The Man of the Vineyard, which made her an icon of trendy Korean dramas, Yoon Eun-hye is now starring as a tomboyish young girl dressed as a man in The First Shop of Coffee Prince. This big hit in Korea, which is based on a novel with the same title, has attracted a large female audience by casting some well-known actors to play handsome princes in this marshmallow drama. This is the first long dramatic series ever to be produced by MBC's first female drama producer Lee Yoon-jung, who had previously directed shorter dramas such as Taeneung National Village. With her sophisticated and feminine dramatic sensibility, Lee has succeeded in capturing the hearts of viewers who are largely young males and females in their thirties.



Drama Information

Broadcast Network : MBC


Broadcasting Dates : July 2 ~ August 28, 2007 at 21:55 every Monday and Tuesday


Producer : Lee Yoon-jung


Cast : Yoon Eun-hye, Gong Yoo, Lee Seon-gyeon, Chae Jung-an


Website : http://www.imbc.com/broad/tv/drama/coffeeprince (Korean)
Synopsis
As the head of a poor family, the lively and independent Eun-chan has worked at just about every job there is. She is hired to work at a coffee shop by Han-gyeol who mistakes her for a male and asks her to pose as his boyfriend. A relationship begins between Han-gyeol, who pretends to act as a homosexual to scare off the blind dates arranged by his grandmother, and Eun-chan, who needs to hide her gender to make money.
At his grandmothers request, Han-gyeol takes charge of the failing Coffee Prince. He re-opens the shop together with a few princes including Eun-chan and builds a partnership and friendship with them. In the process, Han-gyeol finds himself drawn to Eun-chan, and this homosexual attraction confuses him.
About the Characters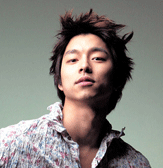 Choi Han-gyeol Played by Gong Yoo
Han-gyeol is the heir to the Dongin Foods Company. He had been working in the U.S., but returns to Korea at his grandmothers request. Smart, witty, and handsome, he is popular with women. He hasn't settled on any particular job, and still has so many things he wants to do. Clearly, taking over the family business is not what he has in mind. He is unable to defy his grandmothers requests, however, so he starts managing the coffee shop, Coffee Prince, and grows to enjoy the taste of its coffee. Definitely stubborn, he doesn't want to ask for favors or give them. Likewise, he acts with indifference toward others. However, deep inside he is warm hearted. He meets Eun-chan, a lively boy (who is actually a girl) and falls in love with him, which has him deeply troubled about his sexual preference.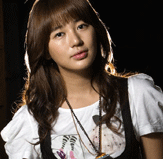 Go Eun-chan Played by Yoon Eun-hye
Eun-chan is definitely a manly-looking girl. When she was in high school, girls of her age often mistook her for a pretty boy and tried to date her. Since her father passed away, she has worked at all kinds of jobs to support her family. Despite her difficult situation, she maintains a courageous and forthright demeanor. A likeable person, she enjoys eating good food and is friendly to everyone. Influenced by her coffee-loving father, she has an uncanny ability to judge the aroma of coffee. Thanks to this ability, she lands a job at Coffee Prince and dreams of becoming a hostess one day. She falls in love with Han-gyeol who is cold and wild, and since their encounter, her life is no longer as peaceful as it had been.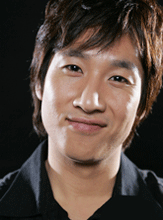 Choi Han-seong Played by Lee Seon-gyeon
Not only does Han-seong have a sweet voice and smile, but he is also easy-going and can make friends easily, though not revealing his true feelings. Like other artists, he is stubborn and somewhat eccentric. A musician working at a broadcast company, he lives alone - away from his family and the family business, Dongin Foods. As far as work is concerned, he is full of confidence and active. He has found it difficult to be close to women ever since he broke up with his ex-girlfriend, Yoo-joo. However, he finds he is drawn to Eun-chan who befriends him.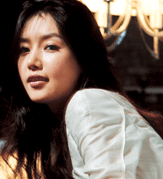 Han Yoo-joo Played by Chae Jung-an
Yoo-joo is a stylish and sexy artist. The raven-haired beauty has been working actively in both New York and Seoul. She is liberal to the point of selfishness, wearing whatever fashion suits her taste. She makes friends with others quite easily, but her unrestrained character often leads to loneliness. Deep inside, she is hurt easily and has trouble getting over it. She once loved Choi Han-seong but her passion for art caused her to break up with him and go to New York. She later goes back to Han-seong only to learn the painful truth - that he doesnt feel the same way about her.
Film Locations

The 1st Shop of Coffee Prince at Hongdae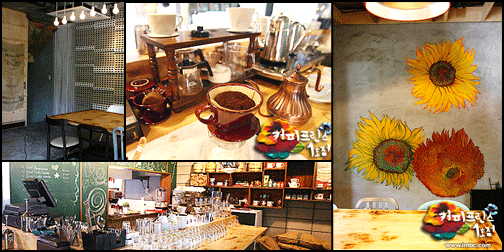 The 1st shop of Coffee Prince is actually an old coffee shop that was remodeled for the drama. This inconspicuous coffee shop was packed with fans that flocked there to catch a glimpse of the production in process. Set to reopen after filming, both the exterior and interior have been totally overhauled in line with the film.

Inside, visitors can find a painting by Han Yoo-joo as well as a number of props from the drama. The only thing missing are the people like Han-gyeol, Eun-chan, Mr. Hong, Wapeulseongi, Minpyeminyeop, and Jappeokarim. If you are a real fan of the drama, Coffee Prince, you may want to stop by for a cup of coffee and enjoy the memories of the drama.

How to Get There: Take Subway Line 2 to Hongik University, and go out of Exit 8. Turn right at Seven Springs corner and pass the intersection. At the 3-way intersection, turn left. Walk about 100 meters on the road above the playground and walk towards the road on the right side. Walk about 500 meters until you find the coffee shop on the right.
Click here for more on Hongdae, Day and Night

Seoul Animation Center
Seoul Animation Center can be visited by walking up Namsan Mountain from Myeongdong station. It was opened in May 1999 as a Mecca of Korean cartoons and the animation industry. The center hosts an animation festival, and offers a variety of facilities like a theater, an information center, exhibitions, and daily education programs. It also holds many theaters and galleries including a library, a visual material information center, a theme exhibition gallery, and an animation exhibition gallery. In particular, AniCinema is the nations first animation-only theater with 179 seats and a dolby digital sound system. It also has facilities for education such as an experience gallery, seminar rooms, and digital education rooms, as well as a video editing room and recording room for professionals.

Thanks to its location at the foot of Namsan Mountain, the center has a great view that can be seen from the rooftop. This was the location of Han-gyeols house in the film. Built of wood, it has a romantic garden with a wooden deck and a swing, offering a panoramic view of downtown Seoul.
Tel: +82-2-1330 (Korean, English, Japanese, Chinese)
Website: http://ani.seoul.kr (Korean, English)
Address: 8-145, Yejang-dong, Jung-gu, Seoul
How to Get There: Take subway line 4 to Myeongdong Station and go out of Exit 1 a Walk 400 meters in the direction of Namsan cable car along the ascending road to the right a The center is located inside the white steel building opposite the road just below Soongeui Womens College
Click here for more on a Tour of Namsan Mountain for free

Sandongsugyodaewang (Chinese Dumpling King)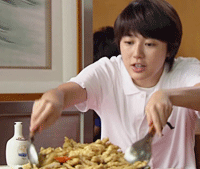 In an effort to reconcile with Eun-chan, Han-gyeol asks her to meet him at a Chinese restaurant. In one scene, Eun-chan eats a dish full of sweet and sour pork as Han-gyeol watches, smiling at her. Han-gyeol can't drink but decides to order something alcoholic, and the two soon make up. In this scene, which was filmed at a Chinese restaurant in Yeonhee-dong, the two have fun just like brothers. On the 500-meter-long street there are about eight Chinese restaurants. The street is also called Yeonhui Matgil (Yeonhee Street of Flavors).
How to Get There: Take subway line 2 to Hongik University and go out of Exit 5. It is a 10 minute ride by taxi.

Bugak Skyway Palgakjeong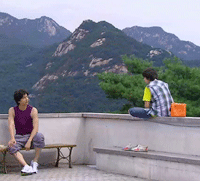 The day after her father's memorial day, Eun-chan prepares some food from the memorial service and goes to visit Han-gyeol. Wishing to avoid meeting her, Han-gyeol says he is jogging. He calls Yoo-joo, and the love triangle scene unfolds, which includes Yoo-joo (who prepared a nice lunchbox upon Han-gyeol's request) and Eun-chan (who walks back and forth restlessly with the food).
The scene was filmed at a jogging course at Palgakjeong on the Bugak Skyway. From here, you can see a great view of Seoul and enjoy the beauty of nature all within the city limits. No wonder it is popular as a dating spot for young couples. In the evening, many are out to enjoy a drive. Together with Namsan Mountain, this is a popular night time attraction in Seoul.
Address: 6-17 Pyeongchang-dong, Jongno-g, Seoul
How to Get There: Take subway line 3 to Gyeongbokgung Station, and go out of Exit 3. Take a taxi and go to Palgakjeong along Bugak Skyway.
Click here for more on Bugaksan Mountain

Kyobo Bookstore in Gwanghwamun
Eun-chan possesses a natural gift for smelling and distinguishing good coffee. As such, she works for Coffee Prince and dreams of becoming a barista. Han-gyeol quickly notices her ability and one day takes her to a bookstore where he buys her a book about coffee. The place where the exterior of the bookstore was filmed is Kyobo Bookstore in Gwanghwamun, which is the largest bookstore in Korea.
Tel: +82-2-1330 (Korean, English, Japanese, Chinese)
How to Get There: Take subway line 5 to Gwanghwamun Station. The bookstore is connected with to station.
Click here for more on Kyobo Bookstore

Hongdae Playground
Han-gyeol has been involved in a one-sided love with Yoo-joo, who is the girlfriend of his elder cousin. After many years, he still has romantic feelings for her. One day, he goes out on a date with her, and has a great time. Yoo-joo shows an interest in a hat sold by a street vendor and Han-gyeol buys it for her. The date scene was filmed on the street in front of the playground opposite Hongik University. In the evening, street vendors sell a variety of accessories and clothes. On weekends, a flea market is held on the open grassy field, where you can buy everyday necessities and accessories made by young artists. There is also an Indie-band performance.
How to Get There: Take subway line 2 to Hongik University, and go out of exit 6. Walk straight along the road and turn left after crossing the road at the crossroad. Walk ahead and turn right at the 3-way intersection. Walk 50 meters.
Click here for more on flea market in Seoul

Duksung Girls High School
One rainy day, Eun-chan returns home with a doll in her hand, when she bumps into someone else walking along. The other person is about to give Eun-chan a hard time when Han-gyeol suddenly appears to help. They pick up the rain-soaked doll and run to get out of the rain. The scene in which Han-gyeol saves Eun-chan, which resembles something out of a fairy tale, was filmed in front of Duksung Girls High School. The street starts from Pungmoon Girls High School (across from Insa-dong Street) and continues until you reach Art Sonje Center. It eventually leads to Samcheong-dong where there are numerous small shops, cafes, and restaurants.
How to Get There: Take subway line 3 to Anguk Station and go out of Exit 1. Walk 200 meters, turn right into Pungmoon Girls High School road and walk straight.


Photo courtesy: Cine 21, MBC