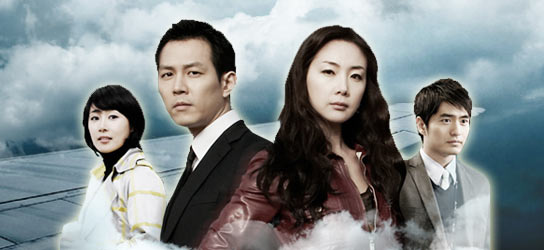 Air City
The drama 'Air City' has been receiving a lot of attention due to the casting of Choi Ji-Woo, returning from a 3-year break, and her counterpart, Lee Jung-Jae, who has returned to television after 8 years on the movie screen. Filming took place at Incheon International Airport, which has been a restricted shooting area until recently, for this movie-like action/melodrama.
● Drama Synopsis
Ji-Seong is a national secret agent who gets involved in a sticky situation when a colleague is killed in an accident while being chased by Wang Wei. Ji-Seong chases Wang Wei into an airplane when Wang Wei takes a pill in the bathroom, causing him to have a heart attack. Wang Wei's supposed fiance, Do-Gyeong, wishes to be with him when he is transferred, but is stopped by an airport control manager, Ha Jun-Eun, requesting to see her arrival inspection card. Do-Gyeong and Ji-Seong meet in this manner and soon find out that Do-Gyeong is the airport's chief of operations. The two continuously meet by coincidence while trying to expose an international conspiracy and become friends under a mutual understanding. Set in the backdrop of the airport, an interesting plot unfolds.
● Drama Information
Broadcasting Station: MBC
Televised Times: May 19, 2007 ? Every Saturdays and Sundays at 9:40pm to 10:40pm
Director: Im Tae-Woo
Actors: Lee Jung-Jae, Choi Ji-Woo, Lee Jin-Wook, Mun Jeong-Hee
Homepage: http://www.imbc.com/broad/tv/drama/aircity/ (Korean)
● Characters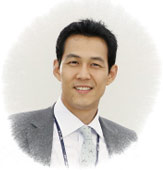 Kim Ji-Seong, played by Lee Jung-Jae

Kim Ji-Seong is a national secret agent in charge of security at Incheon International Airport, handling terrorism, industrial spies, airplane terrorists, and fake passports. He is a very blunt and cold person on the outside, but really a man of sentiment on the inside. Although he is a quick and decisive agent, his strong virtues cause him to stir up problems. Though the airport's chief of operations, Han Do-Gyeong, constantly comes into conflict with Kim Ji-Seong, they begin to open up to each other as they experience a dangerous situation together.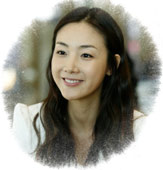 Han Do-Gyeong, played by Choi Ji-Woo

As the chief of operations, Han Do-Gyeong is able to communicate in 5 different languages. Though she appears to be arrogant and overbearing, her heart is fragile and always carries a guilty conscience for leaving her younger sibling with their dad after the divorce of their parents. Due to some family problems that she went through when she was young, she is unable to open up to men. However, she one day finds herself falling for Kim Ji-Seong, and has to make a decision between friendship or love when she finds out that her friend, Myeong-Woo, who works at the airport hospital was once in love with Ji-Seong.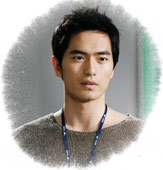 Gang Ha-Jun, played by Lee Jin-Wook

Gang Ha-Jun is in charge of all security management and overlooks all the airport surveillance. As a result of running from place to place in the airport to solve problems, his personality is very restless and he speaks in an aggressive way. However, his true nature is very sensitive and loving, helping his childhood friend Han Do-Gyeong every way he can. Although he has feelings for Han Do-Gyeong, he is unable to confess them to her.

Seo Myeong-Woo, played by Mun Jeong-Hee

Seo Myeong-Woo is a veteran doctor at the airport's emergency room. She is very feminine, and shares a strong love with Ji-Seong after meeting him during her internship days, but they soon break up. 3 years later, they reunite, and although she tries to act cool in front of him, her feelings haven't subsided since she still is hurt from the painful break-up.
● Drama Film Locations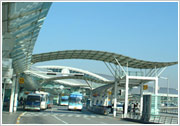 ■ Incheon International Airport
'Air City''s main setting is filmed at Incheon International Airport. Although the airport has been used as a film location for short durations in dramas, this is the first time the airport was open for such a long duration for filming one drama. Therefore, this was the first drama to have an airport as the main setting in 6 years, including Incheon International Airport's various shopping centers, restaurants, coffee shops, a hospital, a pharmacy, a bookstore, a sauna, and other facilities.
The airport was ranked 10th as an international passenger transport, 2nd for freight transport, and 1st for airport service for 2 years in a row. An airport railway recently opened in March of 2007, making it more convenient for its visitors to travel to the main city.
→ Go to the Incheon International Airport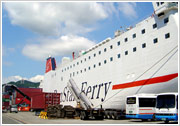 ■ Busan International Passenger Terminal
Busan International Passenger Terminal is the setting for the chase scene in the 3rd episode of the drama, when Charlie tries to escape Korea and the police special forces come to find him.
Currently, the port offers 5 routes to Japan from Busan. KOREA FERRY operates 6 trips from Busan to Fukuoka daily, DAE-A EXPRESS SHIPPING transports between Busan and Daemado, MIREJET offers roundtrips from Busan to Hakata, PUWAN FERRY operates 2 trips daily from Busan to Shimonoseki, and PANSTAR LINE operates 3 trips a week from Busan to Osaka. Busan International Passenger Terminal offers a bank, a tourist information center, restaurants, a ticketing booth, and a waiting room for its visitors.
Address: 15-3, Jungang-dong 4ga, Chung-gu, Busan
Telephone: 051-465-3471
Tourist Information Contact: +82-51-1330(Korean, English, Chinese, Japanese)
Homepage: http://www.busanferry.co.kr/ (Korean, English, Chinese, Japanese)
Directions: Busan Station → Take subway line 1 from Busan Subway Station in front of Busan Station Center → Go to Jungang Station and go out of exit #12 → From the exit, walk straight and take a right at the 3-way intersection (a 15 min. walk).
→ Go to the information on ferries from Korea to Japan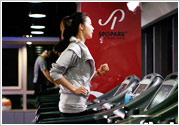 ■ Grand Hyatt Hotel
In the 3rd episode of the drama, Do-Gyeong sees Charlie while on the running machine. She happily approaches him, but abruptly avoids Charlie after noticing a pendant around his neck. Do-Gyeong calls Ji-Seong from the locker room, notifying him of the pendant. The fitness center from this tense scene at the Grand Hyatt Hotel is for lodging members only. For this reason, the fitness center is a nice and quiet club to work out in.
Address: 747-7, Hannam-dong, Yongsan-gu, Seoul
Telephone: +82-2-799-8112
Hours of Operation: Monday~Friday 5:00am~10:00pm/ Saturday, Sunday, and Holidays 6:00am~9:00pm
Directions: From the 1st floor of the Incheon International Airport section 4B bus station, take the airport bus headed for the hotel (Operating Hours: 4:45am~10:27pm/ fee: 13,000 won)
From the city, take subway line 6 to Noksapyeong Station and go out of exit #1 → Cross the crosswalk under the overpass and take shuttle bus #2 (a 10 min. ride)
■ Muan International Airport
The collision (Bud Strike) that causes the lockout of the runway in episodes 5 and 6 was filmed at Muan International Airport. In order to chase away a flock of birds, they take the advice of North Korean researchers and spread out a large hawk painting on the runaway. Although the scene was supposed to be filmed at Incheon International Airport, this was not possible due to the interference of actual operations. Muan International Airport started operations in November of 2007 servicing the southeastern province.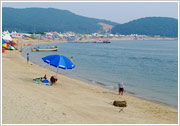 ■ Wangsan Beach
Do-Gyeong is invited by Nan-Yeong to a dinner meeting and afterwards has a drink. Ji-Seong has a drink with the security officers at another bar. Ji-Seong meets Do-Gyeong, who is ill from drinking alcohol in a raw fish restaurant. The two sit on the beach and talk, drinking a cup of coffee. This scene from the 3rd episode takes place near Incheon International Airport at Wangsan Beach. Only a 30 min. ride from Incheon International Airport, Wangsan Beach is surrounded by Eulwangni Beach and Wangsan Park. The beach offers a fantastic view with its white sands and clear water, perfect for people to spend quiet time together.
Tourist Information Contact: +82-32-1330 (Korean, English, Chinese, Japanese)
Directions: Take the airport bus #306 Incheon International Airport 2A, 9A bus station on the first floor → get off at Eulwangni Beach → 10 mins by foot or by taxi.


* The pictures above are provided by MBC