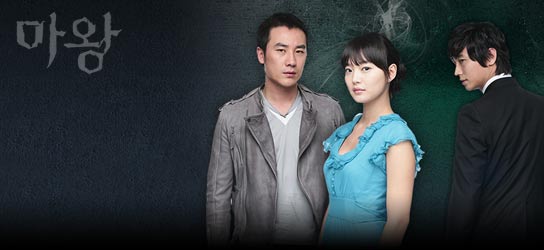 After a year's absence, he's back! The lovable "younger brother" figure and a star that young girls are crazy about, Ju Ji-hun chose 'The Devil' as his comeback drama. His decision to star in the drama had many hearts beating. The drama also received considerable interest because of the star Uhm Tae-woong, a charismatic actor with enchanting eyes and attractive lips, and new actress Shin Min-ah whose expressive facial features are perfect for the main character who has supernatural powers.
This drama is about the intertwined fate of two young men who try to solve a long-time grudge resulting from a tragic turn of events, and a woman who helps them through her psychic abilities, a topic that is rarely touched on in Korean dramas. 'The Devil' explores the meaning of happiness vs. unhappiness and what distinguishes good and bad. Obviously, the drama is neither light nor trendy. However, it is so well done that it has even created a new wave of pyein (devoted Korean-drama fans who continuously post blogs, create their own magazines, and organize various activities) who haven't been seen for a while.
* Drama Information
Broadcast Network: KBS2TV
Broadcasting Dates: March 21~May 24, 2007
Producer: Park Chan-hong
Cast: Uhm Tae-woong, Ju Ji-hun, Shin Min-ah
Website: http://www.kbs.co.kr/drama/devil/report/dmz/index.html (Korean)
* Synopsis
Oh-su spends his teen-age years rebelling, not only against his father, but against society in general. Then, while harassing a classmate, he accidentally stabs the elder brother of Tae-seong who had tried to stop the incident. This causes the unfortunate break up of Tae-seong's family and Tae-seong vows to take revenge on Oh-su. Tae-seong abandons his former life to live under the name of Seung-ha.
Even though he drops out of school, he uses his remarkable intelligence wisely, becoming a lawyer at an early age. Meanwhile, Oh-su forgets his rebellious days and joins the police force. Then, he discovers that acquaintances of his have been killed, which prompts him to seek out psychic Hae-in to help him solve the crime.
* About the Characters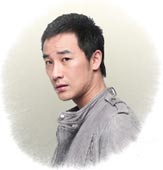 Kang Oh-su / Played by Uhm Tae-woong

Although Oh-su had been a particularly rebellious and troublesome child from a rich family, he becomes a police detective after graduating from high school. As a member of the police homicide team, his greatest passion in life is catching criminals. Always ready to help out, he has a good reputation among his colleagues. He is always confident about what he is doing and never backs down. However, his integrity often puts him in disadvantageous situations.
As a rule, he is naturally optimistic and outgoing, but when it comes to women he likes, he can behave differently from the way he really feels. He is also something of an oddball, who is addicted to comics and computer games.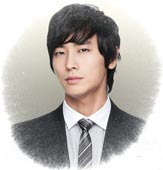 Oh Seung-ha / Played by Ju Ji-hun

Seung-ha seems like a kind, good-natured lawyer who has dedicated himself to defending the poor and the marginalized. After graduating from middle school, he passed the college entrance examination, and at 25, placed 1st among all the candidates taking the national bar examination. He also goes by the nickname of "doctor" as he listens to people's problems and concerns and offers healing advice.
Despite his warm and generous image, however, he is actually a cold-hearted person. When he was a child, both his father and elder brother died in accidents. As a result, he is driven by a sense of revenge.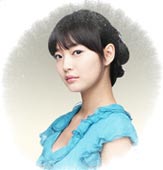 Seo Hae-in / Played by Shin Min-ah
Honest and bright, Hae-in is kind to everyone. She works as a librarian, who is forgetful and prone to mistakes. Artistic by nature, she loves plants so much that she sometimes talks to them. She is an expert at reading Tarot cards and reads her own fortune often, but rarely reads the fortunes of others. For her, eating well is the most important thing in the world.
Since her father passed away three years ago, she has been living with her deaf mother. She is adept at reading people's eyes and gestures rather than what they say and she communicates in sign language when she is angry. She also has psychic powers, which sometimes get her into trouble.
* Film Locations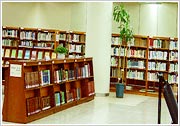 National Library of Korea
Hae-in's office scenes were filmed at the National Library of Korea in Seocho-dong. This is where she talks with Seung-ha while re-shelving books and also when she descends the stairs to meet Oh-su. This grand, seven-storey marble building (with four basement levels) owns a huge collection of materials including 6.2 million books.
With its outdoor sculpture park and promenade, the library is also popular as a restful retreat in the bustling city. Surrounding the library is Seocho Park, offering a woodsy ambience beloved by couples and families.
Address: Seochoro 664, Seocho-gu, Seoul
Korea Travel Phone: +82-2-1330 (Korean, English, Japanese, Chinese)
Tel: +82-2-535-4142
Website: www.nl.go.kr (Korean, English, Japanese, Chinese, German, French, Spanish)
Hours: 09:00~18:00 (Closed on Mondays of 2nd and 4th weeks and holidays)
How to Get There: Take Subway Line 2 to Seocho station, and go out of Exit 5, walk up the hill (15 minutes on foot)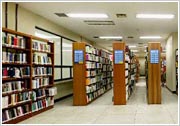 Kangnam University Library
Oh-su seeks Hae-in's help in solving a crime through her expertise in Tarot cards; a scene filmed at Kangnam University. This is also where Seung-ha watches Hae-in and then runs to help her when she falls down.
Established in 1940, Kangnam University in Yongin is well-known for its year-round scenic beauty.
Address: Gugal-dong san 6-2, Giheung-gu, Yongin-si, Gyeonggi-do
Tel: +82-31-280-3500
Korea Travel Phone: +82-31-1330 (Korean, English, Japanese, Chinese)
Website: http://www.kangnam.ac.kr (Korean, English)
How to Get There: Take Subway Line 2 to Gangnam station, and go out of Exit 6 → Walk straight ahead for about 500 meters and take bus 5001 or 2002 at the first bus stop you come to.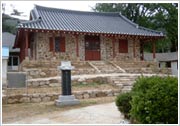 Hauhyeon Church
This small church nestled at the foot of Cheonggyesan Mountain is over one hundred years old. The modest building and the beautiful garden are cozy and welcoming. Seeking to calm his troubled mind, Seung-ha stops there on impulse, where he meets a woman, to whom he reveals some of his anguish.
A memorable scene filmed at this location is the tearful meeting between Seung-ha and Hae-in. She encourages him not to lose hope but regretfully, he cannot control his urge for revenge. Understandably, many viewers were moved to tears by this scene.
Address: Cheonggye-dong 201, Uiwang-si, Gyeonggi-do
Korea Travel Phone: +82-31-1330 (Korean, English, Japanese, Chinese)
How to Get There: Take Subway Line 4 to Indeogwon station → Take a taxi (about a 5 minute ride)
Noksapyeong Station
Noksapyeong station is the background for episode 4, where Seung-ha stands in front of the Gates of Hell. The scene of the connecting corridor leading to the 2nd floor of the basement is quite impressive.
The center of the station is a circular shape, which usually gets a lot of sunlight coming in from the ground level. Mid-way down the elevator that connects the 1st and 2nd basement floors, the wall motif was inspired by a traditional Korean wrapping cloth. The expansive space makes Noksapyeong station the perfect venue for exhibitions, fairs, and weddings.
Korea Travel Phone: +82-2-1330 (Korean, English, Japanese, Chinese)
Location: Take Subway Line 6 to Noksapyeong station

* The pictures above are provided by KBS.