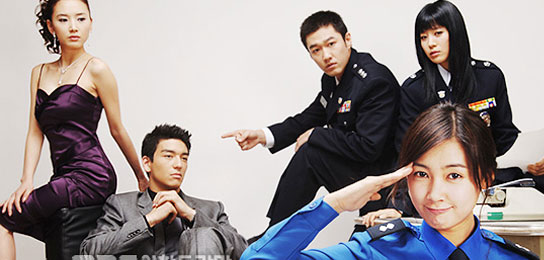 The production of Sweet Spy was supposed to begin on May 2006, but because of unforeseen circumstances, the shooting schedule had to be moved to an earlier date, resulting in an abrupt filming of the drama. On top of that, the heroine of the drama was replaced by Nam Sang-Mi only 3 days before the shooting date, drastically changing the storyline and giving the drama production a very rough start. On the other hand, the drama's stars Dennis Oh, a model turned actor and Nam Sang-Mi made top news, since this was Dennis Oh's first drama and the widely known Nam Sang-Mi's first leading role.

Although the drama's finale was vague, which led to many complaints from viewers, the discovery of these new actors and the rare mixture of the thriller-action-comic-melodrama genre formed new mania fan clubs. Even after the drama ended, there were many rumors of a sequel or a movie remake.


[Drama Details]
Broadcasting Network: MBC
Televised Dates: 11/07/2005 ~ 1/10/2006, every Monday and Tuesday nights at 9:55pm
Homepage: http://www.imbc.com/broad/tv/drama/spy/index.html (Korean)
Director: Go Dong-Seon
Actors: Nam Sang-Mi, Lee Ju-Hyeon, Yu-Seon, Dennis Oh


Drama Synopsis
Sun-Ae, who has had a rough childhood, and a policeman named Min-Uk meet and marry, having a happy life together. However, soon after, Min-Uk is killed in a suspicious car accident, while investigating the secrets of an international criminal organization. Sun-Ae finds herself as a policewoman, but is demoted to a small neighborhood police station due to her frequent mistakes.
Somehow, Sun-Ae coincidentally picks up a pen, which is an important piece of evidence that could crack the investigation, but is unaware of this fact. However, strange things begin to happen. A detective investigating the case, Kang Jun, and an international spy, Han Yu-Il who wants to make a transaction for this secret continue to approach Sun-Ae. But as Kang Jun and Han Yu-Il begin to take interest in the bright and cheerful Sun-Ae, the plot falls into a more complicated and winding maze.


Character Introductions
Lee Sun-Ae / Played by Nam Sang-Mi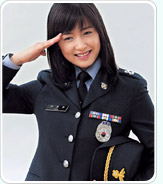 Sun-Ae's family falls into hard times during her high school years, and consequently she begins to work right after graduation. Although she marries a policeman named Min-Uk, at a young age, the newly-weds are soon torn apart when she loses her husband in a questionable car accident.
Sun-Ae is then hired as a policeman instead of her husband, but is soon placed at a local public security center since she is notorious for making mistakes quite often. Since she is full of curiosity, she listens well to people's problems and pays careful attention to them. Sun-Ae is a bright and cheerful person, with a naturally warm heart, who doesn't lose her smile even during times of hardship.
Kang Jun / Played by Lee Ju-Hyeon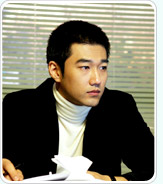 Kang Jun, being born an illegitimate child, has a difficult upbringing working part-time jobs here and there. He decides to become a policeman and goes to a police academy, not only to be exempt from tuition fees, but also because he would have a more promising future. Kang Jun graduates from the academy at the top of his class and exhibits great ability as a policeman. As a result, he is the first in his class to be promoted to an inspector, taking the highroad to success.
However, he not only likes to keep to himself, but also has an inconsiderate and cold personality with very few close friends. Kang Jun has a sharp character and a special knack in solving cases.
Park Eun-Ju / Played by Yu-Seon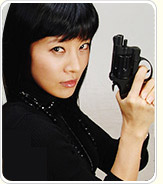 Park Eun-Ju is raised like a princess, receiving all sorts of special education for the gifted, being born the oldest daughter of the most honored police family in Korea. She graduates from the same police academy as Kang Jun at the top of her class and is perfect in every area, possessing beauty and talent, also coming from an upper-class family.
Although she tries to seduce Kang Jun, the most popular guy at the National Police Agency, her pride is hurt as he is smitten by Sun-Ae. Park Eun-Ju turns into a wicked character luring the naïve Sun-Ae into a dangerous trap. She is arrogant and selfish.
Han Yu-Il / Played by Dennis Oh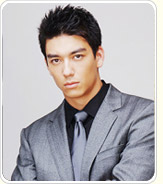 Han Yu-Il is a mysterious character who has nothing but money. His upbringing and country of origin is unknown, but he has a good command of English, Japanese, French, German, and Russian languages.
Suddenly, one day he begins to handle Korea's 2nd largest financial industry using his money. Besides his occasional business travels to Tokyo, Singapore, and Hong Kong, Han Yu-Il's only hobby is boxing at the gym. He has a cold nature and hides his true intentions.


Film Locations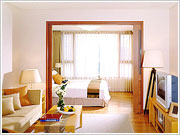 ■ Somerset Palace Hotel
Somerset Palace Hotel in Jongno, Seoul, is a luxurious hotel where the staff used bugging devices for an investigation in the 3rd episode of the drama. The hotel is located near Insa-dong and Gyeongbukgung Palace in Jongno, making it an easily accessible location for business travelers and tourists alike.
Internet and breakfast are included for people staying in all of the guest rooms. Facilities including a swimming pool, a health club, a sauna, and children's playrooms are available for all guests staying at the hotel, free of charge.
Telephone: +82-2-6730-8888
Address: 85-0, Susong-dong, Jongno-gu, Seoul
Homepage: http://www.somersetpalaceseoul.com
Directions: Take subway line 3 to Anguk Station and go out of exit#3 → The hotel is located on your left after crossing the crosswalk (only a 10 min walk).
■ Seongdong Jungang Gymnasium
This is the boxing gym that was managed by Choi Bum-Gu, and where Lee Sun-Ae and Han Yu-Il went to learn boxing. The Seongdong Jungang Gymnasium is located near Dongdaemun Stadium Station and has a long, historical tradition dating back 75 years. Now, the gym even offers a special boxing class for women who are on a diet.
A number of scenes were filmed here including the scene from the 3rd episode where Bum-Gu gives a speech to government officials. The gym, which once produced many champions, was a commonly used location for the drama.
Telephone: +82-2-2232-0248
Address: 250-35 Sindang 1-dong, Jong-gu, Seoul
Operating Hours: 7:00am ~ 10:00pm
Monthly Membership Fee: 60,000 won (add 10,000 won admission fee for the 1st month)
Directions: Take Subway lines 2 or 4 to Dongdaemun Stadium Station and go out of exit #2 → Located near Seongdong Woman's High School after passing Hanyang Technical High School (only a 5 min. walk).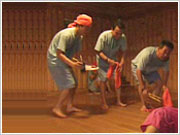 ■ Raseong Precious Stones Sauna
The place where Bum-Gu, Wang Sabal, and Gaori went to take a bath in the 3rd episode is the Raseong Precious Stones Sauna located in Seongsu-dong. If you would like to spend some leisurely time at a Jjimjilbang eating eggs and drinking Sikhye (a sweet rice beverage) just like the actors, this would be the perfect place to visit.
The sauna features a jjimjilbang, an outdoor tub, skin massages, a nail shop, a movie room, a singing room, ping-pong tables, and a PC room. There is also a health club located in the sauna where aerobics, jazz dance, and yoga are taught for free on different days.
Telephone: +82-2-298-0262
Address: Seongsu-dong, Seongdong-gu, Seoul
Admission Fee: daytime: 5,000 won, nighttime: 7,000 won, gown rental: an extra 1,000 won
Directions: Take Subway line 2 to Seongsu Station and go out of exit #3 → walk straight for 50 meters; it is located near the Hyundai Cars building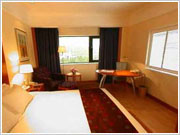 ■ Sofitel Ambassador Hotel
The Sofitel Ambassador Hotel is the place where Gang Jun and Eun-Ju are bodyguards at an event. The hotel's banquet hall was used in the 3rd episode of the drama, where Yu-Seon is disguised as a guest in a black dress.
The hotel offers long-term lodging that includes restaurants for weddings and barbecues for its residents. This is a great location close to Myeong-dong and Namsan where one can go sightseeing.
Telephone: +82-2-2275-1101
Address: 186-54 Jangchung-dong 2-ga, Jong-gu, Seoul
Homepage: http://www.ambatel.com/sofitel/ (Korean, English, Japanese)
Directions: Take Subway line 3 to Dongdaemun Station and go out of exit #1 → walk pass Dongguk University after crossing the cross walk (only a 5 min. walk).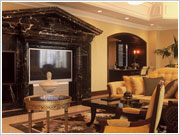 ■ Oakwood Premier
This is the location where Heuk Ryong Hwe's boss awaits Sun-Ae and Yu-Il in the 4th episode. The film location for the suspenseful scene was shot at the high-class residence, Oakwood Premier, located in Samseong-dong. This is a famous location that also appeared as Han Gi-Ju's (Park Shin-Yang) house in the drama 'Lovers in Paris.'
Rooms are from 14 square feet in size to 58 square feet penthouses, offering a kitchen, a laundry machine, a drying machine, a steam sauna, and a DVD player. Additionally, the residence features a number of amenities such as a fitness center, a swimming pool, a sauna, an indoor golf range, and other facilities under the safety of a security system.
Telephone: +82-2-3466-7000
Address: 159 Samseong-dong, Gangnam-gu, Seoul
Homepage: http://www.oakwoodpremier.co.kr/ (Korean, English)
Directions: Take Subway line 2 to Samseong Station and exit #5 or 6 → only a 3 min walk
From Incheon International Airport, take the limousine bus to Korea City Air Terminal → it's the building in front of the Korea City Air Terminal.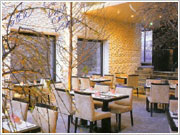 ■ SOHO Restaurant
Gang Jun and Sun-Ae's romantic dinner scene from episode 4 was shot at this location. SOHO, located in Cheongdam-dong, is a popular restaurant that has been the film location for a number of movies and dramas including the movie 'The Art of Seduction.'
On the first floor of the 4-story restaurant, artistic performances are exhibited for visitors to enjoy while having dinner, a glass of wine, or a cup of tea. Since its opening in March of 2004, this antique-styled restaurant has received many great reviews.
Telephone: +82-2-514-1999
Address: 100-30 Cheongdam-dong, Gangnam-gu, Seoul
Menu Prices: Spaghettis & Rizzotos: 18,500~29,000 won, Steaks: 33,000~41,000 won, Lunch menus: 11,800 won~35,700 won
Directions: Take Subway line 7 to Cheongdam Station and go out of exit #9 → walk straight crossing the intersection towards the Galleria → take a right at the 3rd street, where the Louis Quatorze building is located → Go straight for 100m and it is located in the 5-story building on the left corner.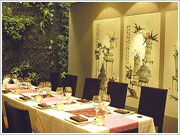 ■ Woonsan Restaurant
Hyeon-cheol invites Kang Jun and Han Yu-Il to dinner, but Han Yu-Il enters holding Lee Sun-Ae's hand. This is the location of the scene where Kang Jun and the others were surprised to see Lee Sun-Ae in episode 8 of the drama. The traditional Korean restaurant, Woonsan, displays charming little articles and tableware with traditional Korean pattern prints to create an old-fashioned Korean ambience.
Although this location was used to portray a dilemma in the drama, it's actually a popular meeting place that has fantastic food and a great atmosphere. Woonsan is located in the famous Korean-style restaurant of Samcheong, Yongsusan, providing meal courses at varied prices.
Telephone: +82-2-780-6333
Address: B-102 CCMM Building (Kukmin Daily), 12 Yoeido-dong, Yeongdeungpo-gu, Seoul
Menu: Dinner Courses: 38,000 won~134,000 won, Lunch Courses: 22,000 won~48,000 won, Entrees: 22,000 won ~ 45,000 won (10% VAT will be added.)
Directions: Take Subway line 5 to Yeouinaru Station → Go past Yeouido Park and go across the crosswalk; it is located in the basement of the Kukmin Daily building.
* The pictures above are provided by MBC.