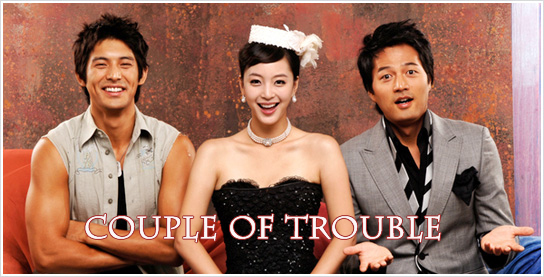 In the fall and winter of 2006, Koreans were saying "Ggo ra ji ha go neun!" (look at you) just about everywhere you went, repeating the words from the drama "Couple of Trouble's" by the female leading actress.
This drama is a remake of 1987 Kurt Russell and Goldie Hawn's "Overboard," where a rich, arrogant woman meets a poor construction contractor and falls in love, in the midst of all their quarreling.
The fast-paced yet comical drama became quite popular, consequently turning its film locations of Namhae Island into famous tourist sites.
Namhae, situated in the Aegean Sea, and just 5 hours away from Seoul by car, turned into an un-island-like island in 1973 with the construction of a bridge connecting it to the Korean peninsular.
Although the drama was filmed all around Namhae Island, its film location for the main neighborhood was at the "German Village." The main male character, Jang Cheol-Su's house still exists untouched. Furthermore, other film locations within the German village such as the "Mulgeon Port" set have been preserved.
Let's now travel to "Couple of Trouble's" film locations on the beautiful island of Namhae.
Drama Air Time: Sat., Sun. 9:55pm (October 14, 2006 ~ December 3, 2006) / 16 Episodes
Network: MBC
Cast: Oh Ji-Ho, Han Ye-Seul, Kim Sung-Min, Park Han-Byul
Hompage: http://www.imbc.com/broad/tv/drama/couple (Korean)
[Synopsis]
Jo Anna is the successor to a tremendous amount of inheritance and has no peers above her here on earth or even in the heavens. Her husband, Park Billy, is not even a person worthy of her respect. He is a subservient fellow who always has to be aware of Jo Anna's moods, while a man named Jang Cheol-Su is a man with no money, no education, and on top of that, has three kids to look after.

This is a laugh-your-heart-out comical drama centered around these three characters in "Couple of Trouble." As Jo Anna loses her memory due to a boat accident, Jang Cheol-Su takes the amnesia patient in, even though she is a woman without discretion and a woman who doesn't know how to do anything.
[Brief Introduction of the Characters]
From the left : Male leading actor, Jang Cheol-Su / Female leading actress, Jo Anna / Female leading husband, Park Billy / Male leading ex-girlfriend, Oh Yu-Gyeong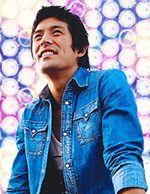 Jang Cheol-Su / Played by Oh Zio

A small-scale private building contractor president who is willing to do any type of work for money, since the small size of the village doesn't bring in much business. For money, he wakes up in the middle of a deep night's sleep, and if any financial loss is a part of his responsibility, he will take revenge at any cost.
He is a shameless person who has a good-natured side as well. He takes loving care of three nephews that his older brother left behind.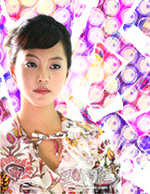 Jo Anna / Played by Han Ye-Seul

A real-estate inheritance successor, whose arrogance is so overbearing, that it even seems cute at times. She is a tough woman to tough people as well as to the weak. She says everything that is on her mind, whether appropriate or not, and for that reason, she is called a witch.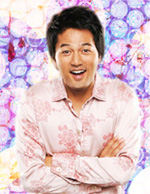 Park Billy / Played by Kim Sung-Min

A weak-minded, servile elite husband of Jo Anna.
He makes a big mistake since his delicate heart is broken while tending to his harsh wife.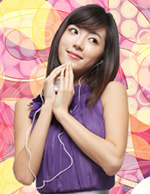 Oh Yu-Gyeong / Played by Park Han-Byul

She leaves Jang Cheol-Su who is penniless, but isn't able to shake her lingering attachment to him. Although she appears to be a fragile woman who can be swept away by the wind, she is a cunning fox who conjures every means to win Jang Cheol-Su back.
[Film Setting Location]
• The German Village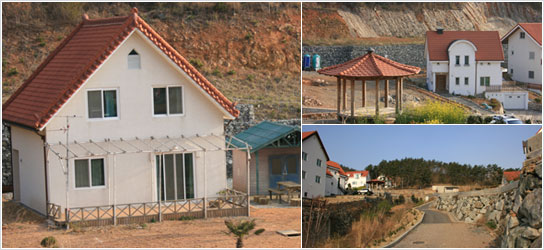 Jang Cheol-Su's house
The summerhouse where the main female's husband spied on her
The street the main female used regularly
The leading male, Jang Cheol-Su's house was originally built by a German-Korean for him to live there by himself, not for a film set. Presently, all of the film props have been removed and only the house itself is left. The summerhouse that Jo Anna's husband used to spy on the main couple is located right in front of Jang Cheol-Su's house.
The house is found following the sloping street up from the ocean, towards the mountain in the middle of the village to the right. The street itself made a number of appearances in the drama as well.

| | |
| --- | --- |
| The German Village | View of Mulgeon Port from the German village |
The village was built for Koreans who immigrated to Germany in the 1960's for employment. The village buildings themselves are designed in a German style, and even the materials used to construct the houses were imported from Germany. The village is full of people using them as lodges during the weekends, so you will need to make reservations in advance if you would like to stay for the weekend. Staying over during the week will need no reservations since it is not busy. Bonn House (+82-55-867-0759) / Berlin House (+82-55-867-5768)
• Mulgeon Port
The small port of interest that lies in front of the German village is a fishing settlement called Mulgeon Port. If you follow the seacoast, a 1,500m by 30m road will open up leading to a popular grove called Mulgeon Bangjo Eoburim. The grove grew after villagers planted and cultivated it over 300 years ago in order to attract schools of fish, while avoiding the sea winds and tidal waves. This natural monumental grove and the areas of the tide embankment that separate the seas were the playgrounds of the female friend, Gang-Ja.
The props that were set up around Mulgeon Port look much like real structures. Most people will not be able to tell the difference unless they tap on them. There are no plans to remove these props as of yet, and so far they are to be preserved. After passing the set props, you will come across the leading male character's business office. Although the building itself remains the same, the sign has changed, and is now a fishing supplies specialty store.
| | |
| --- | --- |
| Leading male actor's business office | Leading female actress' playground |

The set of the drama located at Mulgeon Port
• Hilton Namhae Golf Resort
Jo Anna 's husband, who manages a real estate and resort company, is often shown in the drama, daydreaming in his bedroom or playing golf by the beach. That is the high-class recreational resort, Hilton Namhae Golf Resort. The irony is that the leading female actress visits the resort's spa with the rural women of the village in shabby clothing.
The larger rooms of the resort are from 35 to 78 pyeongs (115~257 sq meters) in size, and a one-night stay for two is from 505,000 won to 965,000 won. Spa admission is 19,800 won.
Tel: +82-55-863-4000

| | |
| --- | --- |
| Hilton Resort | Hilton Resort Golf Course |
• Yeomhae Lighthouse and Songjeong Beach
The scene where the two main characters find pottery while painting the lighthouse and light a bonfire was filmed at Yeomhae Lighthouse and Songjeong Beach. Although it seems like it was all shot in one location in the drama, it was actually shot in several locations and then edited. If the tides come in, Yeomhae Lighthouse looks like an island, when the tides go out, it becomes a shore again.

| | |
| --- | --- |
| Songjeong Beach | Yeomhae Lighthouse |
• Namhae Sports Park
This isn't a place where much filming took place nor is it a great tourist site. This is because the inside film set was located within a sports park's baseball stadium. Currently, even that doesn't remain. This place isn't used as a sports facility either. This is a place where professional soccer teams, professional baseball teams, or school teams come to practice.
There are currently five types of all-season surface grounds including an imitation grass surface, a baseball field, a soccer field, tennis courts, an indoor swimming pool, and a medical center. Also the Namhae Sports Park Hotel is located here (+82-55-862-8811 / English). It is recommended to use this hotel during your vacation time here.
• Namhae Town's Traditional Marketplace and Namhae County Office

Namhae Town where the Namhae County Office and the Namhae Bus Terminal are located is the center of Namhae. This is the most densely populated area, recorded as having 14,236 residents as of 2003. That is why this is the location of Namhae county's only marketplace. Namhae's traditional marketplace was the film location for the leading female actress' shopping scenes and the filming also took place around the Namhae County Office. Being such a small area, going for a walk around the town usually takes less than one hour.
• Hangdo Port's Hangdo Supermarket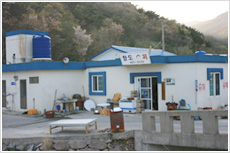 Hangdo Supermarket of Hangdo Port is the place Gang-Ja (Jo Anna's female friend, the crazy girl) frequently visited. This is actually a supermarket in real life, and its original name, Hangdo Super, was used as is, in the drama and is still currently the town's supermarket.
The small-scale supermarket has a favorable environment since the people are very friendly and endearing. There is also a small sign attached to the side of the supermarket saying that it was the film location for "Couple of Trouble" (환상의 커플).

→ Click to see Directions to Namhae Island and Further Information on Namhae's Tourist Sites

* The pictures above are provided by MBC.