● Film Locations
Kangnam University
Bo-ra is a student here, and it is also where Tae-ung meets an eccentric mathematics professor to study math. Numerous scenes were filmed here including: Tae-ung and Bo-ra on leisurely walks around the campus, the basketball scene at the basketball court, and the couple's library scenes. The campus of Kangnam University in Yongin is beautiful all year round and is within easy reach from Seoul. It is also close to tourist sites like the Korean Folk Village and Everland.
Address: Gugal-dong San 6-2, Giheung-gu, Yongin-si, Gyeonggi-do
Website: http://www.kangnam.ac.kr/ (Korean, English)
How to Get There: Take Subway Line 2 to Dong Seoul Bus Terminal → At the bus stop next to the terminal, take bus 5600 → Get off in front of Yongin Kangnam University.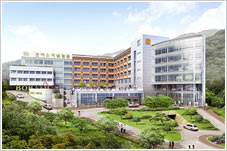 Bobath Memorial Hospital
The hospital is where Geon-woo works and Bo-ra goes for treatment. It is also where Bo-ra and Tae-ung meet for the first time as adults, when she attempts to commit suicide and Tae-ung stops her. The hospital, which actually opened in 2002 under the auspices of the Bobath Foundation in England, is where Geon-woo and Bo-ra drank tea together on the fifth-floor of the outdoor garden.
Address: Geumgok-dong 310-8, Bundang-gu, Seongnam-si, Gyeonggi-do
How to Get There: Take to Subway (Bundang-seon Line) to Migeum Station → Go out of exit 7 and take a taxi.
Yangjae's Hi Brand
This site is the luxury department store owned by Bo-ra's father, and also where Tae-ung's friend Chung-sik works as a salesman in the shoe department. In one scene, Tae-ung confronts Bo-ra at the store, reprimanding her for her disrespectful attitude, and consequently, Chung-sik is fired. The huge shopping center Hi Brand is located in Yangjae and it is where Bo-ra lavishly spends a lot of money shopping to lift up her spirits. With a total surface area of 50,000 pyeong, this fashion outlet carries many major domestic and international luxury brands as well as has an E-mart and food court in the basement.
Tel: +82-2-2155-0001
Address: Yangjae-dong 215, Seocho-gu, Seoul
Hours: 10:30~20:00
How to Get There: Take Subway Line 3 to Yangjae Station and go out of Exit 7 → Take local shuttle bus # 08 and get off in front of Hi Brand.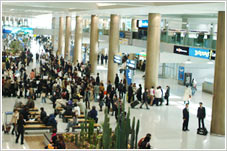 Incheon International Airport
The early scene in which Bo-ra and Tae-ung pretend to go to Lapland, running together across the tarmac against a clear blue sky, was filmed at Incheon International Airport, the gateway to Northeast Asia. Other scenes shot at this airport are when Bo-ra plans to go abroad and when her father leaves on an overseas business trip. With its numerous convenience facilities, the airport is frequently used in TV dramas or movies.
→ Go to Incheon International Airport
Hyundai Sungwoo Resort
Bo-ra, who had planned to go to the U.S. after breaking up with Tae-ung, comes back to him. People from his boxing club suggest they all take a trip. Tae-ung and Bo-ra decide to go skiing at Hyundai Sungwoo's ski resort with members from the boxing club, who are eccentric but fun, and there, Tae-ung and Bo-ra share a sweet kiss. Their romantic destination is the Hyundai Sungwoo Resort in Gangwon-do. At the summit rest area, visitors will find the snow sculpture park that was created for the film.
→ Go to Hyundai Sungwoo Resort
Gangnam Express Bus Terminal
After Tae-ung decides to go back to school and date Bo-ra, his mother decides to leave Seoul to work in Daejeon. He sees his mother off at Gangnam Express Bus Terminal, a major bus station in Seoul and a transportation hub serving buses to and from the entire nation. Nearby are the Marriott Hotel, Shinsegae Grand Department Store, and a huge underground shopping arcade as well as numerous other attractions.
Korea Travel Phone: +82-2-1330 (Korean, English, Japanese, Chinese)
Address: Banpo-dong 19-4, Seocho-gu, Seoul
How to Get There: Take Subway Line 3 or 7 to Gangnam Express Bus Terminal → Take exit 1 or 2 in the direction of Yeongdong-seon.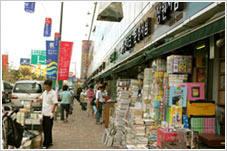 Dongdaemun's Second-hand Book Store
Young Bo-ra wants the out-of-print book "The Snow Queen," and Tae-ung finds a dust-covered copy at a second-hand bookstore. He wants to give it to her on their second meeting, but unfortunately, they are not able to meet. Tae-ung finds the book at the second-hand bookstore district of Dongdaemun in Cheonggyecheon. From foreign magazines to English textbooks, literature and comic books, these second-hand bookstores offer all types of books at inexpensive prices.
How to Get There: Take Subway Line 1 or 4 to Dongdaemun Station, and go out of Exit 8 → The bookstores are on the block across the street.
* Photo Courtesy: KBS, Cine 21