● Gung S – About the drama
Network: MBC
Airing Dates: January 10, 2007 Wednesday & Thursday evenings at 9:55 ~ (20 episodes)
Director/Producer: Hwang In-Roe
Cast: Se7en, Heo E-Jae, Gang Du, Park Shin-Hye, Myung Se-Bin
Homepage: http://www.imbc.com/broad/tv/drama/gungs/(Korean)


● Gung S – Synopsis
In the year 2007, Korea is a constitutional monarchy, and the young queen, Hwa-in becomes the ruling empress due to the sudden death of the king. A single woman in her early thirties, the people of her royal court do not respect her and play power games to usurp the power of the royal court. The actual power in the palace lies with Lee-gyeum, who devises various plots with the conservative side to take the ruling crown away from Hwa-in and give it to her son.
To survive in this chaotic game, Hwa-in brings Ihu, who has kept his identity a secret for the past 20 years, to the palace. Ihu, who did not know he was of royal blood, was working as a delivery boy in a Chinese restaurant. The average delivery boy becomes the heir to the throne overnight. He receives training as an heir to the throne, but he continues to make mistakes. Ihu's daily life becomes more complicated due to his rivalry with Lee Jun and with his first love, Heo E-Jae.


● Gung S – Characters

Ihu (Youngseong Gong) / Played by Se7en

Although of royal blood, he works as a delivery boy at a Chinese restaurant, ignorant of his royal heritage. He is a positive, easy-going person, who is not well educated, but is a people person due to his amiable personality.
He is into martial arts, and reads only martial arts books and comics, and watches only marital arts movies. However, he does not actually know how to do martial arts. He pretends he knows how to do martial arts, and sometimes his fake poses arouse the complaints of those around him, but he could care less. Working as a delivery boy, he finds his life completely turned around when he is taken to the palace one day.

Yang Sun Ui / Played by Heo E-Jae

Although orphaned at a young age, she is a strong, bright person. She does sometimes do odd things, but she is a warmhearted caring person, young at heart. She loves to read romance novels and dreams of destined love. She is an attendant in the palace, and is also a classmate of Ihu from elementary and middle school.

Lee Jun (Munseong Gong) / Played by Gang Du

He is the son of the actual power lord of the palace Hyojang Daegong Lee, Gyeum. He is a strong candidate for the throne, and is loved by the people of the court as well as by the citizens. He seems immature on the outside, but he is actually a sensitive person and is very popular with women. He also possesses a strong sense of responsibility and perseverance. He is a perfectionist who highly values policies and rules.

Shin Se-Ryeong / Played by Park Shin-Hye

She is from a noble family, and her father is the future top candidate for the position of Prime Minister. She is his only daughter, possessing power, fame and beauty. She is also very intelligent, and is always ahead of her class. She detests betrayal and lies, and has a very strong sense of right and wrong. But, she cares nothing about loyalty or friendship, and can be cold and selfish.

Gung S Film Location
● Incheon Chinatown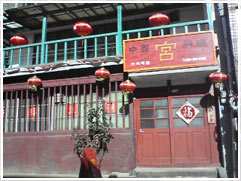 Ihu's life as a delivery boy for a Chinese restaurant was filmed at Incheon's Chinatown. The Chinatown restaurants in Incheon are mainly run by Chinese immigrants, and the government and public offices as well as other buildings are designed in an authentic Chinese style. Also, the streets are lined with Chinese products, ranging from red lanterns to dragon patterns and flags.
Incheon's Chinatown is also becoming a popular tourist attraction and is located near the subway station.




Directions: Take Subway Line #1 to Incheon Station → Located across the station



● MBC Set
Located on 2975㎡ of land in Gyeonggi-do Hwaseong, the MBC 'Gung S' set has been designed to look like a modern palace. The same designer for the drama 'Gung' worked on the set for this drama, and the set is even more beautiful and picture-perfect.
The indoor sets consist of the empress's room, the queen mother's room, Lee Jun's father's room, and the inside of the prep school. The palace is designed to be modern, luxurious and colorful. The MBC set in Yangju is where the Chinese restaurant, and the house of the attendant-in-training Yangsun Ui are located. Next to Yangju set is Dae Jang Geum Theme Park where visitors can have access to everything that's featured in the drama 'Jewel in the Palace (Dae Jang Geum).'



Inquiries: +82-31-849-5141
Address: Gyeonggi-do Yangju-si Yangju 2-dong MBC Yangju Cutlure Park
Directions: Take Subway Line #1 to Euijeongbu Bukbu Station, transfer to Bus #30 (bound for the golf club) and get off at MBC Culture Park (takes 30 minutes)



● Mayfield Hotel
The exclusive prep school for the noble class has only a small number of students. Unlike normal public schools, the students at this prep school learn horseback riding, fencing, court martial arts, and golf along with their general coursework. Shin Se-Ryeong and Lee Jun attend this academy, and they are later joined by Ihu.
This academy becomes a major setting especially when drama happens. These scenes are filmed at the Mayfield Hotel, which also served as the filming location for the drama 'Super Rookie.' The hotel's lake and green fields provide a picturesque scene, which is also the filming location for the golf classes in the drama.



Inquiries: +82-2-6090-9000
Address: Seoul Gangseo-gu Balsan-dong 426
Homepage: http://www.mayfield.co.kr/ (Korean, English, Japanese)
Directions:
① Take the airport limousine from Incheon International Airport at Gates 4B or 11A and get off at Mayfield Hotel (Fare 6,000 won/ 05:40~20:40, services available every 20-minute / takes 40 minutes)
② Take Subway Line #5 to Gimpo Airport Station and go out of Exit #1 → Take the hotel shuttle bus at Gimpo Airport Domestic Flight Building Gate 1 bus stop (the taxi fare from Gimpo Airport to the hotel is about 2,000 won)