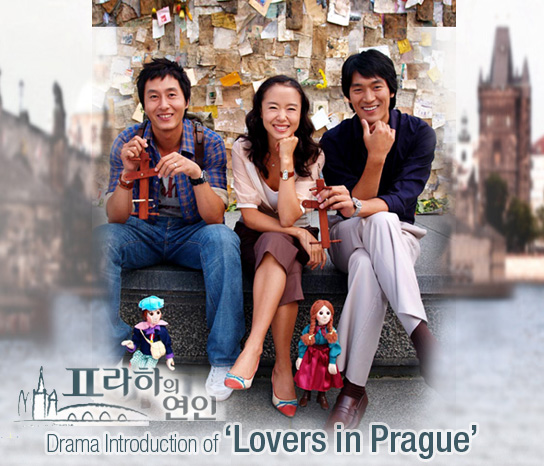 The drama, 'Lovers in Prague,' became a hot topic because of a particular movie star diva in the Korean film industry, Jeon Do-yeon. These days, Jeon Do-yeon can be seen not only on the big screen but also on television. The ratings for this drama stayed above 30% because Jeon Do-yeon, who returned to television after a two-year hiatus, starred in 'Lovers in Prague.'

The producer of the drama, Sin U-cheol, is recognized as a successful producer from his previous work, 'Lovers in Paris.' The lines from the drama 'Lovers in Paris' spread abroad and became the talk of the town. The actors from this drama also gained popularity during this time. Because of the success of 'Lovers in Paris,' the producer's series of love stories have easily become popular.

His third love story came out in fall 2006. A beautiful romance drama of the century it was the successor of 'Lovers in Paris' and 'Lovers in Prague.' An interesting fact about this drama is that it is a remake of the movie 'Promise' for television, in which the heroine of 'Lovers in Prague,' Jeon Do-yeon, and the hero of 'Lovers in Paris,' Park Sin-yang, play the two main characters which makes the drama much more interesting. At the SBS Drama Awards, Jeon Do-yeon was awarded a grand prize and Kim Ju-hyeok was awarded an award for the best acting performance, and he also won an award for the best acting performance by an actor at the 42nd Baeksang Art Awards.

The drama is a love story between the President's daughter and a mediocre detective, who overcome the differences of their social class. In many ways, it resembles the drama 'Lovers in Paris,' but the elements in 'Lovers in Prague,' which make it stunningly unique, are the gorgeous scenery of the medieval city of Prague, and the hometown of Seoul. The beautiful lines that were written also make a lasting impression in viewers' minds.

→ Link to the drama, 'Lovers in Paris'
[ Detailed Information of 'Lovers in Prague']




Producer: Sin U-cheol, Kim Hyeong-sik

Cast: Jeon Do-yeon, Kim Ju-hyeok, Kim Min-jun, Yun Se-a

Airing Time: Sept. 19, 2005 ~ Nov. 7, 2005
At 9:45 PM / Every Saturday and Sunday

Broadcasting Company: SBS

Homepage: http://tv.sbs.co.kr/praha/ (Kor, Eng)
| | |
| --- | --- |
| | Synopsis of 'Lovers in Prague' |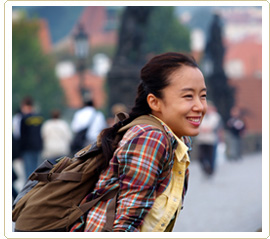 Yun Jae-hui, the daughter of the President, who still misses her ex-boyfriend, works as a diplomat in Prague. When she gets tired of waiting for her ex-boyfriend who left and never returned, she by chance happens to meet Sang-hyeon, who is looking for his ex-girlfriend in Prague. Sang-hyeon is a hot-tempered but righteous man. For his girlfriend, Hye-ju, he runs into debt, sending her to Prague for her studies at his own expense, even though his income as a minor detective is quite poor. But, after he receives a sudden good-bye letter from Hye-ju, he visits Prague in pursuit of her. Jae-hui asks him to participate in a couple's marathon race in return for her help in finding Hye-ju.

Jae-hui and Sang-hyeon feel drawn to each other, but Sang-hyeon eventually returns to Korea. Soon after that, Jae-hui finishes her diplomatic duties in Prague and also returns to Korea. She runs into Sang-hyeon who is directing traffic as a police officer on the street, and their relationship begins in earnest in Seoul. But their old loves Hye-ju and Yeong-u keep them from falling in love. In addition, after a secret about Jae-hui's father, which has been kept from Sang-hyeon, is revealed, the love between Jae-hui and Sang-hyeon becomes more complex and problematic.
| | |
| --- | --- |
| | Characters of 'Lovers in Prague' |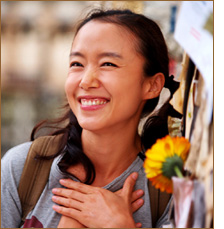 Yun Jae-hui / Played by Jeon Do-yeon
She is the daughter of the President and a 29-year-old incumbent diplomat. She is always upright and enthusiastic. Even though her mother passed away when she was little, her angelic personality makes her loved by many people around her. However, she sometimes gives her bodyguards a hard time by giving them the slip and taking a trip. She has wanted to be a diplomat ever since she was little and when she was 24 years old, she finally passed the Civil Service Examination for Foreign Affairs. For her first assignment, she was sent to Paris. There, she met Yeong-u and fell in love with him, but Yeong-u went back to Korea at his father's request and after five years never returned.

After her duties were finished in Paris, she was assigned to work in Prague. At a time when her duties are almost finished in Prague, she unexpectedly meets a minor detective named Sang-hyeon, who came to Prague looking for his ex-girlfriend. Just when she decides to forget her old love, Yeong-u, who disappeared like a dream, and begin a new love with Sang-hyeon, Yeong-u returns.

Choe Sang-hyeon / Played by Kim Ju-hyeok
He is an aging 34-year-old bachelor, who has worked as a minor detective for 8 years. He is a hot-tempered person whose actions are quicker than his rationale, so he is often asked to give a written explanation and given a pay cut. However, Sang-hyeon who helps unfortunate children by using his own money, truly has a warm heart. His righteousness and integrity are strong enough when faced with a powerful person, but tender in front of a vulnerable person. His parents, who ran a flower garden, were killed by a hit-and-run accident on their way home from an early-morning flower market when he was an adolescent. After he dealt with the policemen who could not help him solve the hit-and-run case, he decided to become a righteous policeman and not to make a person like him suffer again.

He met Hye-ju when he was sent to solve a robbery case and fell in love with her. For Hye-ju, who always wanted to study abroad, he cancelled his installment savings and ran into debt to send her to Prague for her studies. But, three years later he ends up receiving a good-bye letter from her. Finally, he goes to Prague to find her, but the Hye-ju he meets in Prague has become a totally different person. He meets Jae-hui who has been hurt by love just like him and eventually falls in love with her.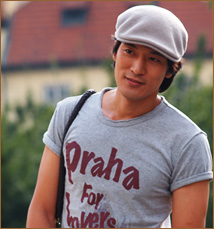 Ji Yeong-u / Played by Kim Min-jun
He is a 34-year-old outstanding public prosecutor and the son of the chairman of a leading conglomerate. Because of his father who has problems in his sexual relationship, he grew up without much family love and has a half brother. He has his father's sharp-witted brain as well his particular personality. In his high school days, he got involved with his father's stocks. However, a rival company's stocks under his father's name caused a serious problem, which threw the stock market into confusion.

His father who sensed his brilliant ability did not blame him for the problem, and bought him a sports car as a present instead, but not until after he profited from the stock deal. Because he wondered what money could not solve, he graduated from law school and passed the Judicial Examination. After he was exposed to the spotlight, he went backpacking in Paris to avoid everything. He met Jae-hui in Paris and fell in love with her. But, he found out that she is a diplomat and the daughter of a Presidential electoral candidate and has been apart from her for five years because of his father's interjection. Finally when he sees her again, she says she has forgotten him and is in love with someone else. He really loves Jae-hui, but he can't do anything about it, nor does he want to hurt her.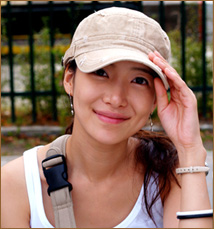 Gang Hye-ju / Played by Yun Se-a
She doesn't remember her parents because she grew up in an orphanage from the age of six. When she saw the principal of the orphanage's daughter play the piano, she wanted to play as well. After graduating from high school, she earned enough money to go to a college and finally graduated from an evening community college. She taught children in a kindergarten, but this did not come naturally to her.

One day, Sang-hyeon appeared and seemed so nice and sincere. She wanted to live happily with a good man and she ended up falling in love with him, because he trusted her unconditionally and supported her a lot. She went to Prague to study with the help of Sang-hyeon who worked as an interpreter for a leading conglomerate. Unfortunately she became pregnant with his child. She knew she had made a wrong choice, but desperately wanted to be promoted to a higher position. She was intent on rising to the top, which made her decide to finally break up with Sang-hyeon. Shortly afterwards, she realizes her mistake and yearns to be with Sang-hyeon again. But, the fact that he won't come back to her makes her sad. She looks fragile and vulnerable yet she does have a strong side to her.
| | |
| --- | --- |
| | Film Locations of 'Lovers in Prague' |
Naesosa (Naeso Buddhist Temple)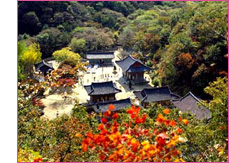 Naesosa where Jaehui and Sanghyeon have a date in the 16th episode is famous for its beautiful floral-patterned lattice work. This temple is also known as the shooting location of many famous dramas and movies such as 'Damo,' 'Seodongyo,' 'Daejanggeum,' and 'Immortal Lee Sun Shin.' At Jeongdeunminbak (Jeongdeun Homestay) located in front of the entrance of Naesosa Temple, the romantic scene in which Sanghyeon makes a ring from the a cap of soju bottle for Jaehui was filmed. Naesosa Temple, which is popular among tourists as a cozy and beautiful temple is the place where Chaeok (Ha Ji-won) was cured and Yun (Lee Seo-jin) came to ask for help in the drama 'Damo.'

In the famous drama 'Daejanggeum' (Jewel in the Palace), this is also the place where Janggeum served her court lady teacher and stayed with her for a while. Byeonsan Beach located near Naesosa Temple is another famous shooting location of 'Daejanggeum.' Visitors should not miss Byeonsan Beach when they visit Naesosa Temple. The glorious view of Naesosa Temple starts from the entry path all the way through the fir tree forest. About 500 fir trees over 150 years old make a magnificent tunnel, which stretches out for five to six hundred meters.

Inquiries: +82-63-1330 (Korean, English, Japanese, Chinese)
Website: http://www.naesosa.org (Korean)
How to Get There: Go to Seoul Central City Express Bus Terminal → Take a bus to Buan (Running Intervals: 40~50 mins. / Time required 3hrs, 10min. / Bus Fare 11,700 won, Deluxe Bus Fare 17,200 won) → Bus for Naesosa at Buan Cross-country Bus Terminal (Running Intervals: 30~60 min. / Time required 50 mins. / Fare 2,900 won / Taxi approximately 20,000 won) → Walk 1km from Naesosa Bus Stop (takes about 10 mins.)
Julpo Natural Park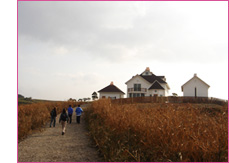 Yeong-u's workroom for woodcraft was a drama set located in Buan, Jeollabuk-do, not far from Naesosa. Buan is also famous for the drama set of 'Immortal Lee Sun Shin.' The drama sets for Yeong-u's cottage and workroom, wishing tree, and wishing wall are all located here in Buan. The wishing wall was the same as the one in Prague and will give drama fans a special feeling. The wishing tree grows in the beautiful area of Mohang. The wishing wall and cottage from the drama are located inside Julpo Natural Park.

Inquiries:+82-63-580-4191
Website: http://www.greenbuan.go.kr/02en/index.html (Korean, English, Japanese, Chinese)
How to Get There:Go to the Seoul Central City Express Bus Terminal → Take a Bus to Buan (Running Interval: every 40~50 mins. / Time required: 3hrs, 10mins. / Standard Bus
Fare: 11,700 won, Deluxe Bus Fare: 17,200 won) → Take a Bus to Julpo (Running Interval: every 30~60 mins.) or take a taxi at Buan Cross-country Bus Terminal
Seoul Jongno Police Station & Sejongno Park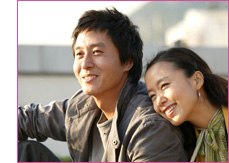 The police station at which Sanghyeon works is Jongno Police Station, and appears often along with several restaurants in the area in the drama. Sejongno Park also appears in the drama as the park located in front of the Ministry of Foreign Affairs and Trade where Jaehui works. The scenes in which Sanghyeon waits for Jaehui were often shot in Sejongno Park. 'Lovers in Prague' was not only filmed at this park, but all around the city, especially in Jongno, the entertainment district where young people love to visit and many famous restaurants with a long tradition are located. This place is always crowded with people. Jongno is highly recommended as a sightseeing place especially for visitors who are looking around Insa-dong, which is located nearby.

How to Get There: Seoul Jongno Police Station: Go out of Exit No.6 of Anguk Subway Station (Line No.3) → Walk 50 meters along the first alley on the left
Sejongno Park: Go out of Exit No.1 of Gwanghwamun Subway Station (Line No.5) → Pass by Sejong Center and go straight 100 meters → Sejongno Park is located right in front of the detached office of the Central Government Complex.
Yeoui-do Hangang Civic Park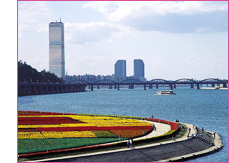 It is in Yeoui-do Hangang Civic Park located in front of Yeoui-do where Jaehui goes for a jog every morning and accidentally meets Sanghyeon. You can reach the park within 5 minutes by foot from Yeouinaru Station on subway line no. 5.
The park has a wonderful jogging path with a nice view of the Hangang River. Many people visit the park to enjoy marathon running, jogging, walking, in-line skating, bike riding, etc. In addition, there is the Yeoui-do marina for riverboats where visitors can see the beautiful sights of Hangang on a leisurely riverboat.

How to Get There: Go out of Exit No.3 of Yeouinaru Subway Station (Line No.5) → Then go down to the Hangang River, turn right, and go straight along the Hangang bicycle path.
Deoksugung Palace
Jaehui and Sanghyeon's growing interest in each other is detected when they walk next to the stonewall along the street of Deoksugung Palace. This stonewall is covered with love notes just like the wishing wall of Prague at the end of the drama. The stonewall along the street of Deoksugung Palace is a famous place for lovers, especially as the street lamps at night make it beautiful for walking. Seoul Civic Art Center and Jeong-dong Theater are located on the street, as well as Seoul Park and City Hall.

The crosswalk located between Seoul Park and Deoksugung Palace is the place where the scene was filmed in which Jaehui hurries to leave after she sees her father on TV, while walking together with Sanghyeon.
Inquiries: +82-2-1330 (Korean, English, Japanese, Chinese)
Website: http://www.deoksugung.go.kr/ (Korean, English)
Admission:1,000 won over 18 / 500 won from 7 to 18 years old
How to Get There:Go out of Exit No.2 of City Hall Subway Station (Line No.1) and Deoksugung is located right in front of the exit.

Cheonggyecheon Fountain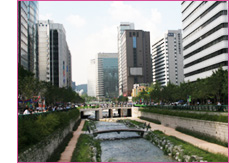 Cheonggyecheon where Jaehui and Sanghyeon enjoy a walk together is becoming a new popular hangout. This is where they take pictures from their camera phone and where they enjoy the beautiful scene of fireworks together. It is here where the blunt Sanghyeon shows his tender heart when he waits for Jaehui who is wearing high heels. Near the Dongdaemun shopping area is where the scene in which he waits for Jaehui was shot. This is a fun area for late-night shopping and an evening stroll.

How to Get There:Go out of Exit No.8 of Dongdaemun Subway Station (Line No.1 & 4) → Then go down the stairs to Cheonggyecheon Stream
Jeju LORDLAND Golf & Village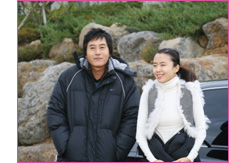 Lordland GC is a famous golf course in Jeju Island having an area of approximately 660,000 pyeong (2,200,000m2) and 27 holes, and each hole of the golf course is landscaped based on an independent concept. This world famous golf course has held several big golf events such as the Korean Tour, Lordland Classic, and Lordland Women's Open. It is a natural space where the spectacular views of Mt. Halla and Jeju Ocean are breathtaking and the forest around the golf course is thick and luxurious.
In the golf village, which will be a wonderful place for family visitors, there are many subsidiary facilities such as a pool bar, a restaurant, a guest house, a beauty zone, a business center, an outside pool, and a convenience store. Jaehui and Sanghyeon choose this place for their honeymoon. It looks funny and tender when they grill Samgyeopsal (pork boned rib) in the open air on the first day of their honeymoon with Jaehui's bodyguard.

Inquiries:+82-64-793-0707
How to Get There:Take No.95 West Sightseeing Road from Jeju International Airport → Turn left at Geumak Rest Stop and go straight (It is recommended to take a Taxi or Use a Rental Car)
The Academy of Korean Studies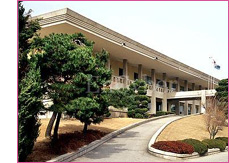 Is Cheongwadae (Blue House) where the President lives in the drama real? The answer is 'NO.' Shooting the actual 'Cheongwadae' is almost impossible. The Cheongwadae in the drama is the Academy of Korean Studies located in Bundang-gu, Seongnam City, Gyeonggi-do.
The main building, which looks simple but graceful and 10 other buildings show off the beauty of their antique style; thus, it is easy for people who have never seen the real Cheongwadae to be convinced that this place is Cheongwadae. The Academy of Korean Studies where Korean culture is academically studied is a meaningful place especially for people who have a great interest in Korea.

Inquiries:+82-31-709-8111
Website: www.aks.ac.kr (Korean, English)
How to Get There:Go out of Exit No.2 from Seohyeon Station (Bundang Subway Line) → Take Bus No.220 bound for Unjungdong and get off at the last stop (The Academy of Korean Studies)
Imperial Palace Hotel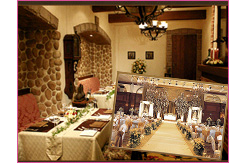 This hotel was newly renovated three years ago by a huge investment of approximately a hundred billion Korean Won. According to its new name, Imperial Palace Hotel, is a famous shooting location where various dramas have been filmed. It is a five-star hotel located in Gangnam-gu, Seoul, which shows off its gorgeous European-antique-style interior and a variety of 430 rooms with the most advanced IT facilities.
The Imperial Palace hotel often appears in the drama as the hotel which Yeong-u's father runs. Traces of the main characters in the drama can be found in various places such as the lobby, the guest room, the hallway, and the restaurant.

Inquiries:+82-2-3440-8000
Website: www.imperialpalace.co.kr (Korean, English, Japanese)
How to Get There:Go out of Exit No.2 from Gangnamgu Office Subway Station (Line No.7) → Walk straight towards Hakdong Subway Station and turn left at the crossroad → Go straight 100 meters (Approximately a 10-minute walk)

* The pictures above are provided by SBS.