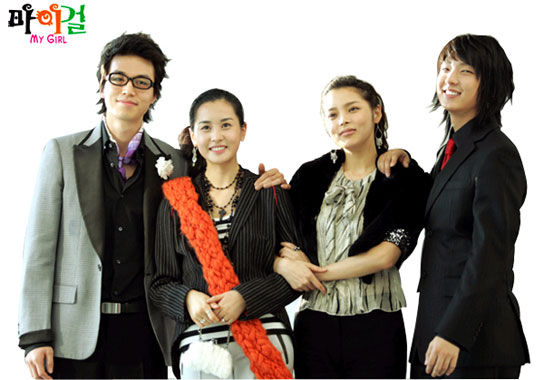 My Girl is a unique romantic comedy drama depicting the encounter between two unusually attractive characters: a young man whose charm isn't in the least overshadowed by his haughty audacity and a pretty young woman whom no one can despise despite all her lies. The drama may be stereotypical, but it doesn't fail to deliver a certain catharsis as it shows the evolution of a woman, who was born a liar yet is not a fraud, and the maturation of an arrogant man born to privilege, who realizes that his life cannot be complete without her. My Girl offers a cast of attractive characters with unique personalities not seen in other Korean dramas.

[ My Girl in Brief ]
Producer: Jeon Ki-sang
Cast: Lee Da-hae, Lee Dong-uk, Park Si-yeon, Lee Jun-ki
Broadcasting dates: December 14, 2005 ~ February 2, 2006 on Wednesday & Thursday nights
Broadcast network: SBS
Homepage: http://tv.sbs.co.kr/mygirl/index.html (Korean)


Synopsis
A native of Jeju-do Island, Ju Yu-rin lives with her father, who is addicted to gambling. Yu-rin's life is all lies and crises because of her father and his debts. When her father escapes the island to avoid his debtors, Yu-rin goes to work. She is determined to support herself and clear up the debts by selling oranges illegally picked from a hotel orchard and working as a tour guide on the island. Then, one day, she meets Seol Gong-chan, the sole heir to the L'Avenue Hotel fortune.
To grant his grandfather's dying wish, Gong-chan employs Yu-rin to act as his grandfather's long-lost granddaughter. Offering a monthly salary plus a bonus, he asks her to do what she does best - to put on an act. Not wishing to lie to a dying man, yet desperate for the money, Yu-rin takes the offer and starts playing the long-lost granddaughter. Through a strange twist of fate, however, finding his granddaughter makes the grandfather so happy that he makes a complete recovery. Since they have claimed to be cousins, Gong-chan and Yu-rin are forced to live together under one roof, and as time passes, the attraction between them grows. However, love is forbidden for these two, who must pass as cousins.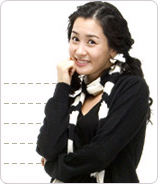 Ju Yu-rin / Played by Lee Da-hae

Having to endure a harsh life with a gambling father has given Yu-rin a strong character. She is clever, glib and a born liar, telling one falsehood after another without ever blinking an eye. However, the stories she tells to get out of tight situations don't really hurt anyone, and people see her as cute and lively, not wicked.
Her plan is to make money by passing as the long-lost granddaughter of a hotel conglomerate owner, but along the way she falls in love, and what started off as a moneymaking venture ends in a painful situation. This somewhat wild and curiously animated young lady is full of love. But she too suffers for love.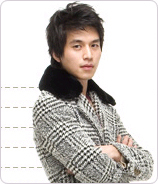 Seol Gong-chan / Played by Lee Dong-uk

Gong-chan is the rich and handsome 28-year-old heir of a top hotel chain. He is a born businessman whose talents are even more impressive than his established wealth. He prefers a simple 'yes' or 'no,' and hates lengthy excuses and conversations. In his life, he has met all kinds, but never one as shameless as Yu-rin.
To make his ailing grandfather happy, he concocts a story that he has found his lost granddaughter. However, he discovers constant turmoil after the phony cousin enters his life.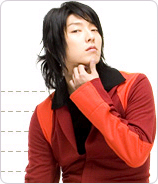 Seo Jeong-woo / Played by Lee Jun-ki

This 28-year old flirt has been the best friend of Gong-chan since childhood. For him life is too short, so he wants to live freely and have as many girlfriends as possible. His character is kind, gentle and optimistic. On the other hand, he is willing to break the rules to enjoy life in the moment.
But even a flirt like him finds the love of his life. His heart aches when he sees her laugh with tears in her eyes, and the pain is greater knowing that she is in love with his best friend. This is Lee Jun-ki's first appearance in a TV drama since he rose to stardom in the movie The King and the Clown .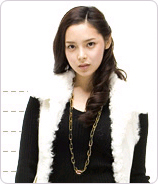 Kim Se-hyeon / Played by Park Si-yeon

Se-hyeon is a 26-year-old tennis player, renowned as the Sharapova of Korea. The nation's top sports star, she is not only beautiful, but also an outstanding athlete. Kim is as confident as she is beautiful, and once she sets a goal, she pursues it relentlessly. To realize her dreams as a tennis player, she left for the U.S., leaving her boyfriend Gong-chan behind.
She returns to Korea after completing her goal, but finds she is no longer in his heart. Even after realizing he doesn't love her anymore, she doesn't give up easily. She fights for her love with the same will and spirit as when she plays tennis. And in order to regain his love, she doesn't rule out being the bad girl.


Filming Locations
Jeju Island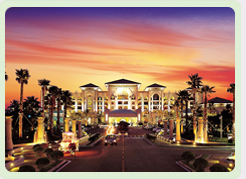 Filmed in early episodes, Jeju Island is the birthplace of Yu-rin and the location of Gong-chan's hotel. Most scenes in episodes 1 and 2 were filmed in Jungmun, the largest tourist complex on the island. While scenes were filmed all over the island, some major locations were Seongsan Ilchulbong, Cheonjeyeon Falls, Cheonjiyeon Falls, and Seopjikoji. Among the scenes filmed here, were Jeong-woo and Yu-rin being chased by a mob and the one in which Yu-rin steals mandarin oranges from an orchard to sell on the roadside.
At the Lotte Hotel Jeju (one of the hotels owned by Gong-chan), a man chases Jeong-woo after finding him in a room with his blonde girlfriend. In one scene, the blonde shoots at Jeong-woo, and the gunpowder accidentally hit his bare foot, resulting in an NG.
Set amidst fantastic scenery, the Jeju Medical Center is where Yu-rin was filmed running from the mob. In a particularly hilarious scene, she escapes from the hospital clinging to the back of an ambulance. Finally, at Jeju International Airport, Gong-chan is approached by Yu-rin who is putting up an act as his ex-girlfriend.

→ Go to Jeju-do Island
Tel: +82-64-1330 (Korean, English, Japanese, Chinese)
Website: http://cyber.jeju.go.kr (Korean, English, Japanese, Chinese)
How to Get There: Take a flight for Jeju from Gimpo Airport.
Flora by Lee Jeong-hwa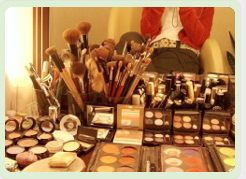 Yu-rin's friend Jin-sim works at this Cheongdam-dong hair salon, living in one of the rooms with her brother Jin-gyu. Yu-rin often stops by for a visit, and in one scene, Jin-gyu impersonates Yu-rin's father during a phone conversation with Gong-chan's grandfather. In another scene, Gong-chan comes here to look for Yu-rin after she left, and falls asleep on one of the couches.
The salon, which often appears in the drama, is popular among brides and celebrities for its make-up services. You can visit the salon for a beauty treatment, which will bring back fond memories of the drama.
Tel: +82-2-516-6939
Website: http://www.floramakeup.com (Korean)
How to Get There: Exit No.2 of Gangbyeon Subway Station (Line No.2) → Use Shuttle Bus free of charge. (Running Interval: 20min.)
Gimpo International Airport
To create some distance between himself and Yu-rin, Gong-chan decides to return to Jeju Island for two or three years. As he gets ready to board a plane, the snow suddenly starts falling, and he remembers Yu-rin's words: if it snows, it's her birthday. Tormented and unable to leave, he stands in the falling snow.
This scene was filmed at Gimpo International Airport, the domestic and international airport for Seoul. There are various convenience facilities inside the airport, including a hospital and a shopping mall. Connected directly to subway line 5, Gimpo International Airport is easily accessible.

→ Go to Gimpo International Airport
Tel: +82-2-2660-2114
Website: http://gimpo.airport.co.kr/index.jsp (Korean, English, Japanese, Chinese)
How to Get There: Exit No.2 of Gangbyeon Subway Station (Line No.2) → Use Shuttle Bus free of charge. (Running Interval: 20min.)
Incheon International Airport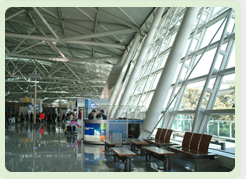 After sending Gong-chan back to Jeju, Yu-rin decides to leave Korea with her father. If you were one of those viewers who cried along with Yu-rin during this scene, you will probably have sad memories of the airport.
Another memorable scene is when Yu-rin accompanies Gong-chan to the airport, play-acting as if they were running away together. "We need some dollars, yen, and euros. We are running away." The scene at the airport CHB Bank where they exchange currency is both comical and sad. Incheon International Airport, the gateway to Korea, appeared in the last episodes when the two faced romantic difficulties.

→ Go to Incheon International Airport Guide
→ Go to Incheon International Airport Transit Passengers
Tel: +82-1577-2544
Website: http://www.airport.or.kr (Korean, English, Japanese, Chinese)
How to Get There: Take a limousine bus for Incheon International Airport.
Lotte Hotel World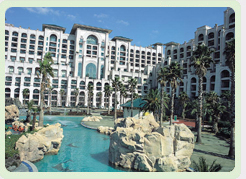 One of the main locations, Lotte Hotel World was filmed as the hotel managed by Gong-chan. So numerous scenes were filmed here, including scenes of romance and heartbreak.
This is also where Jin-gyu stops by every day to meet Gong-chan's secretary. The ballroom, restaurants and sports center all appeared in a few scenes.
Peninsula, where Jeong-woo had dinner, and Venetia, the Italian restaurant where Gong-chan and Jeong-woo dined, are worth a visit. Mega CC in the Lotte Hotel Jamsil is the location of Jeong-woo's favorite bar.

→ Go to Lotte World
Tel: +82-1577-2544
Website: www.lottehotel.co.kr (Korean, English, Japanese, Chinese)
How to Get There: Subway Line 2 & 5, Jamsil Station
Spa Castle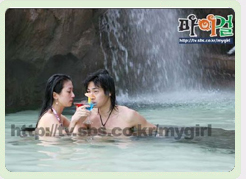 In a bar called the Spa Castle, Gong-chan and Yu-rin played billiards and had a drink together . In the same bar, Jin-gyu did a modeling photo shoot. In one memorable scene, Jin-gyu mistakenly sits on the orange that Gong-chan's secretary gave him. He is crestfallen because he is in love with her and cherishes even the piece of fruit. Spa Castle is a must-visit destination for couples nowadays.

→ Go to Ocean Castle Resort
Tel: +82-41-330-8000
Website: http://www.oceancastle.com/spa (Korean, English)
How to Get There: Take the Seoul ↔ Deoksan shuttle bus (One round-trip a day)
Fare: 22,000 won / 2 hour ride / Call (+82-2-733-0201) for reservation
To Spa Castle: Subway Line 1, Jonggak Station, Exit 4 → Pass by Bosingak and turn left at the crossing. → Bus leaves at 9am in front of Lotte Tours. / Take Subway Line 3, Yangjae Station, Exit 1 → Bus leaves at 9:50am in front of Hana Bank building.
To Seoul: Bus leaves at 2PM from Spa Castle.
Olympic Park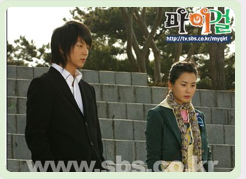 Jeong-woo introduced this park to Yu-rin as his own retreat. After realizing her one-sided love for Gong- chan, Yu-rin often came here when she felt low. The park's tennis court is also where Se-hyeon played a tennis match. Because it was shot in the middle of winter, Se-hyeon had to endure the cold wind wearing a skimpy tennis outfit.
Olympic Park, one of Korea's major parks, is popular for inline skating or family walks.
Tel: +82-2-410-1114
Website: www.sosfo.or.kr (Korean, English, Japanese, Chinese)
Admission fee: Free
How to Get There: Subway Line 5, Olympic Park Station
Carib Café
This restaurant offers an upscale interior design and the culinary experience of a deluxe hotel. There is also a great view and a live guitar performance every evening from 8:30 p.m to 11:00 p.m. The restaurant serves Swiss cheese fondue at an affordable price along with steak, shrimp, and grilled seafood. The most popular dish is the Carib Jjeongsik (set meal), which comes with a steak, seafood, broiled potato and vegetables. The restaurant was often the scene of Yu-rin and Gong-chan's meetings.
Tel: +82-2-3662-2400
How to Get There: Subway Line 5, Balsan Station, Exit 2 → From 88 Gymnasium, walk in the direction of Gimpo Airport and the café is on the right.
Daehangno 'Lo Chef'
This restaurant, with its impressive classic interior, was used to film the scene in which the four main characters met for a tension-filled dinner. Among the many restaurants in Daehangno, this one is authentic Italian. Because of its quiet ambience, it is especially popular with couples out on a date.
The most popular choice is spaghetti but the tortilla pizza runs a close second. The price of a steak is more affordable than at other restaurants. From the entrance, candlelight creates a romantic ambience. The restaurant seats up to 80 people, and there is ample space between the tables, making it perfect for intimate conversation.

→ Go to Daehangno
Tel: +82-2-762-0001
Addess: F3 Eoureojyeo Joeungot, 1-86, Dongsung-dong, Jongno-gu, Seoul
How to Get There: Subway Line 4, Hyehwa Station, Exit 2 → Walk up to the KFC corner. → The restaurant is in the building next to the Mindeulleyeongto building at the dead end.
SBS Mok-dong Sinsaok (New Building) Elevator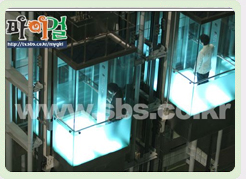 If you remember Gong-chan holding his breath in an elevator after Yu-rin told him that his wish would come true if he did so, you will probably want to visit just to make your own wish. Appearing in a few critical scenes, the elevator is in the new SBS Building in Mok-dong.
In one scene, Gong-chan and Jeong-woo, riding in transparent elevators, pass one another. For the elevator scene where Gong-chan and Jeong-woo pass each other, the production crew used 2-way radios, so it wasn't pure coincidence.
Tel: +82-2-2061-0006
How to Get There: Subway Line 5, Omokgyo Station, Exit 2 → From Hyundai Department Store, cross the street to Omok Park and pass through the park. → Cross the street to SBS Mokdong Sinsaok building.
63 City Observatory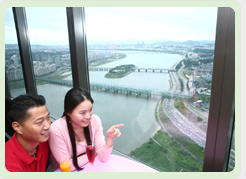 Newly remodeled in 2006, the 63 City Observatory is a major tourist attraction in Seoul that offers a panoramic view of the city. The view of the Hangang River from the observatory and the elevator leading up to the observatory are particularly popular. As a child, Yu-rin had always wanted to come to the 63 City Observatory. Finally, she is able to visit with Gong-chan.
The observatory is one of the few sites offering a beautiful night view of Seoul. It is especially recommended for couples looking for a romantic evening. In the elevator, Yu-rin talks about holding her breath and making a wish.

→ Go to 63 City Building
Tel: +82-2-789-5114
Website: http://www.63city.co.kr (Korean, English, Japanese)
How to Get There: Subway Line 5, Yeouinaru Station, Exit 1 → Walk ahead. (10 minutes)
Ilsan Lake Park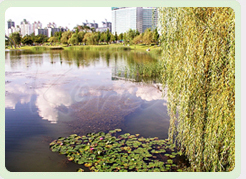 Here at the park, Gong-chan's aunt sets up her easel to sketch. Mr. Jang comes to meet her with open arms, and she runs toward him. After a period of comic interaction where the two find out about their love, they decide to get married.
Ilsan Lake Park is the largest in Ilsan. Over the lake, there is a bridge adorned with eulalia plants. The park attracts crowds of picnickers and sightseers, and its scenic views make it a favorite choice for wedding photos. Wonderful in any season of the year, Ilsan Lake Park is easy to find, so if you are in the area, it is worth a visit.
How to Get There: Subway Line 3, Jeongbalsan Station, Exit Lotte Department Store → Pass by Migwan Plaza and walk for about 10 minutes.
Hours: April ~ October 05:00~22:00 / November ~ March 06:00~20:00
Wondang Market
Gong-chan picks up Yu-rin at the bus stop while she is out buying steamed bread for his grandfather. While Gong-chan checks out some neckties at the market, Yu-rin has a dispute with the lady owner of a lingerie shop.
In a particularly comical scene, Yu-rin insists that she wears a B-cup, while the shop owner recommends an A-cup. The dispute ends when Gong-chan appears. An interesting bit of trivia: the man selling neckties was actually the bus driver of the production team.
How to Get There: Subway Line 3, Wondang Station, Exit 6 → Pass by Seongsa police station and walk up along the corner street. → Pass by the second intersection and the market is on the left.
* The pictures above are provided by SBS.