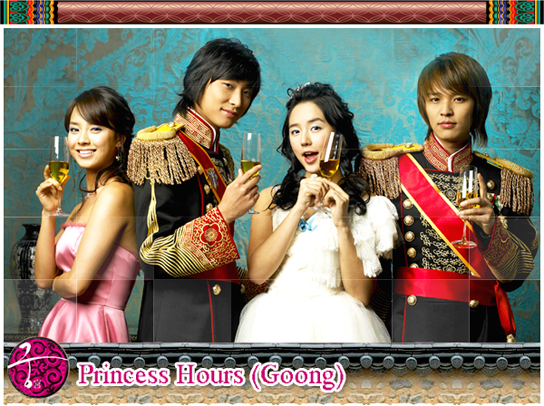 Based on a comic book series, "Princess Hours" was the topic of a major media hype from the moment its production started. Not only was the comic book series incompleted, but many of those who admired the comic book watched eagerly to see how well the TV production would live up to the fame of the original book. It was also the first acting role for Yoon Eun-hye, previously a member of the music group Baby Vox, in her role as the lead character, and this generated much concern over her acting ability. All concerns aside, the TV drama was a huge success, with news of a possible second season following the finale. Fans couldn't seem to get enough of it, as scandals between the leading characters Lee Shin and Chae-gyeong continued to make headlines on the front pages of media.

Based on an interesting premise that Korea is still ruled by a royal family, the drama portrays a romance between two people of different social standing and backgrounds. Starting with the classical setting of an encounter between the upper and the common classes, Princess Hours created a unique couple: a 19th century prince and a 21st century commoner. Their relationship starts as part of an arranged marriage, but they soon find that they love each other. The drama also depicts how the crown prince overcomes hardships, finds true love, and becomes a respected emperor.

The use of code words to communicate as well as having subtitles, which is unusual in Korean dramas, are production tricks that appealed to today's younger generation. Another interesting fact is that the 1.5 billion-won studio set was built especially for the production. Famed Korean designers were consulted in the creation of traditional costumes, props, and interior design. Currently at the frontline of neo-Orientalism, Princess Hours' interior design has become the hottest design item in Korea.
Princess Hours in Brief
Producer: Hwang In-roi
Cast: Yoon Eun-hye, Ju Ji-hun, Kim Jeong-hoon, Song Ji-hyo
Broadcast network: MBC
Broadcasting dates: January 11 ? March 30, 2006 on Monday & Tuesday nights
Website: http://www.imbc.com/broad/tv/drama/gung/ (Korean)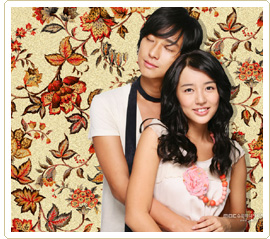 Chae-gyeong is an ordinary art high school student. One day, she hears totally unexpected news that, based on her grandfathers will, she must marry the unemotional Crown Prince Lee Shin who attends the same high school. Free-spirited Chae-gyeong resists the proposal, but reluctantly marries him to help her debt-ridden family. As she struggles to adapt to the proper manners and royal duties of palace life and to her disagreeable husband, Lee Shins sentimental cousin and second-in-line to the throne Yul steps into her life. She feels like she can rely on Yul to help her, but can't help worrying about her haughty, cold-hearted husband.
To help bridge this gap, the senior members of the royal family take some special measures to get them to spend the night together. Along the way, you will encounter numerous delightful episodes among the cute and lively Chae-gyeong, the cold heartthrob Lee Shin, the handsome, down-to-earth Yul, the perfect ballerina Hyo- rin who just cant get over Lee Shin, and all the other members of the royal family. Will the Crown Princess, Chae-gyeong be up to the challenges of royal life? Come and join us as these wonderful tales of the crown princess unfold.
| | |
| --- | --- |
| | Gung – About the Characters |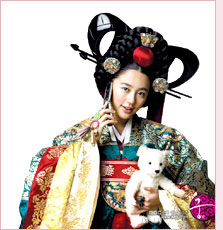 Shin Chae-gyung / Played by Yoon Eun-hye
Chae-gyeong is a student at an art high school. She wears training pants under her school uniform and uses slang on a daily basis. Despite her family's difficult financial situation, she is lively and cheerful, and has creative talent. She hates Prince Lee Shin who attends the same school, saying that he has a prince syndrome. Because of her family's situation, however, she is forced to consent to an arranged marriage with him. As she gets to know him better, she discovers his loneliness and begins to feel compassion.
While struggling to adapt to palace life, Yul makes his appearance. He is kind to her and this attracts her, but she cant help thinking about Lee Shin. Chae-gyeong is an optimistic character who manages to deal graciously with the veiled attempts to take the throne. She brings a cheerful and genuine presence to the stony atmosphere of the palace and gradually changes other members of the royal family. See how this ordinary high school girl turns into a respected princess.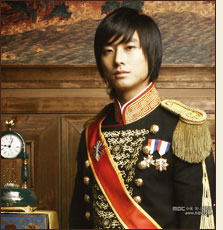 Lee Shin / Played by Ju Ji-hun
Prince Lee Shin has won the heart of every girl in the country, but is fed up with fans that follow him wherever he goes. Born to a clever emperor and a beautiful empress, this arrogant prince has both intelligence and great looks. However, strict palace rules and heavy royal responsibilities do not allow him a private life or dreams of his own. He is so disillusioned that he no longer believes in family, love, or friendship. Living in his own sheltered world, his only pleasure is watching movies. He had a covert relationship with Hyo-rin, who is a ballet student at the same school.
Because of plans for an arranged marriage many years before, he is forced to marry a spunky, ordinary girl but finds himself gradually falling in love with her. He is at the heart of a love triangle as his ex-girlfriend Hyo-rin intervenes after the marriage. The situation worsens as the second-in-line Prince Yul wishes to reclaim the throne.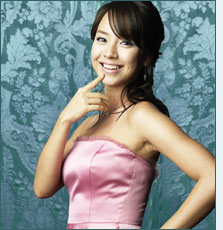 Min Hyo-rin / Played by Song Ji-hyo
Hyo-rin is a pretty, clever ballet student who dreams of becoming a prima ballerina. She is the first love and secret girlfriend of Lee Shin. He had proposed to her, trying to avoid an arranged marriage, but she declined, believing that her dream to be a ballerina was more important. After winning a competition, she realizes her true feelings for him. She befriends Chae-gyeong in the hope of winning Lee Shin back, just as Camilla did with Prince Charles.
One day, Hyejeonggung, the mother of Yul, who has plans to reclaim the throne, approaches her. With Hyejeonggung and Lee Shin's friends, Hyo-rin manages to put Chae-gyeong in a perilous situation. Everybody thinks Hyo-rin is perfect, but she carries her own untold secret.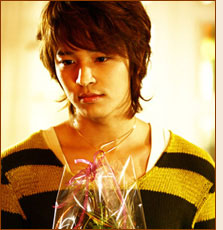 Lee Yul / Played by Kim Jeong-hoon
Yul is second in line to the throne. He was still a child when his father died in an accident, leaving the title to Lee Shin's father. He and his mother left the palace and since then lived abroad. He has lived a carefree life with no royal obligations, so his outlook and actions are no different from those of other ordinary high school kids. Gentle, attentive, and intelligent, he likes gardening and reading. His character is the reverse of the haughty prince, Lee Shin, and he always takes good care of Chae-gyeong.
He was originally troubled by his mothers ambition for the lost throne, but soon finds himself wanting to reclaim his title as he falls for Chae-gyeong.
* Main Filming Location? Osan Location Set *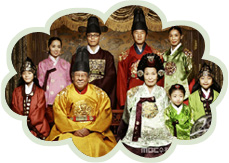 Most of the indoor scenes were shot at a location set in Osan, especially the kissing scene between Lee Shin and Chae-gyeong, the scene in which they both look back sadly, to see the other walking away, and the quarreling scene in their bedrooms. This 1.5 billion won studio set is a reenactment of a modern-day royal palace. With all the rental furniture and props included, the set cost almost 5 billion won. The emperors room is decorated in amber and olive colors, while the room of the empress is decorated in black and gold to express regality and authority. The room of the crown prince is located in the east wing and is in blue while the room of the crown princess is decorated in romantic pink. Other areas are the grand reception room and the indoor garden. Classic and modern styles coexist in the overall design of the studio set.
* Anapji Pond in Gyeongju and Gyeonggijeon Shrine in Jeonju *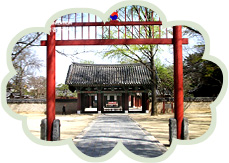 Scenes of the front and back palace courtyards were filmed at Anapji Pond in Gyeongju, Gyeongsangbuk-do Province and Gyeonggijeon Shrine in Jeonju, Jeollabuk-do Province. Scenes of the main palace Geunjeongjeon were filmed at Gyeonghuigung Palace in Jeong-dong, Seoul. The scene in which the royal family played a royal sport similar to golf took place in Gyeonghuigung. The image of the palace buildings behind Gyeongbokgung Palace was designed by using computer graphics. Sightseers at these locations need to remember that some visual scenes were created with computer imaging.
Go to Anapji Pond in Gyeongju
Go to Gyeonggijeon Shrine in Jeonju
* Palace Exterior - Duksung University, Unni-dong Campus *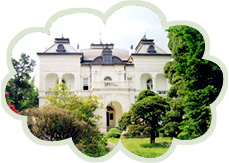 While the palace's interior scenes were shot at the studio set in Osan, the exterior scenes were shot at the Yanggwan Building of Unhyeongung Palace in Jongno, Seoul. The architectural structure currently houses Duksung University School of Continuing Education. This Renaissance-style building with antique white exterior walls is in harmony with the gardens surrounding it. The building is easily accessible on foot from Jongno.
Go to Unhyeongung Palace
* High School Attended by the Characters? Kaywon High School of Arts *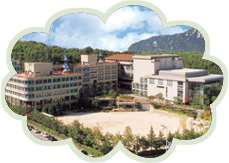 Located in Bundang, Kaywon is a well-known arts high school like the one depicted in the drama. It has a beautiful campus designed with modern architecture. The school has four departments (fine arts, drama & cinema, music, and dance) and is intensely competitive, enrolling only 320 students into eight classes each year. All the school scenes were filmed at Kaywon. However, since it is an educational institution, sightseeing at the school is restricted.
Website: http://www.kaywon.hs.kr (Korean)
Location: Kaywon High School of Arts, Jeongja-dong, Bundang-gu, Seongnam-si, Gyeonggi-do Province
How to Get There: Take the Bundang-seon subway line to Jeongja Station Go out of Exit No. 1 or 2 Take the local shuttle bus No. 109
* Lee Shin and Chae-gyungs Kiss Scene Location ? Myeongdong *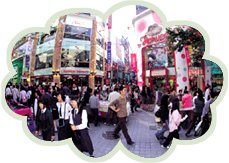 Lee Shin and Chae-gyeong hide their true feelings by acting cold to one another. Their misunderstanding grows and they quarrel every day, worrying the people around them. But after they reveal their love, they boldly kiss in the middle of a crowded street. This scene was shot in the heart of Myeongdong, one of the busiest shopping districts in Korea. If you happened to be impressed by this scene, you should visit Myeongdong where you can enjoy sightseeing and shopping.
Go to Myeongdong
* The Couples Fourth Night Together and Shower Scene? House of the Mind *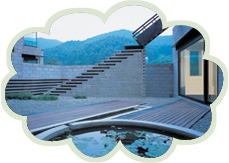 Lee Shin and Chae-gyeong spend their fourth night together at the House of the Mind. On Yul's birthday, the couple visits this inn with their friends, who force them to spend the night in the same room. In one scene, they playfully change their clothes, but the ambience becomes more and more romantic. If you felt your heart beat during the shower scene of model-turned-actor Ju Ji-hun (playing Lee Shin in the drama), you may want to visit this inn, located in Yangpyeong. House of Mind, which has two buildings (six rooms), features unique architecture, and was shown many times by the media before filming even began. It is exceedingly popular, so weekend reservations must be made a month in advance.
Information: +82-31-773-2210
Location: Buan-ri 32-0 , Danwol-myeon, Yangpyeong-gun, Gyeonggi-do Province
Website: www.mindhome.co.kr(Korean)
Rates: 140,000 won ~350,000 won
(Rates depend on which day of the week and type of room)
How to Get There: Take a bus for Danwol at Dong Seoul Bus Terminal (06:50-21:30 / 41 daily departures / 5,500 won / 1 hr 30 mins) A car will pick you up in front of the local bus terminal (request pick- up service when making a reservation)
* Honeymoon Scene? Gangneung Seongyojang *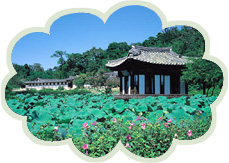 Lee Shin and Chae-gyeong's honeymoon was located in Gangneung in Gangwon-do Province. They go by car and arrive at the seaside. Do you remember the scene in which Lee Shin affectionately gazes at Chae-gyeong as she sleeps? They enjoyed moments together walking on the beach, grocery shopping, and making an enjoyable dinner. At night, they find themselves in the same bed again. Seongyojang is a large private residence with four residential buildings. It is a major tourist destination in Gangneung and was designated as an Important Folk Material no. 5. Accommodations are not available, but this place is open for sightseeing.
Go to Seongyojang in Gangneung
* Chae-gyungs Teddy Bear? Teddy Bear Museum *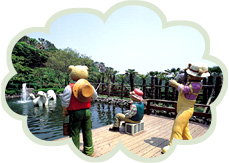 During their trip to Jeju Island, Chae-gyeong and the empress visit the Teddy Bear Museum. This is the world's largest museum that is wholly dedicated to teddy bears. The museum has on exhibit a wide collection of teddy bears from all over the world and is a great place to take pictures. As Chae-gyeong thinks about Lee Shin back in Seoul, she is shocked when he suddenly appears. Her expression brightens and she looks just like a teddy bear. If you remember this scene, you may want to visit the museum. Here, you will find the teddy bear that Chae-gyeong pretended was Lee Shin.
Go to Teddy Bear Museum in Jeju

* The pictures above are provided by MBC.