Lee Min-cheol (played by actor, Lee Byung-hun) - More on Lee Byung-hun

Min-cheol is the general manager of Victory Records, a big record label. He is a charismatic man who is on the career path to inherit his father's record company. As a smart businessman, he always finds a breakthrough however difficult a situation might be. His capabilities in the music business earned him the nickname, "Midas touch," as he produces many big stars.

Kim Yeon-su (played by actress, Choi Ji-woo) -More on Choi Ji-woo

Even though she is an orphan, Yeon-su is very bright and optimistic. She works a part-time job at one of Victory Records' shops after graduating from a night-time university on a scholarship. As an art major, she also often works as a freelance designer. Because of her beauty and bright personality, people around her hardly care that she is an orphan.

Lee Seon-jae -(played by Ryu Si-won)

Seon-jae is a medical student at a prestigious university with a warm and soft personality. His biological father was the president of the biggest record label in the 1970s. However, as he died before Seon-jae was born, Seon-jae's mother got married to Min-cheol's father, the president of Victory Records. Min-cheol's father tells everyone that Seon-jae is his real son, which Seon-jae believes. Seon-jae also believes that Min-cheol and his sister Min-ji are his half-siblings. However, Min-cheol always looks down on Seon-jae who was born to the second wife of his father.

Kim Se-na - (played by Lee Jeong-hyeon)

Growing up together with Yeon-su in an orphanage, Se-na is full of ambition to be a singer. She tries to do whatever it takes to be successful even though it means hurting others. Though she looks pure and innocent, she has suffered a lot since she was young. She often lies to other people and uses them for her success. Nevertheless, she is the type of the girl you cannot really hate. Se-na approaches Seon-jae to exploit him for her career. Although later, she finds herself really falling for Seon-jae.

■ Filming Locations
Most of the scenes from Beautiful Days were filmed at areas near Sinchon and Ewha Womans University on subway line number 2. You can get off at either of the two stations and walk to the other. As the two areas are close to each other, it only takes about an hour to visit all the places where the drama was filmed.
■ Synnara Record Shop (Sinchon Branch)

This record shop, owned by Min-cheol's company in the drama, is where Yeon-su works a part-time job. Located on the main street of the Sinchon area, Synnara record shop features music CDs of a wide-ranging genre, such as Korean and Western pop, Jazz, and Classical music.

Contact: +82-2-3141-4235
Location: B1, University Square B/D, 30-1 Changcheon-dong, Seodaemun-gu, Seoul
Local Transportation: Take subway line number two and use exit number two at Sinchon station. Walk straight for about five minutes.
Hours: 10:00 am to 10:30 pm
■ Main Street of Sinchon

Many of the drama's scenes were filmed on a main street in the Sinchon area where you can find many schools such as Ewha Womans University and Yonsei University. It is easy to walk from Sinchon station to Yonsei University and Ewha Womans University, as the whole area is connected by a quaint road. You can find everything here, including innumerable trendy stores to shop at, and every kind of restaurant and bar that you could imagine.
■ Sitting area in front of Ewha Womans University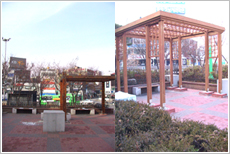 This is where the drama's main characters often meet in front of their house. Take subway line number two and use exit number five at Ewha Womans University station.
■ Sinchon Station (Train station)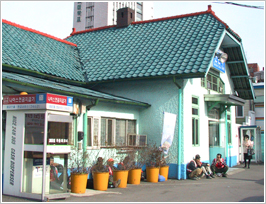 Sinchon station, where Yeon-su sees off Seonjae in the drama, is located in the middle of Ewha Womans University and Sinchon stations. Commuter trains to nearby areas of Seoul, such as Uijeongbu and Geumchon depart from here.

Local Transportation : 1. From Sinchon station exit 3 (Seoul Subway Line 2), go straight towards Yonsei University and turn right. 15 min on foot / 5 min by taxi.
2. From Ewha Womans University station exit 1, go straight towards a three-way junction and turn right. 10 minutes on foot.
■ Namsan Park - Click here to for more on Namsan Park

Namsan Park is a famous filming location for a number of movies and dramas. It presents different views with the change of season. The park also offers paths for leisurely strolls.
■ Café PASCUCCI

Café PASCUCCI presents customers with the true taste of Italian espresso in its unique, European-style atmosphere. Located in Apgujeong-dong, the coffee chain's unique interior design using only black, white and red colors present customers with a special moment to relax and enjoy a sip of coffee.

Tel : 82-2-546-8407
Hours : 9:00 am to 2:00 am
Local Transportation : Go straight for about 100 meter from the back gate of Apgujeong-dong Rodeo Street and turn right.
■ Photo Gallery
* The pictures above are provided by SBS.