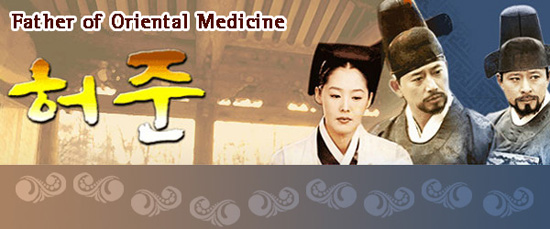 Aired from November 29, 1999 to June 27, 2000, the 64-episode historical drama 'Heojun' was a tremendous hit all over Korea. This very drama was also aired in Hong Kong after five years, in June, 2005, by Hong Kongs largest mass media corporation TVB.



Detailed Information

[Broadcasting Period] November 29, 1999 ? June 27, 2000 (aired on Mondays, Tuesdays)
[CoordinatorProducer] : Lee Byeong Hun
[Cast] Jeon Gwang Ryeol, Hwang Su Jeong

▒ Heojun! Who Is He?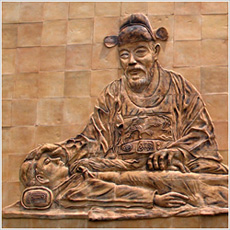 Heojun is an actual character born in 1546. He passed away at the age of 69 in 1615. Born as a concubine's son, his status created a social barrier, making his road to success difficult. However, Heojun began studying oriental medicine at an early age, and by his twenties, he was already a well-acknowledged oriental medicine doctor in Korea. At age 29, he entered the palace and served two kings as a court physician until his death. He spent a long time serving King Seonjo, and he was especially faithful to the king, taking care of his health even during the Japanese Invasion when most of the court physicians had already left the king to take refuge. He was rewarded with the status of a meritorious subject for his service during the Japanese Invasion.

The reason he is respected even until today is not only because he was a great physician, but because of his medical reference book series, Donguibogam. Heojun put the book series together under King Seonjo's name, the first king he served. He began writing the book under the king's orders in 1596, and finished the series after fifteen years in 1610. Donguibogam is a compilation of Korea's oriental medicine from the past up to his time, and is considered an indisputable achievement in medicine by Heojun up to this day.
▒ Storyline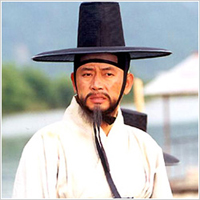 Born to a concubine, he faces many social barriers, which he overcomes in order to become a leading physicia,n taught by Yoo Eui Tae.

Heojun meets and falls in love with the female physical attendant Yejin. Heojun is acknowledged for his skills and becomes the kings physician in charge.

He escorts the king during his refuge at the time of the Japanese invasion, facing many hardships along the way. He is awarded for his bravery after the war. Heojun becomes an object of envy for many people, and those wanting to see him fall begin probing into Heojun's life. They try to ensnare him by making false assumptions about his relationship with Yejin, but Yejin leaves to save Heojun's reputation. Heojun and Yejin never meet again after this. Heojun is sent into exile after the death of King Seonjo. During his exile, he finishes Donguibogam, and is later summoned back by the new king, King Gwanghaegun. However, Heojun refuses the king's summons for the reason that he wishes to serve the poor. While Heojun lives at one of the poor villages and practices his medicine, an epidemic breaks out.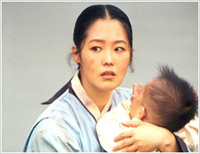 Heojun, busy taking care of the sick, neglects his own health and finally becomes a victim of the very epidemic he was treating. He gives away his share of the medicine, and misses his chance of possible treatment, and dies.
After his death, Yejin visits his gravesite with a small female child. The child asks her whose grave they are visiting, and Yejin replies someone I loved all my life. To this reply, the child asks if that person loved Yejin as well. She replies I dont know, I'll have to ask him in our next life. And thus, the drama comes to its conclusion.


▒ Cast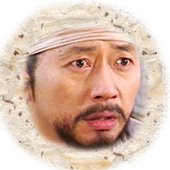 Heojun ? Jeon Gwang Ryeol

Jeon Gwang Ryeol revealed that the producer and the writer of 'Heojun' were two of the people he respected most. Therefore, he came into the drama with a never-before-seen dedication. Much like Heojun, Jeon Gwang Ryeol is a warm-hearted man, with a strong will and values. It allowed him to immerse himself into Heojun's character who had strong values, unshakeable will, and a warm heart as well.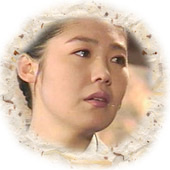 Yejin ? Hwang Soo Jung


Yejin studies under Heojun's teacher Yoo Eui Tae as a female physical attendant, and later regains her upper class social status. Hence, due to many differences with Heojun, the two characters must hide their love for each other for the rest of their lives. Yejin takes care of the sick from poor backgrounds side by side with Heojun.


▒ Filming Location
MBC Culture Park (Dae Jang Gum Theme Park)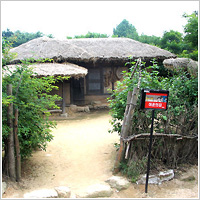 The MBC Culture Park, which was an open set is located in Gyeonggido, Yangjoo. It was constructed for the filming of MBC dramas. This park not only has traditional houses and streets from Joseon Dynasty, but also has contemporary streets and buildings.
It is similar to America's Universal Studio. For the filming of 'Heojun,' 1,300 pyeong of land was used to build Yoo Eui Tae's home (a total of six house parts), Heojuns house, and the village he lived in.
< Heojuns House > The outdoor sets are semi-permanent, and are accessible to the public for an entrance fee.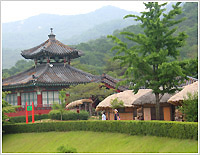 The drama Daejanggeum (Jewel in the palace) which was a tremendous hit in China and South East Asia, was also filmed here. The sets used in the drama Daejanggeum have explanatory signs in Korean, English, Japanese, and Chinese.

< MBC Culture Park >

Detailed Information on How to Get to MBC Culture Park (Dae Jang Gum Theme Park)


Heojuns Exile Joongri Seashore in Haenam-gun, Jeollanam-do province
The set of Heojuns exile is the famous Jeollanamdo Haenams lands which is at the end of the Korean Peninsula. The Joongri Seashore is not far from the observatory, and a small fishing village consists of forty homes that inhabit the area. This village is the set of Heojuns exile. There are two small islands off the coast, and during the low tide a bridge of land becomes visible, connecting the islands.
Heojuns set is still well managed at Joongri Seashore, and you can see the set free of charge. The beach lying in front of the set is a well-known tourist area for its beauty.
The Leper Colony Hwawangsan National Park
In the drama, Heojun treats leper patients at a leper colony in the mountains. This scene was filmed at Hwawangsan National Park. The filming for the set was built on a plain of grass and is still well taken care of. This area is also famous for its autumn scenes, offering a most magnificent view of nature in the autumn season.
▒ Photo Gallery
▒ Heojun Related Tour Sites ? The Heojun Museum
The Heojun Museum is the very first oriental medicine museum, constructed in memory of Heojuns love for humanity and professional works. The museum opened its doors in March of 2000, and has six exhibition rooms, the third floor being the main exhibition room. The Heojun Memorial Hall exhibits Heojun related articles. In the Medicinal Herbs & Drugs Hall, the herbs and drugs found in Dongeuibogam are exhibited. In the Medical Instruments Hall, the instruments used in oriental medicine are on display.

The museum also has a miniature model of the palace hospital area, its structure, the physicians room and oriental medicine room. The museum also offers a chance for visitors to experience packaging medicine, taking temperatures, and much more. Finally, the more popular area of the museum is the Herb Garden.


Detailed Information on How to Get There
* The pictures above are provided by MBC.