The K-drama phenomenon of 2005, 'My Lovely Samsoon,' attracted a massive viewing audience and went on to create a "Sam-soon syndrome." It won numerous MBC awards in eight categories, including Best Actor and Best Female Actress for Kim Sun-a in her role as Sam-soon, and Best Male Actor for Hyun Bin in his role as Jin-heon.
'My Lovely Samsoon' was the top hit miniseries of 2005, featuring a great cast: Kim Sun-a, a popular actress who has appeared in more movies than TV miniseries; Hyun Bin, who is considered the handsomest next-generation male star; Daniel Henney, a good-looking Korean/American star born of a British father and a Korean mother; and Jeong Ryeo- won, a singer-turned-actress and former member of the female group Chakra. While the miniseries caused a stir even before the first episode, the biggest news was that actress Kim Sun-a gained fifteen pounds to nail her role as the fiery, overweight Sam-soon.
'My Lovely Samsoon' doesn't conform to the stereotype of the typical K-Drama Cinderella. The Korean version of Bridget Jones's Diary tells the story of a rather ordinary-looking heroine who meets a younger and good-looking, rich man. The romantic drama created much buzz with each episode comically depicting the love between the not-so-beautiful woman and the ill-tempered younger man. The "Sam-soon syndrome" was still being felt in Korea long after the miniseries ended. And Kim Sun-a, Hyun Bin, Daniel Henney, and Jeong Ryeo-won continue to be the most sought-after stars in Korean entertainment. In this edition, we invite you to enjoy the warm, cheerful story of 'My Lovely Sam-soon' and some of its most popular filming locations.
My Lovely Samsoon in Brief
○Producer: Kim Yoon Chul
○Aired on MBC in Korea: June 1, 2005 - July 21, 2005 on Wednesday & Thursday nights at 9:55
○Website: http://www.imbc.com/broad/tv/drama/samsoon /index.html (Korean)
Kim Sam-soon is 29 years old and overweight, and she has an unfashionable name. On Christmas Eve, she spots her boyfriend going into a hotel with another woman. Instead of dumping him then and there, she falls to her knees and begs him not to leave, but to no avail. She has not only lost her job, but also her boyfriend, both on the same day. She runs into the restroom, which turns out to be the men's room. Utterly distraught, she encounters Jin-heon who thinks she is a female pervert. They part company on the worst of terms, unaware that their paths will cross again soon.
A Cordon Bleu-trained pastry chef, Sam-soon visits a hotel for a job interview, where she meets Jin-heon again. This time, her hair becomes lodged in his tie pin. Rushed for time and somewhat irritated, Jin-heon grabs a pair of scissors and mercilessly cuts off the offending hair. In revenge, Sam-soon throws the cake she had made for the interview in Jin-heon's face. He is pleasantly surprised by the taste of the cake and hires her as a pastry chef for his restaurant Bon Appetit.
The two despise each other, bickering day and night. Then one day, Jin-heon hires Sam-soon to pose as his girlfriend, hoping to avoid the blind dates set up for him by his meddlesome mother. Needing the money, Sam-soon agrees to the contract relationship. But eventually, their emotions turn from hatred to affection, and they find themselves thinking about each other. The story line gets more and more interesting as new characters join in, including Jin-heon's ex-girlfriend Hee-jin and Sam-soon's ex-boyfriend.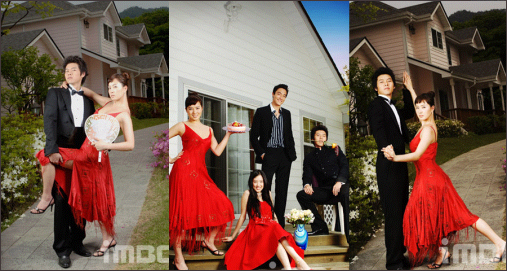 Kim Sam-soon / 29 years old / Pastry chef / Played by Kim Sun-a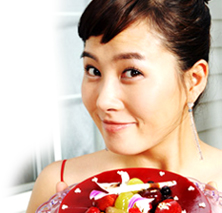 Sam-soon is a bright and cheerful character, who eats and sleeps whenever she feels down. Her father, who owned a rice cake store passed away, and now, she is living with her mother and her elder sister, who married and moved to the U.S., but came back to Korea after her divorce.
After completing her training as a pastry chef in Paris, Sam-soon returned to Korea and got a job, only to be fired on Christmas. To make matters worse, she sees her boyfriend with another woman on the same day. She visits a hotel to apply for a job and meets Jin-heon, whom she despises, but she accepts his offer to work in his restaurant. Even though she constantly complains to her boss, she gradually finds herself caring for him.


Hyeon Jin-heon / 27 years old / Owner of restaurant Bon Appetit / Played by Hyun Bin

Jin-heon is an enviable man – young, good looking, and rich. His mother owns a hotel, and he operates the restaurant Bon Appetit. While he seems to have everything, he actually lost his brother and sister-in-law in a terrible car accident that also left him with a permanent leg injury. Since the accident, he has blamed himself for what happened and has held a cynical view of the world. His negative disposition worsened when his first love, Hee-jin, left him without a word three years ago. Then one day, an older, chubby woman comes into his life. What she says and what she does is disturbing to him, but he can't help but miss her when she is not around.

Henry Kim / In his mid-30s / Korean-American doctor who was adopted by Americans as a child / Played by Daniel Henney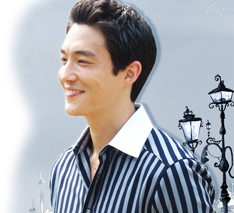 Henry was adopted at the age of two by an American family and raised by two loving parents. He is gentle, practical, and easy-going, and speaks very little Korean. He is a doctor at the Houston Hospital where Hee-jin received cancer treatment. He falls in love with her, expecting nothing in return. When Hee-jin goes back to Korea, he follows to make sure her cancer doesn't recur. Every woman's dream, he is just happy that he can help and take care of her.

Yoo Hee-jin / 27 years old / Jin-heon's ex-girlfriend / Played by Jeong Ryeo-won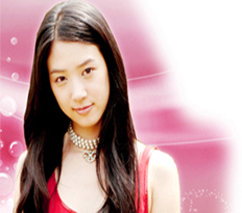 She is a beautiful young Korean girl: warm-hearted, intelligent, and kind. She fell in love with Jin-heon in high school and was his girlfriend for six years. Both her parents are doctors, and she is their only child. She has lived an affluent life with lots of love. After she goes to college, her parents emigrate to the United States, but she remains in Korea because of Jin-heon. Then one day, she leaves him without a word. After three years, she returns, saying she had her reasons for leaving even though she loved him. Now, she is determined to make Jin-heon her man. When she learns that Jin-heon loves another woman, she is devastated and can't get over him.

▒ COEX Aquarium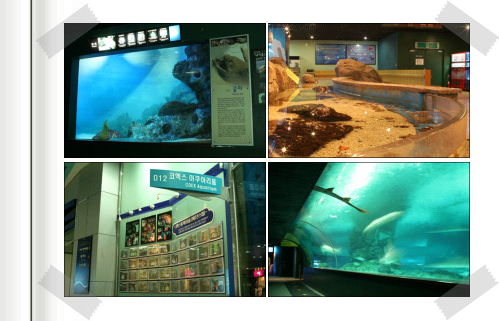 The aquarium where Sam-soon and Jin-heon took Mi-joo was at COEX. On the wall outside, look for photos of celebrities who have visited, and see if you can find your favorite star. A photo of the miniseries' scene serves as an indicator of where the scene was shot, so you can't miss it. Unfortunately, the Deep Blue restaurant, where the three dined together, is no longer there.
Click here for COEX Aquarium!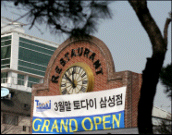 ▒ Todai Restaurant Bon Appetit
Todai is where the Bon Appetit restaurant scenes were shot. In the drama, Jin-heon owned the restaurant and Sam-soon worked there as a pastry chef. During filming, the restaurant was closed, and afterwards it reopened as TODAI, a sushi buffet chain restaurant. The exterior of the building is the same as when it was filmed, but the interior was redone. The downside is that prices are rather high.
○Menu: Seafood buffet including California roll, sushi, raw fish, and salads
○Hours: 11:00-23:00
○Tel: +82-2-553-6886
○Price: [Ages 14 and over] Lunch 19,500 won / Dinner 27,000 won / Weekends & Holidays 29,000 won [Ages 3 to 14] Lunch 15,000 won / Dinner 18,000 won / Weekends & Holidays 18,000 won
* Lunch hours: 11:00-16:59 / Dinner hours: 17:00-23:00 (VAT 10% not included)
○How to get there: Subway Line 2, Samseong Station, Exit 2. Walk straight ahead and turn left at the first intersection. The restaurant is on the left opposite a golf link.
▒ Samseong-dong Urijip Gamasot Seolleongtang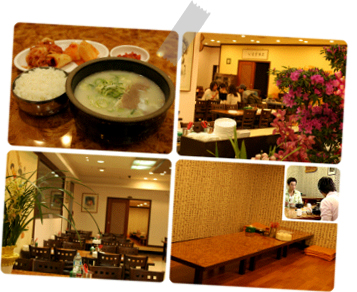 In the 13th episode, Jin-heon takes Henry Kim to this restaurant, where he shows Henry how to eat kkakdugi kimchi. He advises, "The best way to eat seolleongtang is to add kkakdugi broth and stir like this." When the scene was shot, the restaurant was in Nonhyeon-dong, but because of new construction, it has moved to a site next to the POSCO building in Samseong- dong. The seats are of the same design as in the miniseries, so if you are one of those who was impressed by how tasty the seolleongtang looked in the miniseries, you definitely want to check this place out.
○Menu: Seolleongtang 6,000 won/ Samgyetang 10,000 won/ Naengmyeon 5,000 won
○Hours: Opened 24 hours
○Tel: +82-2-539-6665
○How to get there: Subway Line 2, Samseong Station, Exit 4 → Walk straight ahead and pass the underground passageway → The restaurant is on the first floor of the Daewoo I- Ville building, which is the second building past the POSCO building.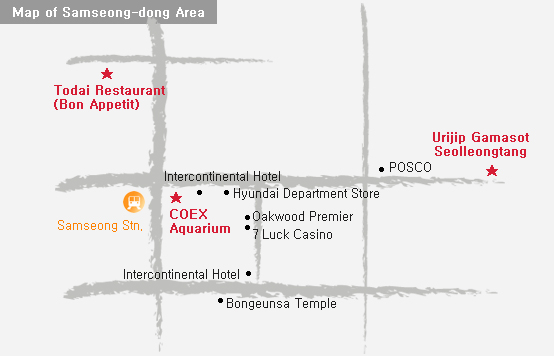 ▒ Live Jazz Club: Once in a Blue Moon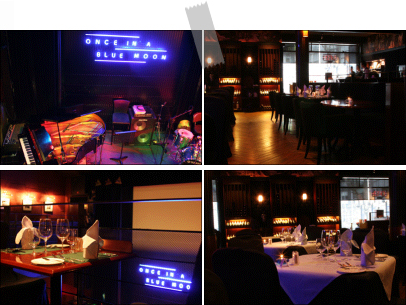 At Once in a Blue Moon, Jin-heon and Hee-jin enjoy wine and cocktails while watching a jazz performance. This is one of the favorite filming locations for miniseries and movies. You may already have seen it in 'Lovers in Paris,' 'Wolf,' 'Green Rose,' and 'Marrying the Mafia.' It is also often used to film TV commercials. If you are in the mood for some jazz music, this night spot will offer you smooth, romantic jazz rhythms in an upscale ambience.
○Menu: Wine, alcoholic drinks, coffee, meals
○Hours: 17:00-02:00
○Tel: +82-2-549-5490
○Website: www.onceinabluemoon.co.kr
○How to get there: Subway Line 3, Apgujeong Station, Exit 2 → Walk straight ahead and take the crosswalk → Pass by S-Oil gas station and walk ahead → At the Galleria Department Store intersection, cross the street and turn right (a 15-minute walk from the subway station)
▒ Duchamp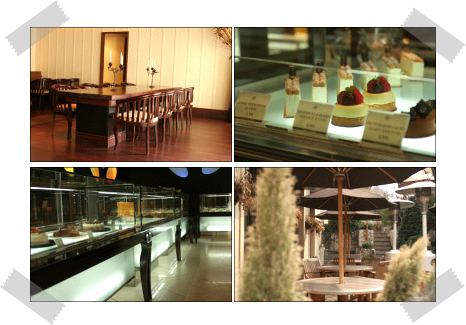 The bakery where Jin-heon takes Sam-soon to show her some real French pastry is actually the high-end bakery Duchamp in Apgujeong-dong. The pastry chef is a Cordon Bleu-trained Japanese chef who makes 60 different types of cakes. Along with the huge variety of cakes, you can also enjoy chocolates, bread, and drinks. The bakery has two floors as well as an outdoor terrace. The scenes were shot at the center table on the first floor.
○Hours: 11:30-24:00
○Tel: +82-2-3446-9007
○How to get there: Take Subway Line 7 to Cheongdam Station and go out of Exit 9 → Cross over at the Cheongdam 4-way intersection → Walk ahead in the direction of Apgujeong → Make a right-hand turn at the 2nd alley and walk straight about 100 meters
▒ Restaurant Neurige Geotgi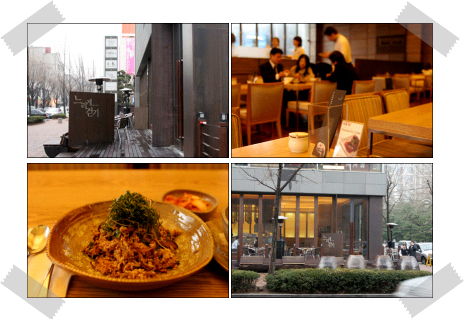 Located opposite Dosan Park in Apgujeong-dong, Neurige Geotgi is the backdrop for the dispute between Hee-jin and Sam-soon over Jin-heon. Known for the unusual location of the kitchen in the center of the space, the restaurant uses only fresh, organic ingredients. You can order a simple meal or a drink, and when the weather is good, you can take a leisurely stroll in beautiful Dosan Park afterwards. This is a great place to spend a lazy afternoon.
○Menu: Tteokbokgi 15,000 won, beef fried rice 12,000 won, coffee 7,000 won (VAT 10% not included)
○Hours: 11:00 a.m.-02:00 a.m.
○Tel: +82-2-515-8255
○How to get there: Subway Line 3, Sinsa Station, Exit 1 or Apgujeong Station, Exit 2. Take a taxi to Dosan Park.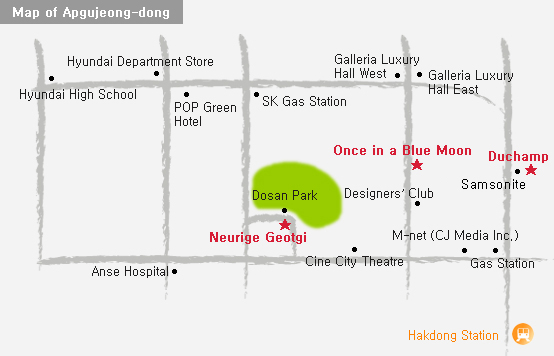 ▒ The Plaza Hotel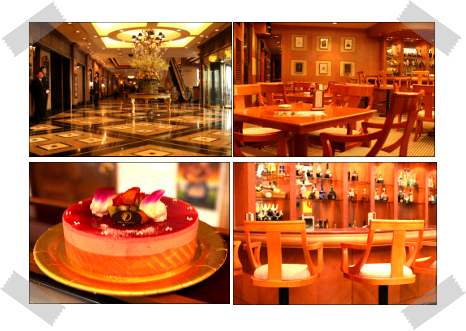 Scenes at the hotel owned by Jin-heon's mother were shot at the Plaza Hotel opposite Seoul City Hall. The swimming pool scene showing off Jin-heon's hot body was shot in the fitness center of the hotel (access is limited to hotel guests and members). At the Plaza Pub, Jin-heon becomes jealous when Sam-soon meets her ex-boyfriend Hyeon-woo. Other scenes were shot in the restroom, lobby, and the main entrance. All the cakes Sam-soon created were actually made by the pastry chef at the Plaza Hotel bakery. Currently, the bakery sells a special Sam-soon cake as well as a Sam-sik cake. The hotel also offers a Sam-soon package.
○Website: www.seoulplaza.co.kr (Korean, English, Japanese)
○Tel: +82-2-771-2200
○How to get there: Subway Line 1 or 2, Seoul City Hall Station, Exit 6
▒ Gwanghwamun Youngpoong Bookstore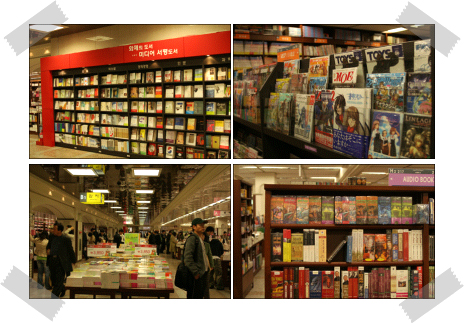 To escape the heat of summer, Jin-heon and Hee-jin take Mi-joo to this large bookstore in Jongno where they browse the book sections, buy Mi-joo a toy, and spend a nice time together. On the first floor are children's books, Korean books, magazines, puzzles, and records, while the basement level has a restaurant, coffee shop, stationery, and foreign books.
Click here for Youngpoong Bookstore!
▒ Cheongjinok Haejanggukjip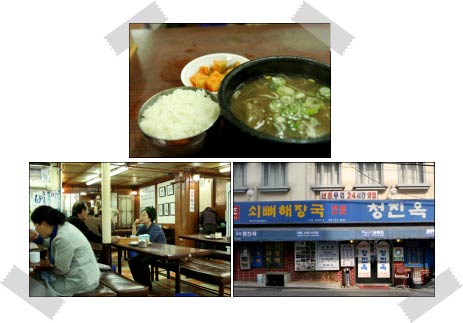 After a night of drinking, Sam-soon and Sam-sik go to this restaurant to rid themselves of a hangover. In this comic scene, Sam-soon accidentally spits rice all over Sam-sik's face. In business for 67 years, the restaurant is the most popular of the many haejangguk (a broth known to relieve a hangover) restaurants in the Haejangguk Golmok (Haejanguk Lane) in Jongno. It has been featured many times on TV food programs and in magazines. If you are interested in visiting, it is open 24 hours a day.
○Hours: Open 24 hours / No closing days
○Menu: Haejangguk 5,000~6,000 won / Assortment of pan-fried delicacies 9,000 won
○Tel: +82-2-735-1690
○How to get there: Subway Line 1, Jonggak Station, Exit 1 → Walk ahead and turn right after the first block → Pass by the Seoul Tourist Hotel (The restaurant is on the right)
▒ Coffee Bean Gwanghwamun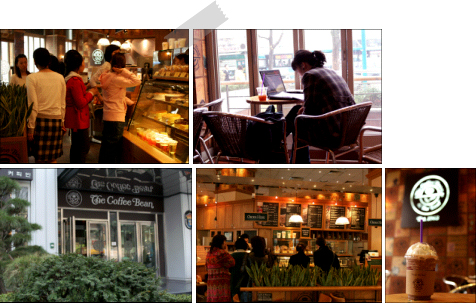 In the series, Sam-soon really loves café lattes, but she knows she'll need to give them up in order to lose weight. Coffee Bean Gwanghwamun is where she escapes from the sizzling summer heat to satisfy her latte craving, briskly ordering "A latte, please… With lots of syrup!"
○Hours: Monday-Thursday 07:30-23:00, Friday-Saturday 07:30-23:30, Sundays & Holidays 09:00-23:00
○Tel: +82-2-3210-2326
○How to get there: Subway Line 5, Gwanghwamun Station, Exit 5 → Pass by the post office and walk ahead → The coffee shop is on the first floor of the Korea Export Insurance Corporation building
▒ Bangsan Market, Uisinsanghoe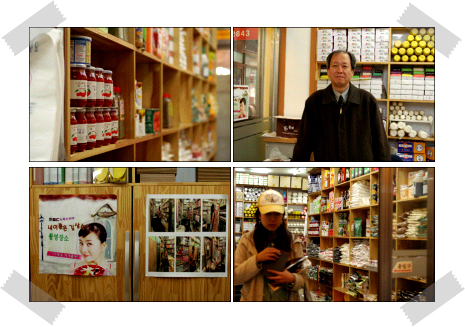 In the series, Sam-soon visits Uisinsanghoe in Bangsan Market to buy baking supplies. The owner of the store even appeared in a scene in which he sells a few items to Sam-soon. The store has a wide selection of bakers' needs at wholesale prices, so if you are interested in baking bread or cookies, you may want to visit. While you are here, have a souvenir picture taken with the friendly owner.
○Products on sale: All kinds of baking ingredients
○Hours: 07:00-18:30
○Tel: +82-2-2265-1398
○How to get there: Subway Line 1, Jongno 5-ga Station, Exit 7 → Walk ahead and take the crosswalk→Walk ahead and turn right at the first corner → The store is on the right
▒ Guesthouse, Rakgojae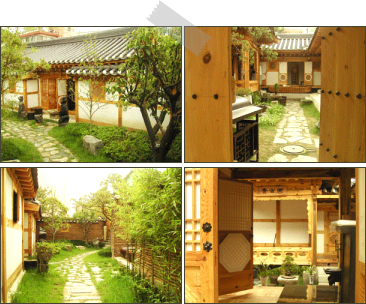 The guesthouse where Henry stayed is the hanok-style Rakgojae, located in Jongno, Seoul. The price is about 150,000 won to 200,000 won per night to stay in this spectacular house, and meals are included. Rakgojae also offers meals, so if spending a night is too expensive, you can still dine in the traditional ambience of a hanok.
Click here for Rakgojae!
▒ Mt. Namsan Cable Car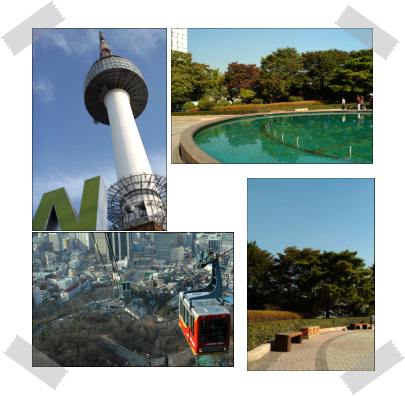 The location for the final scene is Mt. Namsan cable car and the stairway, where Sam-soon and Jin-heon share blissful moments. In the finale, Sam-soon has found blossoming love and now owns her own business, and Jin-heon is deeply in love with her. The cable car will bring back fond memories of the scene, so don't miss it. Combine your cable car excursion with a trip to the popular N Seoul Tower. The best way up to Mt. Namsan is by cable car. Then, like Sam-soon and Jin-heon, come down the stairs by a game of rock-paper-scissors.
Click here for N Seoul Tower!
Click here for Mt. Namsan Park!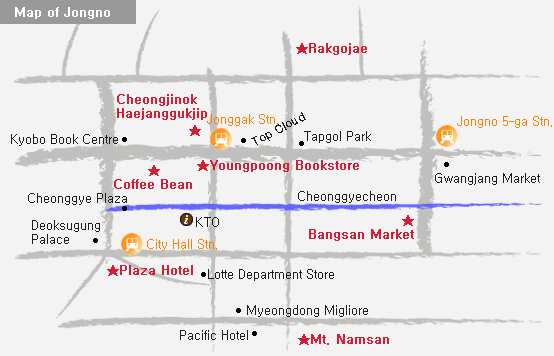 ▒ Le Saint- Ex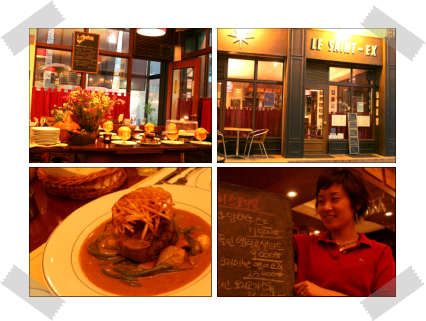 At this Paris restaurant, Sam-soon and her boyfriend Hyeon-woo spent happy times and even a first kiss. However, the restaurant is actually not in Paris. Le Saint-Ex is a French restaurant nestled in Itaewon, Seoul. It is always bustling with people looking for a cozy, comfortable ambience, and delicious food. The day's menu is written on a blackboard, and a server will come to your table to offer more details, so even if you are not familiar with French cuisine, you won't have much trouble choosing.
○Menu: steak, salmon, toast and salads, wine (VAT 10% not included)
○Hours: Lunch from 12:00 to 15:00, dinner from 18:00 to 21:30 (Hours when orders are taken)
○Tel: +82-2-795-2465
○How to get there: Subway Line 6, Itaewon Station, Exit 1 → Take the first side street to the right and turn left at the first three-way intersection → The restaurant is located in the last building on the left at the end of the road
▒ Itaewon Crepe Restaurant, ARVORIG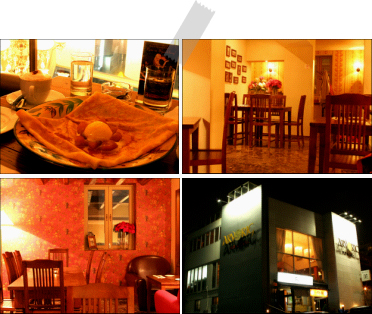 In the series, the head chef of Bon Appetit restaurant recommends that Sam-soon visit a favorite crepe restaurant, which is actually Arvorig in Itaewon. The restaurant serves a variety of crepes and dark, robust coffee. A popular restaurant in Itaewon, it has a cozy feeling with an impressive chandelier and red wallpaper. The place is definitely worth a visit for its magnificent crepes and pancakes made by a handsome looking French chef.
○Menu: Sugar and butter crepe (5,000 won), ice cream crepe (8,000 won), Cappuccino (6,500 won) (VAT 10% not included)
○Hours: 11:00 a.m.-02:00 a.m.
○Tel: +82-2-796-6673
○How to get there: Subway Line 6, Itaewon Station, Exit 2 → Take the first side street to the left and you will find the restaurant on the second floor of the building to the left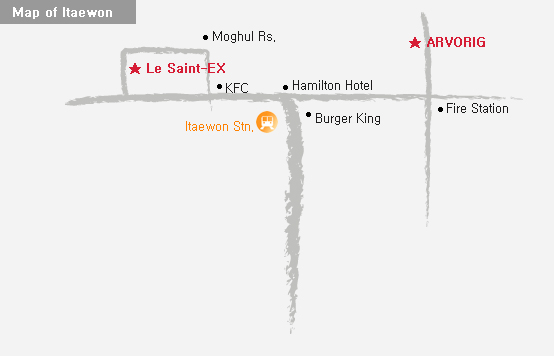 ▒ Hongik University SU Noraebang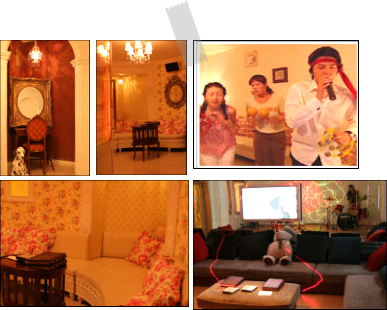 Do you remember the scene in which Sam-soon's elder sister, mother, and Sam-sik have a great time singing in a noraebang (karaoke)? If so, you may want to visit SU Noraebang, a franchise establishment. The scene in which Jin-heon sings his best to please Sam-soon's mother was shot at the Edward SU Noraebang near Hongik University.
The rooms have been recently remodeled, and the facilities and interior are so up-to-date that most noraebang scenes in Korean miniseries and movies are shot here. Each of the twenty rooms is decorated in a unique theme. Some rooms have a piano, drum, and other musical instruments, while others have a stage and side bar. SU Noraebang is definitely worth a visit.
○Price: Before 7 p.m., 10,000 won / After 7 p.m., 20,000 won (Special room 30,000 won)
○Tel: +82-2-336-2332
○How to get there: Subway Line 2, Hongik University Station, Exit 6 → Walk ahead and turn left after taking the crosswalk → Turn right at the second side street and walk up → The Noraebang is located at the first intersection (8 minutes by walk from the station)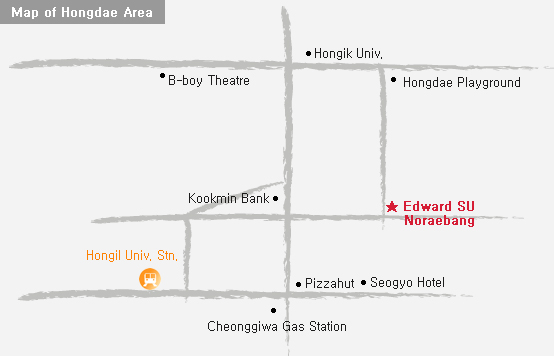 ▒ Grand Hilton Hotel Coffee Shop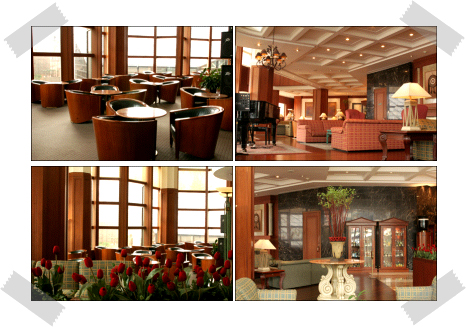 On Christmas Eve, Sam-soon is dumped by her boyfriend Hyeon-woo in the coffee shop on the first floor of the Grand Hilton Hotel. It was also where Sam-soon and Jin-heon went to meet prospective marriage partners. However, whenever one of them had such a meeting, the other would interrupt it.
The hotel often rents its wedding hall for filming wedding scenes, so if you hope to have a wedding ceremony like one in the movies, visit the wedding hall and get some information.
○Website: www.grandhiltonseoul.com (Korean, English)
○Tel: +82-2-3216-5656
○How to get there: Subway Line 3, Hongjae Station, Exit 1 → Take a taxi
▒ Jingwansa Temple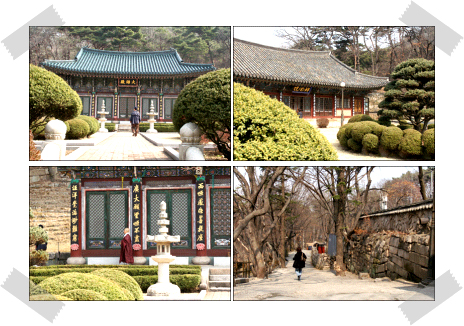 Jin-heon's mother and her family visit this temple to pray for the souls of Jin-heon's brother and sister-in-law. Located in Jingwanoe-dong (Eunpyeong-gu, Seoul), it is small, yet quiet and beautiful. It is adjacent to a hiking trail, so you may want to combine a temple visit with a walk.
○Admission to the National Park: 1,600 won
○How to get there: Subway Line 3, Gupabal Station, Exit 2 → Take a taxi
▒ Sangam-dong CGV Multiplex Theatre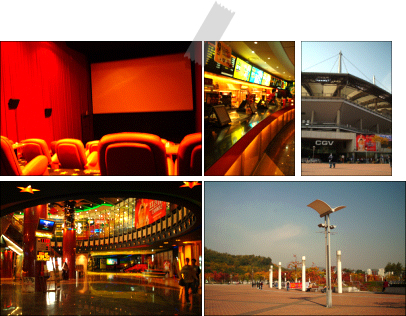 Thanks to its upscale and elegant ambience, the Sangam-dong CGV has become a popular filming location for movies and miniseries, and was the main filming location for 'Lovers in Paris.' In 'My Lovely Samsoon,' the theatre was used to film the scene in which Hee-jin and Henry watch a matinee movie together, and Hee-jin runs out because she doesn't feel well. Hee-jin and Henry enjoy a favorite Korean summer treat patbingsu (shaved ice) at the Tous Les Jours bakery across the street from the theatre.
Sangam-dong CGV is located in the World Cup Park along with a Carrefour store and a jjimjilbang (sauna/spa), so visitors can enjoy shopping and sightseeing at the same time.
○Hours: 09:00-24:00 (Hours may be changed depending on the movie schedule)
○Tel: +82-1544-1122
○How to get there: Subway Line 6, World Cup Stadium Station, Exit 2 → Go through the North Gate of the stadium → CGV is on the first floor
▒ Mt. Hallasan in Jeju-do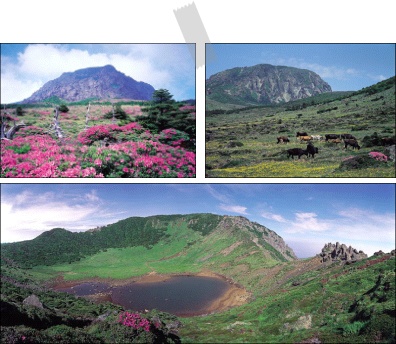 If you still remember the touching scene in which Sam-soon walked up Mt. Hallasan in the rain to find Sam-sik waiting for her, you'll probably want to visit Mt. Hallasan, one of the most spectacular spots on Jeju Island. If you want to walk up to the summit like Sam-soon, you'll need to start your hike no later than 9 or 10 o'clock in the morning. The major hiking trails are the Seongpanak and Gwaneumsa trails. Sam-soon took the Seongpanak trail, which takes nine hours round trip.
Click here for Mt. Hallasan National Park!

* The pictures above are provided by MBC.