Temple Stay, a Journey to Self-Discovery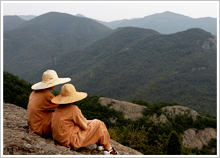 The sounds of temple bells resonate through the mountains, rendering peace in the hearts of temple visitors. A temple stay provides refuge from the city life, as well as time and space for meditation and healing. Read on to learn more about this popular traditional culture experience program.
What is a Temple Stay?


Photo courtesy of Cultural Corps of Korean Buddhism
First started in 2002, Temple Stay is a unique opportunity to experience Korean Buddhism, its lifestyle, rituals and spirituality. It generally entails staying at a Buddhist temple and engaging in daily monastic activities. Between 2002 and 2011, more than 750,000 Koreans and 110,000 foreign nationals participated in temple stay programs across the country. Today, temple stays remain one of the most popular programs among locals and foreigners for experiencing Korean Buddhism.

Type of Temple Stay
Temple stay programs are divided largely into three different categories: relaxation, experience, and practice focused. The availability of programs varies by temple.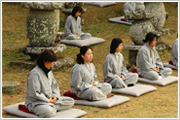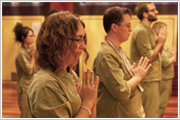 Experience temple stay: Learn the traditions and customs of Korean Buddhism through monastic meals, the 108 prostrations, lotus lantern crafts, and relic visits.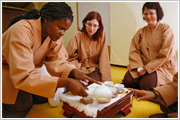 Other types of temple stays are geared towards traditional culture, ecology, rural village exploration, hiking, and New Year's celebration. Some temple stays are designed to help participants relieve stress or lose weight. A wide variety of programs are available nationwide and all year round. The cost of a temple stay ranges between 20,000 and 100,000 won, depending on the number of nights of the stay (usually between one night and three nights). Most temples provide uniforms to temple stay participants.
What People Think about Temple Stays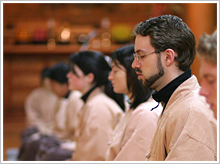 Temple stays have been touted as one of the best traditional culture experiential programs by people from all over the world. Read what these prominent figures have stay about temple stays.

Photo courtesy of Cultural Corps of Korean Buddhism (left)
Edmundo Sussumu Fujita, Brazilian Ambassador to Korea:

"This is a beautiful and heart-touching experience. I found it particularly meaningful to hear detailed explanations on what it is that we do and why we do them. The harmonious blending of nature, history, culture, and religion will stay with us as long-cherished memories."

Mohammad Reza Rahimi, Vice President of Iran:

"It is marvelous and charming. It is a great tourist program worth promoting to the world."

Skand Ranjan Tayal, Ambassador of India to Korea:

"Though India is the birthplace of Buddhism, its Buddhist religion has lost many of its pure aspects as it combined with Hinduism. But I found it again in Korea. This was a good time to experience many Buddhist practices."

French monthly magazine GEO:

"Temple stay temples are isolated from the noise and crowd of the cities, and they are so beautiful that they remind of paradise."
Temple Stay Effects
Healing:

A temple stay is a time for healing. The practice of 108 prostrations, the simplest training for body and mind, is known to relieve tension and anxiety, thereby enhancing immunity, concentration and blood circulation. The execution of such monastic activities, coupled with the interaction with surrounding nature, ultimately leads to the recovery of body and mind, hence the healing effect. Anyone, regardless of religion, is invited to the join the program. The number of non-Buddhist participants is increasing every year.

Spiritual growth:

Temple stay activities like seon meditation, self evaluation and the "death experience" (role play) help participants to reflect upon themselves.

Natural healing: One of the biggest draws of a temple stay is an opportunity to meditate the body and mind in a natural environment, separated from the hustle and bustle of city life. Experiencing nature with all five senses can help participants arrive at inner peace.

Consideration & Communication:

Hatred, resentment, self-reproach and other stressful emotions caused by excessive competition are causes of all illness. During a temple stay, healing begins by learning to understand and communicate with others.

Relaxation:

A temple stay is a perfect time to forget life's trials and to forsake greed. Total relaxation is bound to replenish the five senses.
Temple Stay Program

Generally, a temple stay program includes a Buddhist service, seon meditation, formal monastic meal, tea ceremonies, lotus lantern crafts, Buddhist instrument experience, the 108 prostrations, and communal work. Some programs offer woodblock printing and sutra copying, as well dialogue with monks. Depending on the program, the temple stay duration may be as short as one night or as long as one week. Some temples run temple stays exclusively for foreign nationals.
Basic Temple Manners
A Buddhist temple is a holy place of practice where a statue of Buddha is erected, so visitors must keep their voices low and presence subtle. One's attire must be neat without being too colorful or exposed. One must not enter the Dharma Hall when intoxicated, or drink liquor, eat meat or smoke tobacco. Couples are forbidden from public displays of affection, like holding hands.
• Putting palms together (hapjang)

Hapjang is a formal way of greeting in a temple. The gesture represents bringing the heart and mind together. It also signifies the lives of oneself and others are united by truth.

• Crossing hands (chasu)

Chasu, the gesture of modesty and peace, is used during prayers or in front of a monk or prayer hall. It is completed by gently placing the left palm (facing up) on top of the right palm (facing up) and putting the hands just below the navel.

• Etiquette observed inside Dharma Hall

One must enter a Buddhist prayer hall not through the door in the center, but through the doors on the sides. People entering must take their shoes off before entering the hall, and place them facing away from the hall, so that they can put them back on easily when leaving the hall. When inside the hall, one must walk lightly so as to avoid making too much noise. One must not walk in front of people who are praying or practicing seon meditation. One must not replace candles or incense sticks already in place with their own; instead, one may place their offerings on the altar.

• Courtesy toward monks

Monks are considered to be mentors of all human beings. Therefore, one should pay respect to them and try to learn from them. When greeting a monk, one is expected to practice hapjang or placing palms together.
Last updated on September 19, 2012.