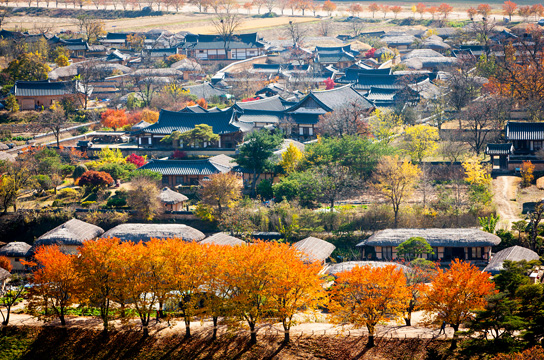 Photo: Andong Hahoe Village
Historic Villages of Korea: Hahoe and Yangdong
(Designated 2010)
Location: Gyeongju-si ∙ Andong-si, Gyeongsangbuk-do
Description:
Andong Hahoe Village and Gyeongju Yangdong Village are historical villages that were developed during the 14th to 15th century in Gyeongsangbuk-do. These two villages are well-preserved examples of a typical clan village based on descents whose members are derived from common ancestors, which carry the same family name. Even today, the families live in the village and continue their meaningful legacy, making the whole village a living and active cultural heritage.

The village clearly exhibited a typical Confucian culture where there was a clear line between the aristocratic yangban class and commoners during the Joseon Dynasty when the clan structure became stricter and bloodline was of utmost importance. The arrangement of the dwellings clearly shows how the village life was regulated and strictly enforced by Confucianism.

The two villages have their respective head of the clan, in which the yangban class resided in a wooden housing with their own pavilions, lecture halls and shrines while the commoners lived in housings made of soil and straw roofs.
Major Attractions

Photo: Andong Hahoe Folk Village (left) / Hahoe Mask Dance Drama Performance (Hahoe Byeolsingut Exorcism) (right)
Hahoe Village is home to descendants of the Ryu clan of Pungsan for the last 600 years and is well-known for its traditional houses. Birthplace of renowned scholars of the Joseon Period such as Gyeomam Ryu Un-ryong and Seoae Ryu Seong-ryong, the village became even more famous after Queen Elizabeth of England visited in 1999 and George Bush, the former president of the United States in 2005.

The Hahoe Village features the dwelling of the yangban class, their lecture halls and various types of houses; where even today the people still reside in, creating a realistic illusion of time traveling back to the Joseon Dynasty.

The Hahoe Maskdance is a slapstick and social satire in the form of mask dancing from the perspective of the Joseon Dynasty's commoner class. The ruling class would conduct a poetry meeting in front of the cliffs as Seonyu julbulnori, a traditional fireworks display.

Photo: Gyeongju Yangdong Village
Gyeongju Yangdong Village is Korea's largest traditional village where the aristocratic yangban class lived in tile-roofed house, mostly on high hills while the dwellings typically feature thatched-roofs at the foot of the hills.

The village is well organized and clearly sectioned by the purpose and usage of the buildings. Buildings are built in different locations. Ancestral tablets were enshrined at the back of the house while a pavilion or lecture hall located in the site with beautiful and calm natural surroundings.

At the entrance of the village, Yangdong Village Cultural Center offers a variety of hands-on traditional cultural Korean activities such as art crafts, calligraphy, making a kite and experiencing millstones and mortars.