Hahoe Village in Andong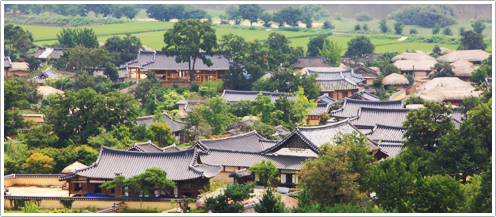 Hahoe Village (Important Folklore Material No. 122) is a major clan village of Korea and has been the home of the Ryu clan of Pungsan for 600 years. Both waga (tiled-roofed houses) and choga (thatched-roofed houses) have remained in almost their original states. The village is famous as the birthplace of brothers Gyeomam Ryu Un-ryong (1539-1601), a noted Confucian scholar of the Joseon Dynasty, and Seoae Ryu Seong-ryong (1542-1607), the prime minister of Joseon during the Imjin War (Japanese invasions of Korea, 1592-1598).



Village residents and houses


According to a census completed in 2009, of the 458 residences, 127 are occupied by 240 people (116 male, 124 female). The village is also home to 21 officially-designated cultural assets, including national treasures and important materials related to folk history.

The residences are all pointed towards a 600-year old zelkova tree, differing from the typical south/southeastern orientation found in most villages. Another unique characteristic is the spatial arrangement of the village, in which tile-roofed homes are circled by thatched-roofed homes.

Fengshui and topography

The name Hahoe ('ha' 河 meaning 'river', 'hoe' 回 meaning 'turning around') is derived from the village's unique position in the sharp bend of the Nakdonggang River, which snakes around the village's perimeter. This type of topography is ideal according to the principles of Feng shui and during the Joseon Era, Hahoe Village was considered to be the perfect place to live.

Seen from above, the village is said to look like 'mountains and water in the shape of Taegeuk' or 'a lotus on the water.' To the south of the village is 271-meter high Mount Hwasan, a branch of the Taebaek mountain range. The range of the mountain forms low hilly lands down to the west end of the village. The highest area, and the heart of the village, is the home of the proud 600-year old zelkova tree.

Traditional games in Hahoe


The Hahoe Byeolsingut Mask Dance of the commoners, and the Seonyujulbulnori, a fire show enjoyed by the noble class, are two of the unique traditions that have been well-preserved by residents. Intended to win the favor of the Seonangsin God, Hahoe Byeolsingut (Important Intangible Cultural Asset No. 69) is a maskdance performed along with a shamanistic ritual at the start of each new year to ensure a good harvest and the wellbeing of the village. A free performance of Byeolsingut is staged at the Hahoe Byeolsingut Center at the entrance of the village. (Performance schedule: March-December, every Wednesday, Saturday, and Sunday from 2pm to 3pm).

Official site http://www.hahoemask.co.kr/ (Korean, English, Japanese, Chinese)