Space for Visitors to Taste Korean Food
The experience hall on the 4th floor is a corner for visitors to learn cooking with food ingredients unique to Korea and to try Korean foods such as vegetable wraps and rice, tofu, jelly, Korean traditional snacks, tea and other beverages. It is also equipped with Hansik (Korean food) Sarangbang, which offers various materials introducing Korean food.

Festive corner
Learning place
Sarangbang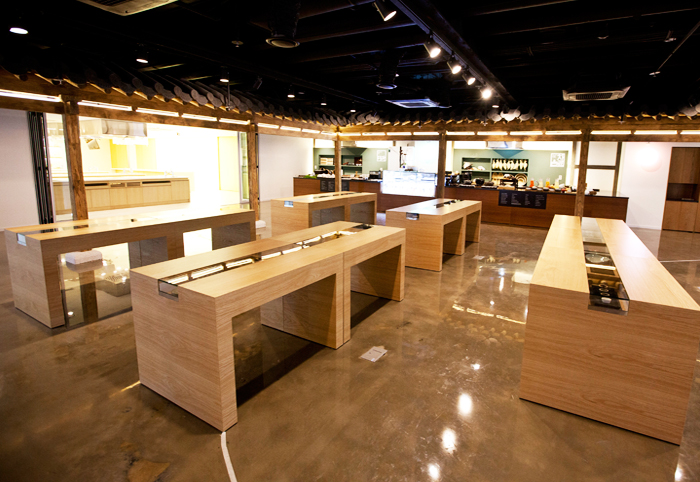 Festive Corner
This space offers experiences for visitors to try Korean food, traditional refreshments and beverages made of rice and beans, such as traditional liquor, rice wraps with pickled vegetables, and tofu dishes.
The corner for the Korean food experience is a space for visitors to taste various Korean traditional desserts, rice, jelly and tofu, as well as traditional liquor, tea, and snacks. It is divided into TASTE, which provides traditional Korean food and a modern menu; DRINK, which provides tea, liquor and cocktails; and REST, which provides a rest space for visitors.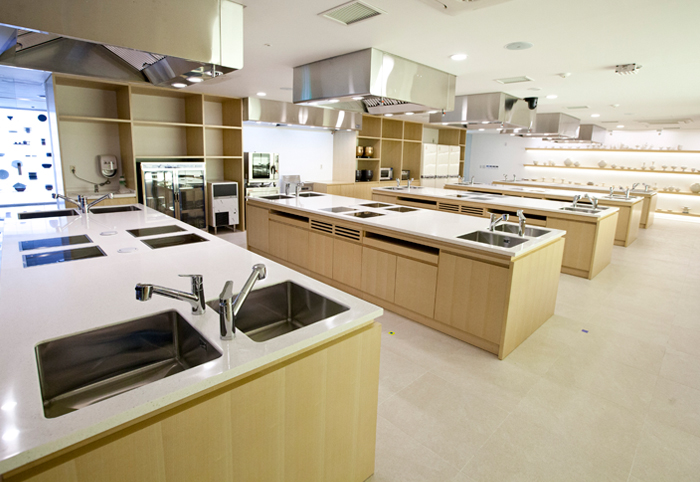 Learning Place
This space is for visitors to learn about the wisdom of Korean food as they personally make various Korean dishes.
It provides knowledge and experiences in a fun way and offers various programs, ranging from a Beginner Class (Beg) to an Advanced Class (Adv) and Special Class (Spec) to be suitable for the level of students in the categories of head household food, temple food, and local food.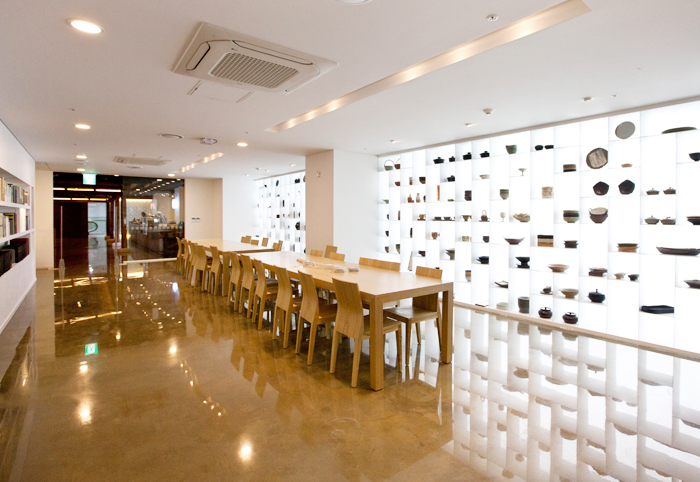 Sarangbang
Sarangbang is a space for visitors to explore and share knowledge and information about Korean food and recipes.
It is linked to the Korean Archive Search System, which consists of ancient documents and Korean and overseas books about Korean food. Though a PC, visitors can search and share information about Korean food.
Introduction to Hansik
Program Details
Learning Zone
General Cooking Class: Students can taste food after cooking rice, soup and basic side dishes

·Beginner: An easy-to-learn single menu, such as bulgogi (2 hrs, $30)
·Advanced: Two kinds of menu choices for students to learn about the tradition and core of Korean food (2 hrs, $50)
·Special: Kimchi making·Local food (2 hrs, $50) / Head household food (3 hrs, $120)

Cultural Convergence Class: Offers a combination of Korean food and a traditional banquet program (1 hr, $30)
Korean Food Culture DIY Class: Make crafts related to Korean food culture (1 hr 30 mins, $20)
Program Details
Day / Hour
Mon
Tue
Wed
Thu
Fri
Sat
Sun
Morning
(10:30)
Beginner
Closed
Advanced
Beginner
Advanced
Advanced
Advanced
Afternoon
(14:00/
16:00)
Cultural convergence
Korean food culture DIY
Advanced (head household food)
Cultural
convergence
Korean food culture DIY
Advanced
(local food/
Kimchi making)
Cultural convergence
Korean food culture DIY
Cultural
convergence
Korean food culture DIY
<Learning Zone>
Mon
Morning (10:30) :

Beginner

Afternoon (14:00/16:00) :

Cultural convergence(14:00) / Cultural convergence(16:00)
Tue
Morning (10:30) :

Closed

Afternoon (14:00/16:00) :

Closed
Wed
Morning (10:30) :

Advanced

Afternoon (14:00/16:00) :

Korean food culture DIY(14:00) / Korean food culture DIY(16:00)
Thu
Morning (10:30) :

Beginner

Afternoon (14:00/16:00) :

Advanced (head household food)(14:00~16:00)
Fri
Morning (10:30) :

Advanced

Afternoon (14:00/16:00) :

Cultural convergence(14:00) / Cultural convergence(16:00)
Sat
Morning (10:30) :

Advanced

Afternoon (14:00/16:00) :

Korean food culture DIY(14:00) / Korean food culture DIY(16:00)
Sun
Morning (10:30) :

Advanced

Afternoon (14:00/16:00) :

Advanced(local food/Kimchi making)(14:00~16:00)
Learning Class Reservation
+82-2-6053-7177, 7178, 7179
jiae@hansik.org / kaypark@hansik.org / yw9459@hansik.org