Space for Visitors to Taste Korean Food
This centerl on the 4th floor offers visitors the opportunity to learn and cook with food ingredients unique to Korea and taste Korean food including traditional snacks and beverages. The hall is also equipped with Hansik (Korean food) Saranbang, which offers various materials related to Korean food.

Festive corner
Learning place
Sarangbang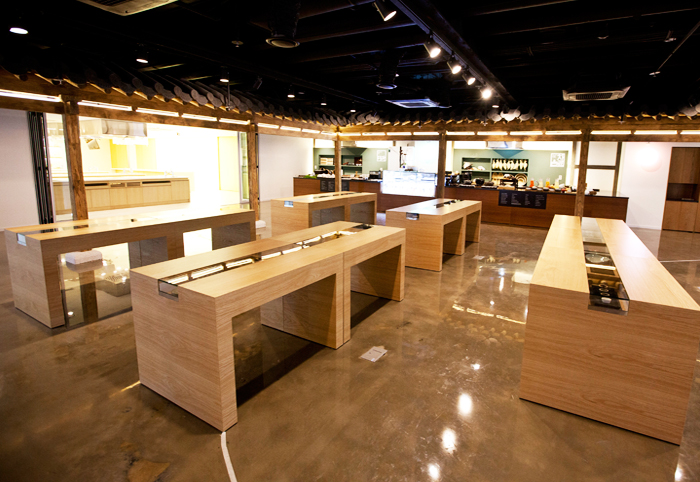 Festive Corner
This space offers experiences for visitors to try traditional Korean desserts, rice, jelly and tofu, as well as traditional liquor, tea, and snacks.
It is divided into TASTE, which provides traditional Korean food and a modern menu; DRINK, which provides tea, liquor and cocktails; and REST, which provides a rest space for visitors.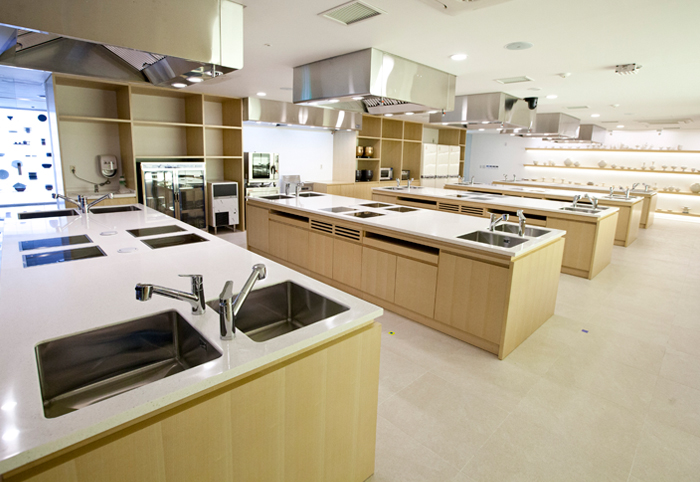 Learning Place
This space is for visitors to learn about the wisdom of Korean food as they personally make various Korean dishes.
It provides knowledge and experiences in a fun way and offers various programs, ranging from a Beginner Class (Beg) to an Advanced Class (Adv) and Special Class (Spec) to be suitable for the level of students in the categories of head household food, temple food, and local food.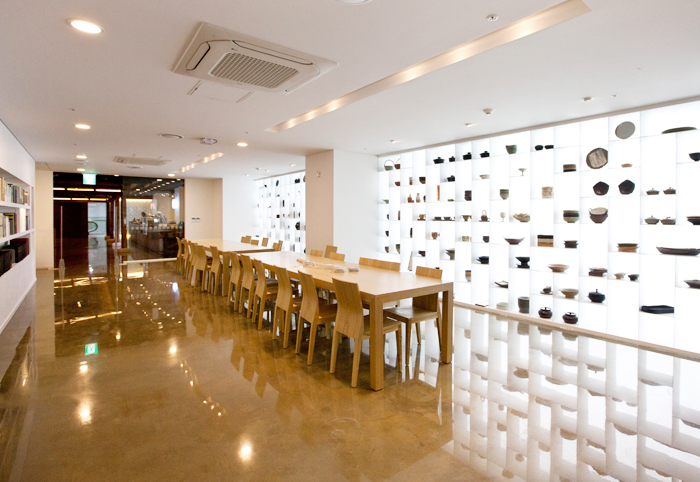 Sarangbang
Sarangbang is a space for visitors to explore and share knowledge and information about Korean food and recipes.
It is linked to the Korean Archive Search System, which consists of ancient documents and Korean and overseas books about Korean food. Though a PC, visitors can search and share information about Korean food.
Introduction to Hansik
Program Details
Learning Zone
Cook-N-Dine: Participants will learn to cook Korean food and enjoy their cooked meal at the end of class. Rice, basic side dishes and desserts are provided.
Schedule / Fee: 10:30, 14:00, 16:00 (2 hrs) / 33,000 won~55,000 won (*Reservation required)
Cook-N-Dinner: Participants can learn to cook Korean food or brew traditional Korean beverages like makgeolli (rice wine).
Schedule / Fee: 18:00 (2 hrs) / 55,000 won (*Reservation required)
Open Experience Program: Participants can learn to make and taste traditional Korean snacks.
Schedule / Fee: 14:00-17:00 (1 hr) / 20,000 won (*On-site registration, more than 2 persons)
<Korean Cuisine Cultural Center Learning Zone>
cuisine to cook and experience traditional Korean food.
Reservations should be made at least three days prior to visit, and a minimum of 6 persons is required to start a class. (If minimum number of participants is not met, the class is subject to cancellation. You will be notified by e-mail or phone.)
Please contact the Learning Zone for menu, price and time before making reservation as they differ for each class/program.
Reservations may be cancelled no less than three days prior to scheduled date as food ingredients and utensils are prepared in advance.
Please contact us by phone (+82-02-6053-7177~9) or email (hansikculture@hansik.org) for more information.
Program Details
Programs
Time

Monday through Sunday

Cook-N-Dine
10:30-12:30
14:00-16:00
16:00-18:00
Cook-N-Dinner
18:00-20:00
On-site Experience Program
14:00-17:00
Learning Class Reservation
+82-2-6053-7177, 7178, 7179
hansikculture@hansik.org