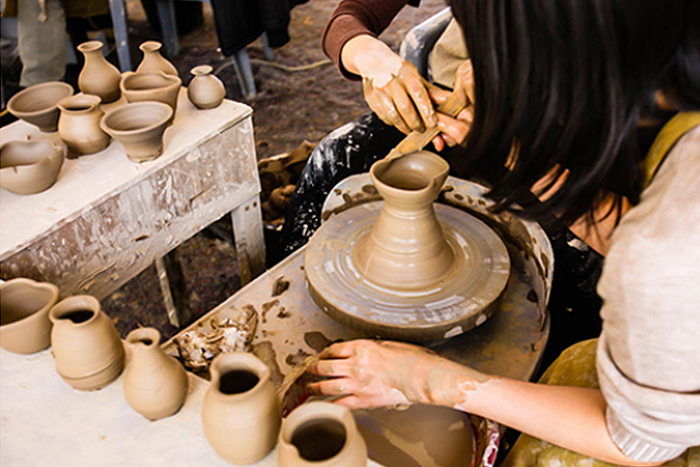 There are various activities available to experience Korea's traditions; the most popular of these experiences among international tourists is pottery-making. Visitors can make their own work, starting from a simple ball of clay and turning it into a beautiful piece of art with their own personal design. The city of Icheon in Gyeonggi-do is famous for ceramics, leading to the creation of many programs relating to ceramics. Visitors can learn about the history and culture surrounding traditional pottery, as well as experience making their own item. Participants can take their final products home that day, or have them airmailed later for an additional fee.
Icheon Traditional Ceramic Experience
Address: 46, Dojayesul-ro 6beon-gil, Sindun-myeon, Icheon-si, Gyeonggi-do (경기도 이천시 신둔면 도자예술로 6번길 46 이천 전통 도자기 체험)
Directions: Take a taxi from Icheon Bus Terminal for approx. 14 min.
Programs: Ceramic culture lesson & ceramic-making, decorating professionally made ceramic
* Visitors can also add Icheon rice meal or tour of nearby attractions after experience programs.
Experience fees: Standard ceramic-making 30,000 won / Decorating professionally made ceramic 50,000~100,000 won (fee for one person, VAT not included)
Website: www.ichontour.com (Korean, English, Japanese)
Inquiries: +82-70-8232-2299, +82-10-4283-3393 (Korean, English) / E-mail ichontour@ichontour.com (Korean, English)
1330 Korea Travel Hotline: +82-2-1330 (Korean, English, Japanese, Chinese, Russian, Vietnamese, Thai, Malay)
This page was last updated on September 27, 2018, and therefore information may differ from what is presented here.