Transportation in Korea
The most comfortable and safest way to get to a resort is to take the shuttle bus operated by the resort. However, if the resort does not operate shuttle buses, your next best option is public transportation, which is affordable and just as convenient and safe.
01Via AREX (Airport Express)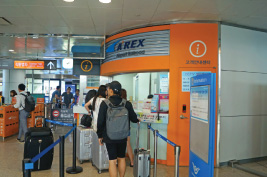 AREX is Korea's airport rail that travels from the Incheon International Airport to Seoul Station. The express train takes 43 minutes, and the standard all-stop train takes 56 minutes. It is the fastest way to move from the airport to Seoul Station. In addition, the express train has a cabin crew and provides free Wi-Fi, a premium lounge and other services for customer convenience.
Standard Train

Incheon Int'l Airport ▶ Incheon Int'l Airport Cargo Terminal ▶ Unseo ▶ Yeongjong ▶ Cheongna Int'l City ▶ Geomam ▶ Gyeyang ▶ Gimpo Int'l Airport ▶ Digital Media City ▶ Hongik Univ. ▶ Gongdeok ▶ Seoul Station

Journey Time

43 minutes on express train / 56 minutes on standard train

Ticketing

Express Train
Incheon Int'l Airport Express Train Information Center on the B1 floor of the Incheon Int'l
Airport Transportation Center
Seoul Station Express Train Information Center on the B2 floor of Seoul Station
Standard Train
Single Journey Ticket Ticket vending machine or ticket window at subway station
* Rechargeable transportation card purchase: Convenience store or subway stations


Inquiries

1599-7788
02Via Bus
Airport buses are a very convenient and affordable means of transportation from the airport to Seoul and other major cities of Korea. Bus stops are located on the first floor (arrivals) of the passenger terminal. For information on bus routes and schedules, go to the airport's website (airport.kr/pa/en/a/index.jsp. ).
Ticketing

First floor (arrivals) of Passenger Terminal
Indoor By Exits 4 and 9 / Outdoor By Exits 4, 6, 7, 8, 11 and 13 and 9C
03Via Taxi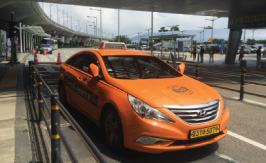 International taxis are available at the airport. Depending on where in Seoul you are going, the fare from can range from a minimum of 55,000 won to a maximum of 110,000 won.
For Reservations

By phone or e-mail at least 24 hours in advance Tel. 1644-2255 / E-mail reserve@intltaxi.co.kr

Without Reservation

Taxi stands on platform 4C to 8C (outer-most curve on first floor)

Payment

Cash / credit card / T-money (transportation card)

Information Desk

Between Exits 5 and 6 outside the first floor (arrivals) of the Passenger Terminal

01Mpass
Mpass is a transportation card for foreigners only. With this card, visitors can use metropolitan subways and Seoul's intra-city buses up to 20 times per day. The card can also be charged and used as a T-money card at T-money affiliated stores, and taxis.
Where to Purchase

Tourist Information Center in front of Exits 5 and 10 on first floor (arrivals) of Incheon Int'l Airport / Seoul Global Cultural Center (Myeong-dong)

Fare

1-day pass 10,000 won / 2-day pass 18,000 won / 3-day pass 25,500 won / 5-day pass 42,500 won / 7-day pass 59,500 won
* Excludes 5,000won card deposit. When card is returned, 4,500won will be refunded
02Express Buses and Trains
Express Bus

The major express bus terminals are the Seoul Express Bus Terminal (Express Bus Terminal Station on Subway Lines 3, 7 and 9) and the Dong Seoul Terminal (Gangbyeon Station on Subway Line 2). Tickets can be reserved at Kobus (www.kobus.co.kr)

Train

There are high-speed trains (KTX) and standard trains (ITX-Saemaul, Saemaul Train, Mugunghwa Train, Nuriro Train and DMZ Train). Tickets can be reserved at Korail(www.letskorail.com)