Gangwon-do is home to the Baekdudaegan Mountain Range, which stretches north-south along the entire province. Lush mountains and pristine waters surround its 18 beautiful cities and counties, and due to wet winter winds across the Taebaeksan Mountains, the province gets a lot of snow. Therefore most of Korea's ski resorts are located in the province, making it the winter sports capital. Boasting beautiful snow-capped views, Gangwon-do is an ideal winter getaway.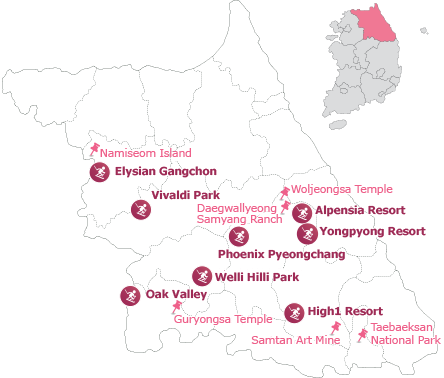 Gangwon-do

Brimming with nature's riches

To the east lies the azure blue waters of the East Sea, and along the Taebaeksan Mountain Range, the backbone of the Korean Peninsula, Seoraksan, Odaesan, Chiaksan and Taebaeksan Mountains each show off their splendid beauty. Often referred to as the "lungs of Korea," Gangwon-do's clean air, peaceful valleys and breathtaking views are scattered throughout lush forests. Experience true relaxation, and revitalize your tired body and mind in the pristine, untouched natural environment of Gangwon-do.

Seoraksan National Park

With Daecheongbong Peak at its summit, Seoraksan Mountain, whose name literally means "mountain of snow and rocks," features unique rock formations such as Ulsanbawi Rock and Gongnyong Ridge. Seoraksan also offers beautiful views of the Sibiseonnyeotang Valley and Daeseung Falls.

Odaesan National Park

Featuring five peaks including Birobong Peak at the summit, Odaesan Mountain is an eco-repository home to fir trees that grow tall even in cold regions, a protected Korean pine colony, and Korean fir trees that are over 100 years old.

Chiaksan National Park

They say the best scenery on Chiaksan Mountain is its autumn foliage, but its winter snowscape is just as breathtaking. The main ridge stretches from north to south, with snowflakes guided by northwest winds and crystalline hoar frost creating a magnificent view.

Leisure sports in Gangwon-do

To make the most of the beautiful natural environment of Gangwon-do, try various leisure sports and enjoy the green forests, crystal clear waters, and clean air of the great outdoors.

Zip line

Soar across the blue sky as if flying.

Rafting

Rafting in the plentiful, crystal clear waters of Gangwon-do is a summer sports highlight.