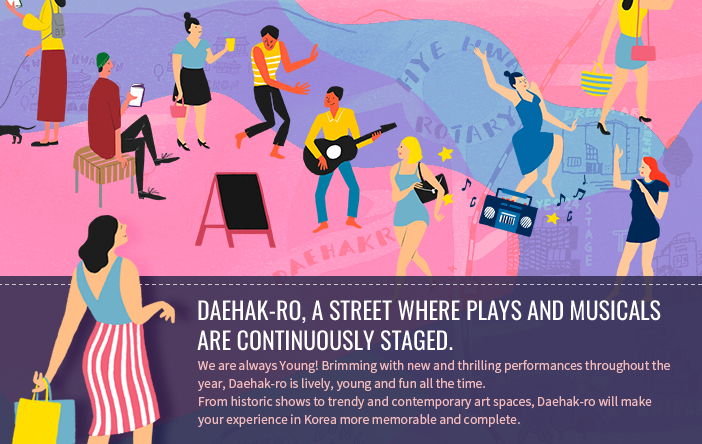 We are always Young! Brimming with new and thrilling performances throughout the year, Daehak-ro is lively, young and fun all the time. From historic shows to trendy and contemporary art spaces, Daehak-ro will make your experience in Korea more memorable and complete.
Daehak-ro is a major "arts & culture street" of Korea with some 150 theaters clustered in the area. Stretching for about 1.6km from Jongno 5-ga in Jongno-gu to the Hyehwa-dong Rotary, Daehak-ro was designated a "cultural zone" operated as a "no cars zone" on weekends. You can visit many historically and culturally popular sites such as Marronnier Park and Naksan Park, or see and taste the latest trends at the various eateries and shopping facilities.
Arts and Culture Festivals
Nearby Toulist Information
Nearby Eateries
Tasty and Fancy Daehangno Tour

Daehangno, also known as Daehak-ro, is Korea's mecca of performing arts and culture. Accommodating small and large theater halls, every street in this district often turns itself into a stage that is ...
Tour Courses
Changgyeonggung Place
Maronnier Park
Todamssudam Studio
Watch Show(musical/play)
Dongdaemun

Hakrim Dabang
Maronnier Park
Watch Show(musical/play)
Nanta Academy
Naksan Park