Biggest and Longest Korean Food
Korea has some wonderful and interesting foods, but nothing makes food more interesting than taking it to the extreme. Below we showcase some of the biggest and most extreme Korean foods for you to enjoy.

Rice Cake

Tteok is a Korean sweet cake made with glutinous rice flour (also known as sweet rice or chapssal), by steaming. There are hundreds of different kinds of tteok eaten year round. In Korea it is customary to eat Tteok guk (sliced rice pasta soup) on New Year's Day and sweet tteok at weddings and on birthdays.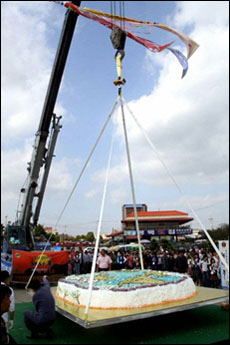 The Rice Cake below, unveiled on October 13th 2007 at the "Rice Love Festival" in Sapgyo Lake, weighed a tremendous 8,113 pounds, was 145 inches in diameter, and over 15 inches high. It was weighed and then eaten by over 5,000 spectators.




Bibimbap

Bibimbap is a popular Korean dish. The word literally means "mixed rice" or "mixed meal." Bibimbap is served as a bowl of warm white rice topped with namul (sauteed and seasoned vegetables), beef, a fried egg, and gochujang (chile pepper paste). The ingredients are stirred together thoroughly, as seen in the picture below, just before eating. It can be served either cold or hot.

The largest bibimbap was made on May 30th, 2007 by the 27th Alumni Association of Mokwon University. It included 19 ingredients and weighed a massive 1,150 pounds. It took 1,500 people to eat the delicious meal.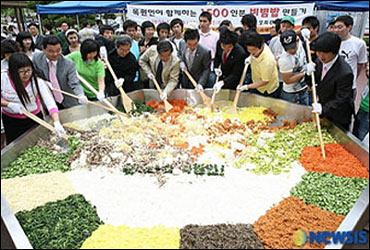 [Source: Newsis.com]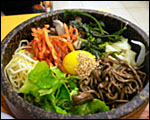 Gimbap

Gimbap is a popular Korean "fast" food made from rice (bap) and sheets of dried Korean seaweek (gim), and various other ingredients. Gimbap is a traditional food eaten by Koreans during picnics or special outdoor events. It can also be a common meal at home. It is generally served cold.

The longest gimbap, as seen below, was 226.4 yards longs.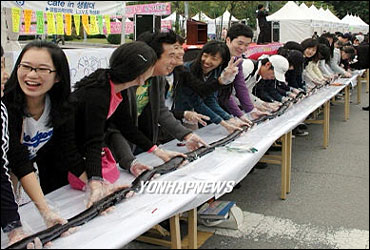 [Source: Newsis.com]