| | | |
| --- | --- | --- |
| | | Any visitor to a foreign country may naturally want to send postcards or letters to friends and family back home. Ten years ago, it was easy for travelers to find the red mailboxes on the street and in buildings. Finding a mailbox today is a bit difficult because of the Internet revolution. |
Korea has the highest Internet penetration of any country in the world, with the result that the volume of regular mail has fallen precipitously.

If you cannot find a mailbox, you can ask your hotel front desk to put your letters or postcards in the mail or you can go directly to a nearby post office.

Postal charges for both domestic and international mail, including letters, postcards, and parcels, are based on weight (grams).

[Photos on How to Mail a Letter]
1. Buying an envelope: You can buy envelopes at any post office or stationery shop. An envelope for international mail costs 50 won, and one for domestic mail costs 30 won.
2. Searching a zip code: If you dont know a zip code for the address of the sender or the receiver, you can look it up on the Internet or in a zip code book. Internet-connected computers and zip code books are both available at local post offices.
3. Writing an address: The addresses of the sender and receiver should be written in the language of the receiving country or in English. If the address is in the language of the receiving country, the country name should be written in English or the language of the sending country.
4. Paying postage: Have your letter weighed at an international mail counter. Pay the postage, which is weighed in grams. Refer to the table below for the details of the postage charge.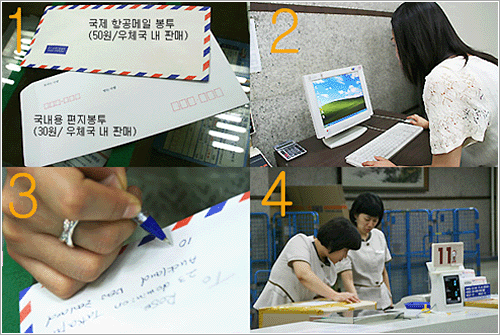 [How to Mail a Postcard]
Regardless of weight or distance, postage for a postcard is 350 won for air mail and 250 won for surface mail.

You can buy the desired number of stamps at a local post office or a stationery shop.

Then drop your postcard into a mailbox on the street or an international mailbox inside the post office.
[Postal Charges for Domestic Mail]
Category
Weight
Postage
Standard-sized mail
Up to 5g
5g - 25g
25g - 50g

220 won
250 won
270 won
Oversized mail
Up to 50g
Each additional 50g

340 won
120 won
Postage for domestic mail (updated on May 4, 2011)
Postal Charges for International Mail
[Postage for postcards and aerogrammes (less than 20g)]
| | | |
| --- | --- | --- |
| Type | Air | Surface |
| Postcard | 350 won | 250 won |
| Aerogramme | 400 won | - |
* Postage for postcards and aerogrammes is the same for all destinations.
[Postage for air mail letters]
Weight
(g)
Postage by region (in Korean won)
Japan, China, Taiwan, Hong Kong, Macau
Bangladesh, Brunei,
Myanmar,
Cambodia,
East Timor,
Indonesia,
Laos,
Malaysia,
the Philippines,
Singapore,
Thailand,
Vietnam,
Mongolia
US,
Canada,
France,
Germany,
UK,
and European countries,
Russia and former USSR countries,
East European countries,
Australia,
New Zealand,
India,
Middle Eastern countries
Egypt,
Kenya,
Libya,
Mexico, Panama,
Argentina,
Brazil,
Uruguay,
Peru,
etc.
Up to 10
Up to 20
Up to 50
Up to 100
Up to 250
Up to 500
Up to 1,000
Up to 2,000
480
520
810
1,450
2,800
5,050
9,500
17,500
520
580
940
1,540
3,700
7,300
14,500
26,500
580
650
1,220
2,170
4,570
8,570
16,570
32,570
600
700
1,400
2,650
6,050
11,950
22,950
40,950
[Rates for surface mail letters]
Weight (g)
Rates (won)
Weight limit

Up to 20
Up to 50
Up to 100
Up to 250
Up to 500
Up to 1,000
Up to 2,000

400
800
1,200
2,000
3,500
5,500
9,000

Up to 2kg
* If you want to check delivery after sending a piece of international mail (EMS, air parcel/registered mail), you can call the International Mail Customer Service Office at the Post Office Call Center. (+82-2-2108-0050~60)
* To call from overseas: 82-2-2108-0051~0059
[Where to Get Stamps, Postcards, and Letters & Envelopes]
You can get stamps, which are also great souvenirs, at post offices or stationery shops.

Standard envelopes are also available at these places.

Postcards can be purchased at bookstores or tourist souvenir shops.

Decorated letter paper or envelopes are sold at art supply shops and stationery shops.
Traditional Korean postcards are available at stationery shops in Insa-dong or those located within large bookstores.

Last updated: May, 2011