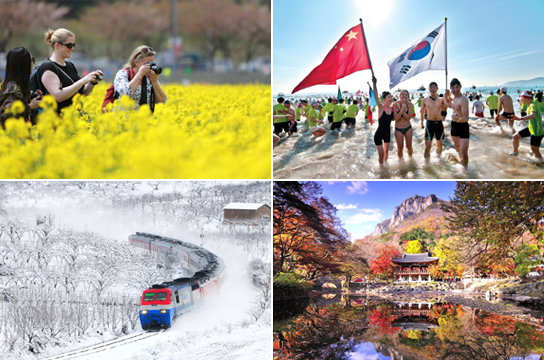 [Clockwise from the upper left: Korea's spring, summer, fall, and winter landscapes]
The Korean Peninsula is divided between north and south, making Korea one of the only divided countries in the world. The following information is about South Korea.
Korea has four distinct seasons, with each offering unique and beautiful landscapes. In the spring, forsythia, cherry blossom, azalea and many other flowers are in full bloom; in the summer, people travel in numbers to the coasts to enjoy their vacation on the beach; in the fall, the mountains put on a fascinating coat of crimson leaves; and in the winter, the land is covered with snow.
The capital of Korea is Seoul, and the government is led by Park Geun-hye, elected in 2013 as the first woman president of the country.
The Korean economy is driven by the manufacturing and exports including ships, automobiles, mobile phones, PCs, TVs, and other electronics to countries all around the world. Korea has enjoyed rapid economic growth thanks in large part to its export-focused strategy. In 2012, Korea's GDP was USD$1.16 trillion based on IMB statistics. Today, the nation boasts the 15th largest economy in the world. Recently, Korean dramas and movies are also widely exported thanks to the popularity of Korean pop culture. K-pop stars are also active on the world stage.
The Korean population reached 51.03 million as of May 2013 (based on the statistics of the Ministry of Security and Public Administration), with a large proportion living in major metropolitan areas. To disperse the population to regions outside the metropolitan cities, the Korean government is relocating many government organizations to locations outside of Seoul, with the process set to be completed in 2014.
☞ Related columns

☞ Related page
Last updated on June 13, 2013