K-league's Historic 10,000th Goal is an Own Goal.
Celebrate or Not?


It took 26 years for the K-league, the first professional soccer league in Asia, to record its historic 10,000th goal. Unfortunately, however, it was an own goal, causing great embarrassment to football fans as well as the Korea Football Association (KFA).

On November 9, Busan I'Park's defender Tae Young Kim scored the K-league's memorable 10,000th goal as he netted an own goal against Ulsan Hyundai.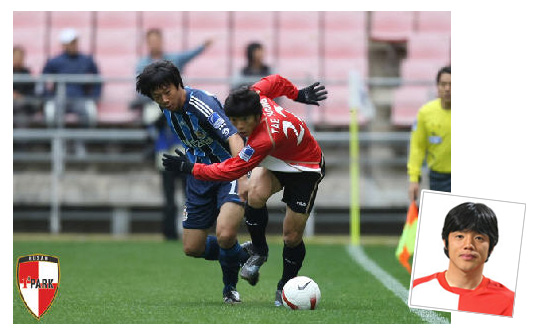 [Source: Busan I'Park Official Web Site (www.busanipark.com)]

Korea Football Association (KFA) was no less disappointed than the player himself and legions of football fans.

In order to celebrate the 10,000th goal, KFA planned extensive events such as giveaways of electronic products to fans who predicted correctly who the name of the player to score the 10,000th goal. Moreover, fans would receive the player's autograph and jersey, the official game ball, and even an opportunity to interview him. Furthermore, KFA was supposed to give a special award to the scorer (the award is cancelled now).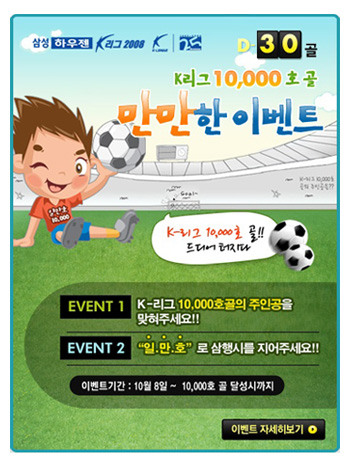 <10,000th goal event posted by KFA>
Some people may think the player still deserves the award, and fans, the gifts because the player had done his best, and an own goal is also a part of the game. They think as long as we love football, we should celebrate every memorable moment. Meanwhile, others do not agree to this idea. What's your opinion? Should we celebrate? Please cast your vote.


About K-League


The Korea Professional Football League (K-League) is South Korea's top-flight professional club football league, with 14 member clubs.

The K-league holds 182 matches from March through November. Each club plays 26 matches and top 6 clubs will move to the play off. Play off will be held in from 22nd to 30th of November. Championship matches played under the home and away rule in the first week of December.

As the first Asian country to establish a professional football league, Korea is acknowledged as one of Asia's football super powers.

Korean teams have had good results in the Asian Club Championship and Asian Cup Winners Cup where the football champions of Asia compete for the title. Recently, Jeonbuk Hyundai, a 2006 K-league Cup Tournament Champion, grabbed the trophy of 2007 AFC Champions League.

[More Info: Korea Football Association]
-> About K-league on Wikipedia: K-league