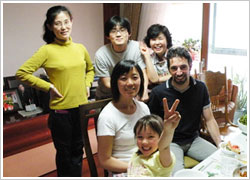 Foreigners visiting Korea can stay at a Korean home with a host family instead of at a hotel or a motel. This is called a home stay. Unlike other accommodations, a home stay arrangement allows you to experience and understand Korea and its culture more easily since you will live at a Korean home with a Korean family. If you are interested in learning the Korean language, it would

be an especially good option for you since you would naturally be exposed to the Korean language in an actual household setting.

This arrangement is beneficial for both guests and hosts since a host can experience foreign culture and learn basic expressions in foreign languages without going abroad. Many hosts are very interested in foreign languages and foreign countries and can manage simple, practical conversations. They may, therefore, be able to recommend some worthwhile tourist attractions or, if you are lucky, they may give you a guided tour or want to keep in touch with you after your stay. In principle, a home stay arrangement entails a private room and breakfast.

You may need to share other items like home appliances with your host. If you want lunch and dinner in addition to breakfast, there will be extra charges. Lodging fees need to be paid upfront on the date of arrival. It is usually US$40 per night for the first week (1-7 days), but it may differ slightly depending on the home stay placement agency. Lower rates are applied for long-term stays and when a room is shared with other visitors. Most home stays offer optional airport pick-up services for an extra charge.